I hold in my hand two photographs. They're only holiday snaps; I could have just looked at them on Facebook, but for some reason I decided to print these two out.
They were taken during the best holiday of my life, back in March 2011, in Syria.
It feels odd looking at them now. The first shows me with my DSLR camera hanging around my neck, standing next to a slightly taller Arab man, also in his twenties, in a blue Puma T-shirt. We're both smiling at the camera, our arms behind one another's backs in a comradely stance.
His name was Mohammed, and he worked in his family's stall in the jewellery quarter of the grand souk in Aleppo, selling necklaces as well as fine silk scarves. My friend Rich and I met him while we were walking around the maze of shops, looking for the famous mosque. It was easy to get lost inside that souk, an ancient hypermarket filled with the smells of spices and the hum of conversations and the rattle of handkarts and tradesmen selling everything you could want to buy, as well as men and women and boys and girls from all walks of Syrian society.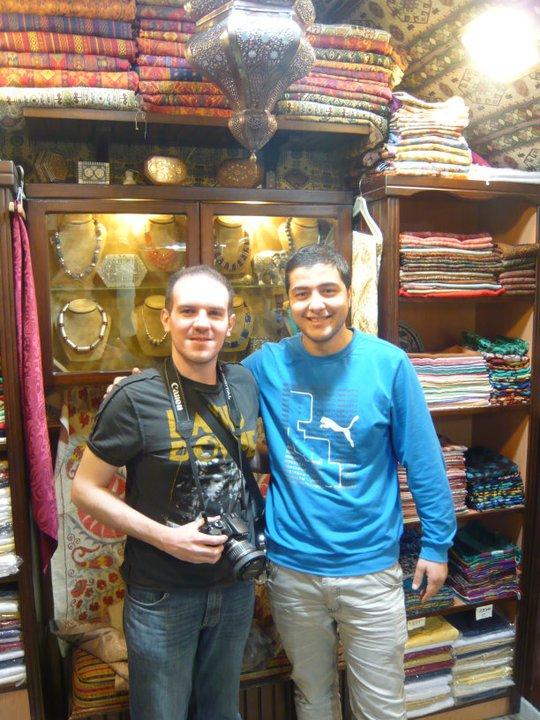 Mohammed, polite and gracious and softly spoken, could see that we were unsure where to go and offered to show us the way to the mosque, and we gratefully followed, him asking us about London and we questioning Mohammed about Aleppo, Syria's biggest city. We said our goodbyes at the gate, and walked in.
The mosque was magnificent, of course - with its great courtyard and the minaret that had stood for almost a thousand years - and after half am hour so, we happy tourists wandered back out feeling at peace, humbled by the history and its almost otherworldly spirituality. Soon, Rich and I were at risk of being lost once more, but after a few minutes we bumped into Mohammed again. He was pleased we had liked the mosque, and invited us back to his stall for a cup of tea and to show us his wares. Doubtless he also fancied a lucrative sale to a rare couple of western tourists - and if so, good on him, as I couldn't resist buying a beautiful scarf from him.
There was a fair bit of friendly haggling, and then we shook hands. And before we said goodbye, Rich took that photograph of us smiling in Mohammed's shop.
The mosque has been destroyed since then, and its minaret has toppled. The souk is gone - burned down. Aleppo has been wrecked.
The second photograph I'm holding was taken a day later in Apamea. While Palmyra has gained plenty of attention lately, Apamea was just as amazing in its own way: a road of Roman columns stretching further than the eye could see out in the middle of the Syrian countryside, a few hours' drive from Aleppo, where the sound of grasses rustling in the breeze was interrupted only occasionally by the sounds of teenage boys larking about on battered little motorbikes.
This picture shows the columns stretching away in the blue-skied distance, and in the middle are two people posing for the camera: I'm one of them, and at my side a waif-like teenage girl, wearing jeans, a black top and Converse-like trainers, smiling innocently at the camera.
Refugees Welcome: Supporters back The Independent's campaign
Refugees Welcome: Supporters back The Independent's campaign
1/15 Sean O'Grady

Twitter

2/15 Jamie Merrill

Twitter

3/15 Mollie Goodfellow and Marie Le Conte

Twitter

4/15 Naomi Westland

Twitter

5/15 DJ Kooper

Twitter

6/15 Zuhura Plummer

Twitter

7/15 Christine Gingter

Twitter

8/15 Andy Kavanagh

Twitter

9/15 Martijn van Calcar

Twitter

10/15 Dan O

Twitter

11/15 Kerry F

Twitter

12/15 Eulette

Twitter

13/15 Sarah

Twitter

14/15 Barefoot Mower

Twitter

15/15 Swim Deep

Twitter
This was Rima. She must have been about 17, and we met her while walking along the collonaded road in our tour group. She and her friend had been walking a few metres behind us, evidently intrigued by foreigners and giggling while listening to our English voices. Before we left, Rima asked if she could have her photo taken with me. I said yes, and she smiled with a bashful pride when I asked if she would do the same for Rich's camera.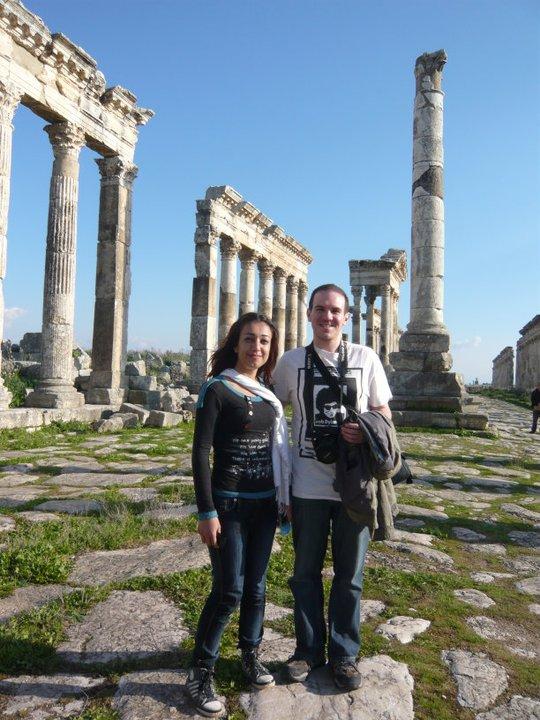 Many of Apamea's columns have since been toppled, but far more seriously, the village where Rima lived has been barrel bombed - captured on camera by a documentary film crew.
But while I know from news reports what has happened to the places where Mohammed and Rima lived, I will almost certainly never know what has happened to them.
Every so often, when photos of Syrian refugees are shown in our media, I wonder where - among the mass of millions of people forced out of their homes - those two have ended up. They could be trying to climb across barbed wire to escape, or waiting outside a train station to find a new life - or mourning the loss of their child washed up on a beach. If they're even still alive, that is.
These simple holiday pictures of Mohammed and Rima are important to me precisely because they show what we so rarely see. They show two of the real identities and personalities of the people we are shutting out and dismissing as members of migrant swarms - the shop-owners who took pride in their stalls, and the happy, carefree teenagers with their whole lives ahead of them. They were not always bound to be victims of a brutal civil war.
It took a picture of a dead little boy to wake many up to the urgency and tragedy of the refugee crisis. And perhaps that's because we're so used to seeing refugees - even when sympathetically - pictured as a mass of humanity, obscuring the individual human lives, and the stories of not just what desperate straits they are in now, but where they have come from, and why they deserve our help.
The refugee crisis - in pictures
The refugee crisis - in pictures
1/67 Refugees fleeing conflict

A Syrian refugee holding a baby in a lifetube swims towards the shore after their dinghy deflated some 100m away before reaching the Greek island of Lesbos

2/67 Refugees fleeing conflict

A refugee raises a child into the air as Syrian and Afghan refugees are seen on and around a dinghy that deflated some 100m away before reaching the Greek island of Lesbos

3/67 Refugees fleeing conflict

Syrian and Afghan refugees fall into the sea after their dinghy deflated some 100m away before reaching the Greek island of Lesbos

4/67 Refugees fleeing conflict

A refugee cries as he holds a child on the Serbian side of the border with Hungary in Asotthalom

Reuters

5/67 Refugees fleeing conflict

Refugees stand in front of a barrier at the border with Hungary near the village of Horgos, Serbia

Reuters

6/67 Refugees fleeing conflict

A refugee from Syria prays after arriving on the shores of the Greek island of Lesbos aboard an inflatable dinghy across the Aegean Sea from from Turkey. Greece sent troops and police reinforcements to Lesbos after renewed clashes between police and migrants, the public broadcaster said, while Syrian refugees on the island were targeted with Molotov cocktail attacks

7/67 Refugees fleeing conflict

Police try to stop refugees going under a fence to board a train at a station near Gevgelija, Macedonia. Several thousand refugees in Macedonia boarded trains to travel north after spending a night in a provisional camp. Macedonia has organised trains twice a day to the north border where they cross into Serbia to make their way to Hungary

8/67 Refugees fleeing conflict

Refugees push each other as they try to board a bus following their arrival onboard the Eleftherios Venizelos passenger ship at the port of Piraeus, near Athens, Greece

9/67 Refugees fleeing conflict

Refugees are welcomed by locals after their arrival at the main railway station in Frankfurt, Germany. Over 1,000 more refugees arrived in Germany to cheers and "welcome" signs, but calls grew for a European solution to its worst refugee crisis since World War II

10/67 Refugees fleeing conflict

A young Syrian boy arrives on the Greek island of Lesbos after crossing in a dinghy with other refugees from Turkey

AP

11/67 Refugees fleeing conflict

Refugees walk on the railway tracks between Bicske and Szar, some 40 kms west of Budapest, trying to reach Germany

EPA

12/67 Refugees fleeing conflict

Hungarian policemen stand by the family of refugees as they wanted to run away at the railway station in the town of Bicske, Hungary

13/67 Refugees fleeing conflict

A family is arrested by local police after their local train coming from Budapest and heading to the Austrian border has been stopped in Bicske, west of the Hungarian capital

14/67 Refugees fleeing conflict

A man is arrested by local police after his local train coming from Budapest and heading to the Austrian border has been stopped in Bicske, west of the Hungarian capital

15/67 Refugees fleeing conflict

More than 2,500 refugees have died trying to reach Europe this year and the struggle continues as they travel through the continent

Getty Images

16/67 Refugees fleeing conflict

Refugees protest in front of a train at Bicske railway station. Hundreds of people, were stranded on a train in Hungary for a second, demanding passage to Germany in a standoff with riot police

17/67 Refugees fleeing conflict

Syrian refugees arrive on the shores of Lesvos island

Getty

18/67 Refugees fleeing conflict

Syrian refugees on the Greek Macedonian border

Getty

19/67 Refugees fleeing conflict

Refugees storm into a train at the Keleti train station as Hungarian police withdrew from the gates after two days of blocking their entry

20/67 Refugees fleeing conflict

Refugees storm into a train at the Keleti train station in Budapest

21/67 Refugees fleeing conflict

Refugees cross the border between the Former Yugoslav Republic of Macedonia and Greece, near the town of Gevgelija, Macedonia. The Gevgelija-Presevo journey is just a part of the journey that the refugees, the vast majority of them from Syria, are forced to make along the so-called Balkan corridor, which takes them from Turkey, across Greece, Macedonia and Serbia to Hungary, the gateway to the European Union, September 2015

22/67 Refugees fleeing conflict

A refugee helps up an exhausted fellow refugee as they cross the border between Macedonia and Greece, near the town of Gevgelija, September 2015

23/67 Refugees fleeing conflict

People breaking through a police cordon and crossing the border between Macedonia and Greece, September 2015

24/67 Refugees fleeing conflict

Refugees pass the border between Macedonia and Greece, September 2015

25/67 Refugees fleeing conflict

A Macedonian policeman carries a child across the border between Macedonia and Greece, September 2015

26/67 Refugees fleeing conflict

Syrians sleep on railroad tracks waiting to be processed across the Macedonian border in Idomeni, Greece, September 2015

27/67 Refugees fleeing conflict

A Czech police officer marks a refugee with a number after more than than 200 refugees were detained, mostly from Syria, on trains from Hungary and Austria at the railway station in Breclav, Czech Republic, September 2015

AP Photo, CTK/Igor Zehl

28/67 Refugees fleeing conflict

A baby is lifted on to the Norwegian vessel 'Siem Pilot' during a search-and-rescue mission off the Libyan coast, September 2015

AP

29/67 Refugees fleeing conflict

Budapest's main international railway station ordered an evacuation as hundreds of people tried to board trains to Austria and Germany, September 2015

30/67 Refugees fleeing conflict

People wave their train tickets and lift up children outside the main Eastern Railway station in Budapest, September 2015

31/67 Refugees fleeing conflict

People protest at the Eastern (Keleti) railway station of Budapest, September 2015

32/67 Refugees fleeing conflict

Refugee children sleep in the surrounding green area of the Keleti railway station in Budapest, September 2015

33/67 Refugees fleeing conflict

Syrians cross under a fence into Hungary at the border with Serbia, near Roszke, August 2015

Reuters

34/67 Refugees fleeing conflict

Refugees who have just crossed the border from Serbia into Hungary walk along a railway track that joins the two countries, August 2015

Getty Images

35/67 Refugees fleeing conflict

Police arrest refugees at Cobham Services on the M25 in Surrey, August 2015

Twitter: @bigwheeluk

36/67 Refugees fleeing conflict

Men hold a boy as they are stuck between Macedonian riot police officers and fellow refugees during a clash near the border train station of Idomeni, August 2015

AFP/Getty

37/67 Refugees fleeing conflict

A Syrian father holds his children close as his arrives on the Greek Island of Kos, August 2015

Eyevine

38/67 Refugees fleeing conflict

A tourist offers water to Iranian refugees as they arrive by paddling an engineless dinghy from the Turkish coast (seen in the background) at a beach on the Greek island of Kos, August 2015

Reuters

39/67 Refugees fleeing conflict

A Syrian holds his 30-day-old baby on an overcrowded train as they travel through Macedonia. Tens of thousands of refugees, mainly from the Middle East and Africa, use the Balkans route to get into the European Union, passing from Greece to Macedonia and Serbia and then to western Europe, August 2015

40/67 Refugees fleeing conflict

A man rests on a platform at the train station in Gevgelija, on the Macedonian-Greek border, August 2015

Getty

41/67 Refugees fleeing conflict

Refugees react after boarding the Migrant Offshore Aid Station (MOAS) ship MV Phoenix some 20 miles (32 kilometres) off the coast of Libya. Some 118 refugees were rescued from a rubber dinghy off Libya. The Phoenix, manned by personnel from international non-governmental organisations Medecins san Frontiere (MSF) and MOAS, is the first privately funded vessel to operate in the Mediterranean, August 2015

42/67 Refugees fleeing conflict

Authorities are being overwhelmed as they try to fight off hundreds of refugees, prompting France to beef up its police presence, July 2015

AFP

43/67 Refugees fleeing conflict

People escape from the French Police as they try to catch a train to reach England, July 2015

EPA

44/67 Refugees fleeing conflict

A man jumps over a fence as he attempts to access the Channel Tunnel, in Calais, northern France, July 2015

PA/Thibault Camus

45/67 Refugees fleeing conflict

Two men cling to the roof of a freight truck as it leaves the Eurotunnel terminal in Folkestone, July 2015

Getty

46/67 Refugees fleeing conflict

A man climbs a security fence of a Eurotunnel terminal in Coquelles near Calais, July 2015

47/67 Refugees fleeing conflict

Men help a man squeeze through a gap in a fence near the Eurotunnel terminal in Coquelles in Calais, July 2015

Getty

48/67 Refugees fleeing conflict

Refugees climb in the back of a lorry on the A16 highway leading to the Eurotunnel in Calais, June 2015

Getty Images

49/67 Refugees fleeing conflict

A police officer sprays tear gas to men trying to access the Channel Tunnel on the A16 highway in Calais, northern France, June 2015

PHILIPPE HUGUEN/AFP/Getty Images

50/67 Refugees fleeing conflict

Men jump out of a lorry after being discovered by French gendarmerie officers, June 2015

AP

51/67 Refugees fleeing conflict

A man sits under the trailer of a lorry, June 2015

AP

52/67 Refugees fleeing conflict

A Belgian navy sailor passes life vests to refugees sitting in a rubber boat as they approach the Belgian Navy Vessel Godetia, June 2015

AP

53/67 Refugees fleeing conflict

People on the Belgian Navy vessel Godetia after they were saved during a search and rescue mission in the Mediterranean off the Libyan coast, June 2015

AP

54/67 Refugees fleeing conflict

Iraqis wait as they are detained by Hungarian police after crossing the Hungarian-Serbian border illegally near the village of Asotthalom, Hungary, June 2015

Reuters

55/67 Refugees fleeing conflict

Syrian refugees walking on train tracks through Macedonia on the Western Balkans migration route, after entering Europe through Greece, June 2015

Reuters

56/67 Refugees fleeing conflict

A group of people huddle together during an operation to remove them from the Italian-French border in the Italian city of Ventimiglia. Italy and France engaged in a war of words as a standoff over hundreds of Africans offered a graphic illustration of Europe's migration crisis. Italian Interior Minister Angelino Alfano described images of refugees perched on rocks at the border town of Ventimiglia after being refused entry to France as a "punch in the face for Europe", June 2015

57/67 Refugees fleeing conflict

A man is carried by Italian police in Ventimiglia, Italy. Police reportedly removed refugees from under a railway bridge, June 2015

EPA

58/67 Refugees fleeing conflict

A Syrian child holds a drawing as he waits to disembark from Belgian Navy vessel Godetia at the Augusta port, Italy. Around 250 refugees from Syria arrived at the Sicilian harbour from a Damascus refugee camp, June 2015

59/67 Refugees fleeing conflict

A dinghy overcrowded with Afghan refugees arrived on a beach on the Greek island of Kos, May 2015

60/67 Refugees fleeing conflict

An Afghan child is helped off a rib on the Greek island of Kos, May 2015

61/67 Refugees fleeing conflict

An Afghan girl holds the hand of a woman as they arrive on a beach on the Greek island of Kos, after crossing a part of the Aegean Sea between Turkey and Greece, May 2015

62/67 Refugees fleeing conflict

Refugees crossed part of the Aegean Sea between Turkey and Greece, May 2015

63/67 Refugees fleeing conflict

Afghan refugees arrive on a beach of Kos, May 2015

64/67 Refugees fleeing conflict

Rescuers help children to disembark in the Sicilian harbor of Pozzallo, Italy in April 2015

65/67 Refugees fleeing conflict

A boat transporting refugees arrives in the port of Messina after a rescue operation at sea, April 2015

Getty

66/67 Refugees fleeing conflict

Armed Forces of Malta personnel in protective clothing carry the body of a dead man off Italian coastguard ship Bruno Gregoretti as surviving refugees watch in Senglea, in Valletta's Grand Harbour, April 2015

67/67 Refugees fleeing conflict

Rescued people talk to a member of the Malta Order after a fishing boat carrying refugees capsized off the Libyan coast, is brought ashore along with 23 others retreived by the Italian Coast Guard vessel Bruno Gregoretti at Boiler Wharf, Senglea in Malta, April 2015
Reuse content