We've all got a friend who is a bit too fond of taking selfies as a part of their daily routine. But some celebrities are no better. As 'selfie' beat 'twerk' to be named word of 2013 by Oxford Dictionaries, here are some of the worst selfie offenders:
Rihanna
You may think that this world famous pop star gets enough camera attention from the paps, but her prolific selfie-taking would suggest otherwise. New outfit, new city, new hair (she does change her hair a lot…), any event in Rihanna's life is deserving of a selfie, she uploads at least one every day. So committed to updating her fans with her whereabouts, the star even had an official Instagram photographer to follow her during her recent Diamonds tour.
Kim Kardashian
Kim is well known for keeping her private life very much public and selfies have been the reality star's favourite pastime for a while now. We've had some pretty intrusive peeks into her life, with images of her after a 'vampire facial', with an interesting fake ski goggle tan and most recently a half-naked shot, showing off her post-baby body. Selfies with new celeb friends is another of Kim's specialities, Cheryl Cole, Cara Delevingne and fiancé Kayne West all feature.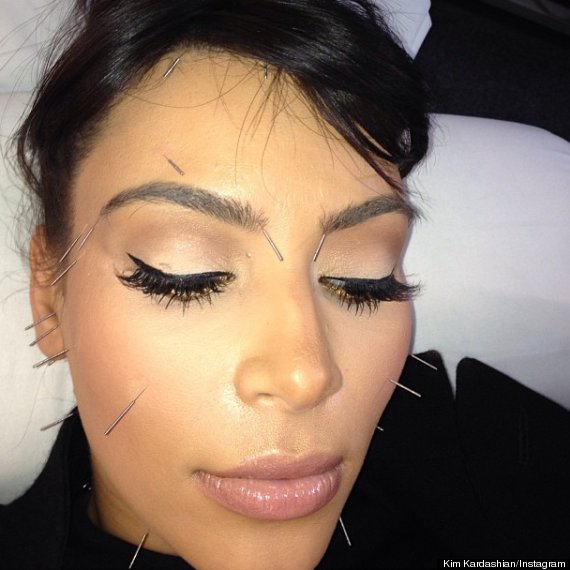 Cara Delevingne
Not only does she make cameos in other celebrities' selfies, Cara isn't afraid of turning the camera around on herself. The cheeky model is often pulling faces that probably wouldn't grace the cover of Vogue; in one she even has run afoul of a passing bird… Cara's take on selfies is having fun, looking silly and roping in a few model mates.

Justin Bieber
Not to be outdone by the girls, Bieber really is a super fan of the selfie. So much so the boy even seems to have a special 'selfie face', raised eyebrows, squinted eyes and even a sneaky pout. More often than not he's topless (obviously very proud of those abs), but when he's feeling a bit chilly he can be seen to pop a vest on. Beliebers probably imagine he's staring into their soul, rather than at his mirror image…
Reuse content