I opened my wardrobe the other day and was greeted by a wall of navy: navy dresses, navy trousers, navy tops. I do love the colour, as you can see by my picture here, but I was starting to feel a little invisible, dressed in navy all the time. So, in the interests of brightening up my wardrobe a bit – and maybe being a bit more noticeable – I bought a bright pink coat.
In Liverpool this weekend, for their final party shindig before the general election, the Liberal Democrats risk being the political equivalent of the colour navy. Their election slogan: "Stronger economy, fairer society" is all very pleasant and inoffensive. But it's very comfortable, like a navy cardie.
If they are to defy all predictions and expectations and have a presence in the next government by holding on to a decent number of seats, the Lib Dems need to be, as one senior figure in the party put it privately last week, "bold and brassy". This immediately reminded me of Bet Lynch at the bar of the Rovers, all leopard print, gold earrings and hairspray. (I bet Bet never wore a navy cardie.) In the crowded bar of Westminster politics, navy is bland, invisible even.
The Lib Dems need to stop blending into the background, starting with the Budget this week. Some party MPs are only interested in fighting for survival in their constituencies, which is understandable. And there are a few around Nick Clegg who want to trash the coalition's record because they think it might keep Lib Dems in Parliament. Instead, he should face his troops forward and come up with some radical, liberal ideas for the next five years, pegged firmly in the centre ground – an area relatively free of other parties right now. And the centre ground doesn't have to be comfortable.
Election Analysis: The Key Voters
Election Analysis: The Key Voters
1/6 Settled Silvers

These are the comfortably-off over-60s, still in work or drawing a decent pension – or both – who are enjoying their entitlements such as the Winter Fuel Allowance, free bus passes and free TV licence. They are worried about immigration and Europe. Both the Conservatives – who are pledging to keep benefits for wealthier pensioners – and Ukip want their votes

Micha Theiner

2/6 Squeezed Semis

Slightly older than the Harassed Hipsters, they are the second key group for Labour's family-focused election strategy. They are married couples on low to middle incomes who own unpretentious semi-detached homes in suburban areas. In 2001, these were the Pebbledash People sought by the Conservatives. Now the pebbledash is gone and a modest conservatory has been built at the back

Micha Theiner

3/6 Aldi Woman

In 1997 and 2001 she was Worcester Woman – a middle-class Middle Englander shopping at Marks & Spencer and Waitrose. Today, the age of austerity means she still goes to Waitrose for her basic food shop but cannily switches to Aldi for her luxury bargains such as Parma ham and prosecco. Identified by Caroline Flint, she is a key target of both Labour and the Conservatives

Micha Theiner

4/6 Glass Ceiling Woman

In her thirties or forties, she has an established career under her belt, perhaps in the "marzipan layer" – one position below the still male-dominated senior executive level. She is now, according to Nick Clegg, forced into making the "heart-breaking choice" between staying at home to bring up her children and going to work and forking out for high-cost, round-the-clock childcare

5/6 Harassed Hipsters

One of the two key groups identified by Labour as crucial to hand Ed Miliband the keys to Downing Street. Well-paid professional couples, often with children, they live in diverse urban and metropolitan areas rather than the suburbs. More comfortably off than most swing voters, they are time poor – struggling to balance raising a young family with busy work schedules

Micha Theiner

6/6 Neo-Greens

These are mainly first-time voters, though some are in their twenties – students and digital-age generation renters helping to fuel the "Green Surge". Idealists, but with no tribal loyalty to any party, they are anti-austerity, middle class, living in urban areas. Despite studying at university or recently graduated, they are struggling to find decent jobs and want cheaper housing and a higher minimum wage

Micha Theiner
George Osborne will try to frame this week's Budget as a Conservative election bonanza, taking credit for the uplift in economic growth, wages and employment. Danny Alexander will try his best, when he tours the television studios on Budget Day, to scrawl Lib Dem yellow highlighter pen all over Osborne's statement. In Liverpool this weekend, there were eye-catching measures to get people on to the property ladder – through Rent to Buy. But the Lib Dems need to do more than this. Why wasn't it, for example, Clegg, Alexander or Vince Cable, the political descendants of Beveridge, giving a speech promising to be "warriors for the dispossessed", rather than the Conservative Chief Whip, Michael Gove?
There are signs that the Deputy Prime Minister, who revealed in an interview with Mail Online last week that he had taken up "blueberry vaping" as a way of giving up smoking, is feeling the strain of a bumpy five years in coalition. Recently, speaking to teenagers who told him they were currently on a "gap year", I watched Clegg reply, seemingly only half-jokily, "I could do with one of those."
There is speculation among Lib Dem MPs that, even if there is a second term of a Tory-Lib Dem coalition, Clegg may stand down as leader halfway through. Yet, before his "gap year" comes, whenever that is, the Lib Dems need Clegg to put down his blueberry hookah and try to save his party. The Deputy Prime Minister needs to summon the spirit of Bet Lynch and be audacious.
Bercow's childish side
Remember when the Speaker, John Bercow, compared Esther McVey, the Conservative Employment minister, to a washing machine (in that it's difficult to know when she's going to stop talking)? That was only last Monday, but it was before Ed and Justine Miliband's actual kitchen appliances were pored over, so it feels like years ago. The Speaker apologised for his remark, but it shows that even he, who claims that the public write to him all the time about childish behaviour in the Commons, is not above hurling abuse.
Women are not a special case
Bercow's allies denied that it was a sexist remark, but it did feed the age-old stereotype that women just go on and on. This is why some say that the Tory MP Mary Macleod's idea, supported by David Cameron at PMQs, for a dedicated select committee for women and equalities, is needed. But I am not so sure.
A Commons committee for women makes us sound like a minority, which we are not, and, worse than that, surely, is the risk that parking the notion of "women" and indeed "ethnic minorities" in Committee Room 25 every Tuesday means they are not a core part of government or Parliament. I remain unconvinced.
Lansley snubbed
Poor Andrew Lansley. Your old protégé of two and a half decades ago, the Prime Minister, tries to get you a job at the United Nations to see you through to retirement and your candidacy is rejected on this world stage by Ban Ki-moon because you are too "inexperienced".
The cabinet minister was overlooked in favour of Stephen O'Brien, the PM's envoy and special representative for the Sahel, for the new head of the Office for the Coordination of Humanitarian Affairs. The snub came after pressure from a petition by campaigners Avaaz.
I have little sympathy for Lansley, given that his overhaul of the NHS has wasted billions and left our surgeries and hospitals in a mess – and that's according to the King's Fund. Perhaps he ought to be hauled before a special newly created select committee on coalition mistakes.
Battersea memories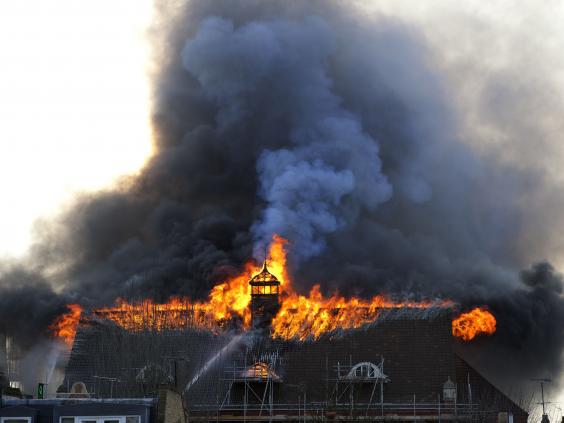 It was so sad to see another arts institution go up in flames on Friday. After the devastation at the Glasgow School of Art last year, Battersea Arts Centre in south London caught fire on Friday.
Members and well-wishers have already donated £10,000 for its restoration. I have many fond memories of going to the BAC, including a toe-curling occasion when I unwittingly found myself in an audience participation performance. My task was to do an impersonation of an egg cracking on the side of a bowl. In my head, it sounded  brilliant, but I could tell from the audience's reaction it was the worst thing they'd ever seen.
Reuse content