It's always horrible when people lose their jobs. But, sometimes, the hard truth is that redundancies can represent a victory for public policy. A plastic bag manufacturer in Lancashire last week went bust, at a cost of 40 local jobs. A manager for Nelson Packaging blamed the 5p levy on plastic bags, introduced by the Government in England last October.
That is exactly the sort of thing ministers and environmental campaigners, if they were honest about it, wanted to happen. Discouraging demand leads to less supply. And that has to mean, indirectly, fewer people employed to make plastic bags.
Yet what's rather curious from an economic perspective is just how sensitive demand for plastic bags has been to this levy. Or, to use the economic jargon, how "price elastic" it has proved.
When chancellors add pennies on to the price of tobacco or alcohol at Budget time, we don't see big falls in the public's consumption of such items. Yet Tesco has said the use of plastic bags by its shoppers is down by as much as 80 per cent since the 5p charge was introduced only five months ago. That's very much in line with similar falls in bag usage in Northern Ireland and Wales when they introduced similar levies a few years ago.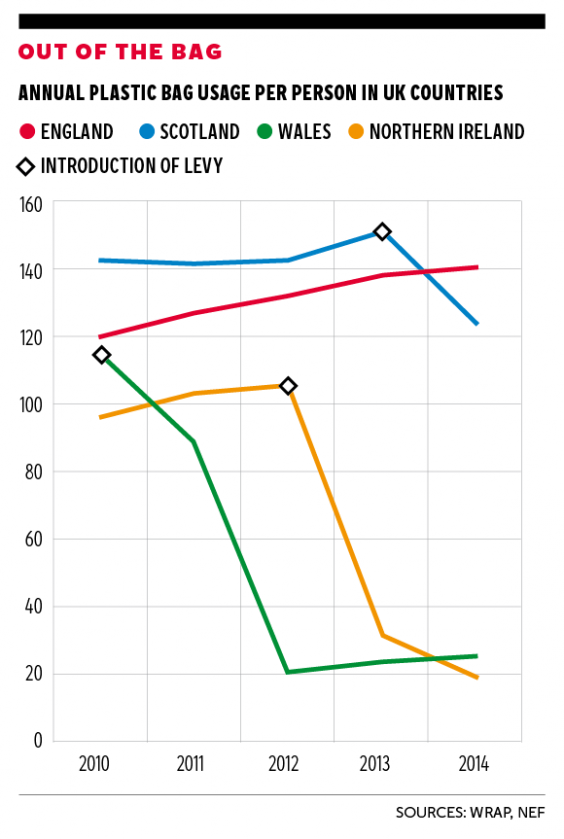 Consider how often you go grocery shopping. Let's say that's once a week and let's imagine you do a big family shop requiring eight new bags. So that comes to 40p. Imagine you never reuse them. That's a cost of around £20 a year. Every penny counts, particularly to families who are barely getting by. 
However, that's still not a lot of money in the scheme of things.
Many people lose up to £200 a year by failing to switch to different bank with lower overdraft charges. Similar sums are lost by people who stick with the same energy supplier. It's likely some of the people who have changed their behaviour over the plastic bag tax have not moved to change bank or energy supplier, despite the potential saving being more than 10 times greater. It's likely that many of the people who have stopped taking new plastic bags would not stoop down to pick up a 5p piece left lying in the street.
"Damn, I forgot to bring the bags," my wife will sometimes cry out when we reach the checkout and face the prospect of asking the assistant to pull some new plastic carriers out of a drawer for us. But she knows that the cost of those new bags isn't really going to make a difference to our overall household finances.
So what's going on? Psychologists have identified a "zero price effect". When an item moves from free (zero) to 5p, it can be more noticeable than when, for example, the price increases from 40p and 45p - even though the absolute change is identical. The 5p levy might be small but it looms large in our minds.
That's probably something to do with it. But there's something else too. Plastic bag use in the UK fell sharply between 2006 and 2009, with single-use bags falling from around 12 billion to 7 billion. This was largely thanks to a surge in public awareness of the environmental damage a result of various media reports and campaigns. That suggests an underlying desire among a significant proportion of the public to use fewer of them. 
But usage bounced back up to 8.5 billion after 2009. It has apparently taken the 5p levy to break the dam of inaction and prompt a big shift in collective behaviour.
The 5p may not be financially significant, but it's a regular prompt or nudge for people that wasn't there before. The mechanics are important. People have to make a choice: do we ask for a bag, or not?
Business picture of the day
Business picture of the day
1/35 Heathrow third runway poses 'serious obstacle' to fight against climate change - Tuesday October 25

Environmental groups expressed dismay at the Government's decision to give a third runway at the airport the go-ahead – and Greenpeace vowed to challenge it in the courts. Allowing Heathrow to expand will create "a serious obstacle" to meeting the UK's commitments on climate change and reducing air pollution, a leading scientist has warned.

Reclaim the Power

2/35 Nearly 10,000 people in China apply for one job - Monday October 24

Nearly ten thousands Chinese jobseekers are competing for one position: an officer worker at a political organisation.China's annual civil service recruitment drive began on October 15, with more than 27,000 vacancies on offer in over 120 central departments - drawing about 1.4 million applicants this year. Job seekers registering for the civil exams are required to pick the positions they are most interested in when they sign up for the test but one job was more popular than others. China's annual civil service recruitment drive began on October 15, with more than 27,000 vacancies on offer in over 120 central departments - drawing about 1.4 million applicants this year.

Reuters

3/35 Price of wine set to soar as production nears 20-year low - Friday 21 October

Vineyard manager Antonio Navarro looks at grapes ready to be harvested at the Casa Bianchi vineyard in San Rafael

Reuters

4/35 Banks consider 'moving London staff to Luxembourg to get access to EU' - Wednesday 19 October

The head of financial development for Luxembourg said a string of overseas banks and fund managers had explored moving London staff to the tiny country since the Brexit vote. Nicolas Mackel said there had been "strong interest" from US and other non-EU firms assessing their options since June's referendum.

Rex

5/35 The pound falls below €1.10 for the first time since March 2010 - Monday October 17

The pound has fallen below €1.10 for the first time in six and a half years, since March 2010. Sterling has been under pressure since Britain voted to leave the European Union. The pound has fallen by almost 20% against the against the dollar since the Brexit vote, trading below $1.22 and €1.10 on Monday.

6/35 Brexit: US banks are planning exodus from the UK, French minister says - Friday October 14

French finance Minister Michel Sapin said that US banks had confirmed to him they would move some activities out of Britain to other European countries as the UK prepares to leave the EU. Sapin revealed that the executives of major US banks have told him they were working on contingency plans, after their meeting last week in Washington.

7/35 Tesco running out of products like Marmite and PG Tips amid Brexit price row with Unilever - Thursday October 13

Tesco has removed a number of popular products such as Marmite, Bovril and PG Tips from its online store following a price row with supplier Unilever over the plunging pound. Multinational household goods giant Unilever has reportedly demanded a 10 per cent price rise in its products, including those made in the UK, to offset the higher cost of imported goods.

Reuters

8/35 FTSE falls after record mid-session high - Wednesday October 12

Britain's index of leading shares slipped on Wednesday from record highs reached in the previous session, partly reflecting currency moves which weighed on some of its global companies The blue-chip FTSE 100 equity index, which hit a record high of 7,129.83 points on Tuesday, fell 0.5 percent to 7,038.22 points. The FTSE 250 mid-cap index fell 0.4 percent but also remained near record highs reached this month. The dollar dipped while sterling rebounded a touch from a brutal sell-off this month, as British Prime Minister Theresa May's offer to give lawmakers some scrutiny of the process behind Britain's plans to leave the European Union calmed market fears of a "hard Brexit".

Getty Images

9/35 Samsung Galaxy Note 7 permanently discontinued - Tuesday October 11

Samsung finally bowed to pressure, permanently ceasing production of its fire-prone Galaxy Note 7. The move came after replacement versions of its flagship phone phone - which Samsung claimed were safe - also burst into flames. October 12 2016.

Reuters

10/35 Oliver Hart and Bengt Holmström awarded Nobel prize for economics - Monday October 10

Two academics recognised for their work on contract theory, which can be applied to everything from CEO pay to privatisations.

Getty Images

11/35 Pound value plunges 6% in 2 minutes in mysterious flash crash - Friday October 7

The British pound has suffered a sudden collapse hitting a new 31-year low against the US dollar in mysterious circumstances, sparking market chaos in "insane" early trading. The drop was sterling's biggest since Britain voted to leave the EU in June. Sterling plunged more than 6 per cent to $1.1841 in two minutes, prompting traders to speculate about a possible trigger.

12/35 Pound sterling value hits another new 31-year low against the dollar amid hard Brexit fears - Wednesday October 5

Sterling has continued its "slippery decline" as ongoing fears over the consequences of "hard Brexit" haunt investor attraction towards the currency. The currency has fallen below the "psychologically important" $1.27 level, down 0.3 per cent to $1.2695 in early trading on Wednesday, extending Tuesday's selloff.

AFP/Getty

13/35 Pound drops to 31-year low Against dollar on brexit concerns - Tuesday October 4

Sterling's broke through its post-referendum low to reach levels not seen in over 30 years. sterling hit an intraday low of $1.2736 on Tuesday morning. That surpasses the post-referendum low of $1.2798 reached on the day after the vote, which was the lowest level seen since the mid-1980s.

Getty

14/35 Philip Hammond ditches George Osborne's 15% corporation tax cut target - Monday October 3

Chancellor Philip Hammond has apparently rejected the plan of his predecessor George Osborne to slash corporation tax to just 15 per cent in the wake of the UK's Brexit vote. In early July Mr Osborne said he wanted to push the levy on company profits to 15 per cent as a bold signal to global companies that the UK is still "open for business" despite the vote to leave the EU. In his speech to the Conservative Party conference in Birmingham today, Mr Hammond made no reference to that 15 per cent goal, merely referencing the existing policy for the levy to decline to 17 per cent.

AFP/Getty

15/35 Global stock markets rally as OPEC agrees to slash oil production for first time since 2008

The Organisation of the Petroleum Exporting Countries (OPEC) has struck a deal to cut production for the first time in eight years, sending crude prices surging. READ MORE Oil price surges as Russia, Saudi Arabia promise co-operation In a decision led by a rapprochement between Saudi Arabia and Iran, who had repeatedly clashed during previous meetings, OPEC ministers decided to cut production by 750,000 barrels a day, down to 32.5 million barrels.

Rex

16/35 Apple to move London HQ to Battersea Power Station - Wednesday September 28

Apple is to establish a new London headquarters at Battersea Power Station, one of the city's most recognisable landmarks. The tech giant will occupy about 500,000 square feet of space across six floors of the central Boiler House from 2021, moving 1,400 employees there from eight offices around the capital. It will account for 40 per cent of the development's total office space.

Getty Images

17/35 Yahoo hack: World's biggest data breach could compromise Verizon deal and cost hundreds of millions of dollars

Yahoo revealed it has been hit by what could be the biggest data breach in history, with half a billion user account details stolen. While its users are still digesting the news, the massive breach could also have bigger implications and compromise Yahoo's recent agreement with Verizon, its future parent company, costing it hundreds of millions of dollars.

Reuters

18/35 Facebook chief Mark Zuckerberg to give $3 billion to 'cure, prevent or manage all disease' - Thursdsy September 22

Mark Zuckerberg and his wife Priscilla Chan have pledged more than $3bn (£2.3bn) toward a plan to "cure, prevent or manage all disease within our children's lifetime". The couple pledged the money as the next big investment by their philanthropic company, the Chan Zuckerberg Initiative, which is also focused on education, poverty, and equality.

REUTERS

19/35 OECD halves UK growth forecast due to EU referendum vote - Wednesday September

The OECD has slashed its 2017 growth forecast for the UK in half as a result of the Brexit vote and warned of "very high" uncertainty ahead. The multilateral economics institution had projected UK GDP growth next year of 2 per cent in June, but today reduced that to just 1 per cent in its latest Interim Economic Outlook. ADVERTISING inRead invented by Teads That was easily the largest downgrade for any major advanced economy.

Getty

20/35 Sports Direct bows to pressure and announces independent review of working practices - Tuesday September 20

Never underestimate Mike Ashley's capacity to spring a surprise. A matter of days after a tumultuous, and indeed historic, AGM at which the Sports Direct boss's independent shareholders voted against the re-election of his chairman Keith Hellawell and backed a trade union motion calling for an independent review into governance and working practices at the business, he appears to have caved in. At least on the latter.

PA

21/35 Kate Moss launches her own talent agency 'to create stars' - Monday September 19

One of the world's most iconic models of her generation, Kate Moss, has announced plans to start her own talent agency this month.In an interview with the Business of Fashion she revealed that her new venture – the Kate Moss Agency – won't only look after emerging models but will also sign actors and singers. Her announcement coincided with London Fashion Week.

22/35 Deutsche Bank shares plunge 8%after it refuses to pay £10.6bn fine - Friday September 16

Deutsche Bank shares slumped after receiving a $14 billion (£10.6 bn) claim from the US Justice Department to settle an investigation into the firm's sale of residential mortgage-backed securities, a figure the German lender said it's not willing to pay. "Deutsche Bank has no intent to settle these potential civil claims anywhere near the number cited," the company said in a statement early Friday in Frankfurt. "The negotiations are only just beginning. The bank expects that they will lead to an outcome similar to those of peer banks which have settled at materially lower amounts."

Bloomberg

23/35 John Lewis posts 75% profits slump - Thursday September 15

John Lewis Partnership, the owner of John Lewis and Waitrose, has reported a 75 per cent drop in profits for the six months to July, citing "deep structural changes in the retail market". Half-year profits have sunk to £56.9m, down by £167.1m on last year. The profits slump includes an exceptional charge of £25m for the write-down of property assets it no longer plans to develop for Waitrose. But even excluding the exceptional charge, profits for the latest half year were down 14.7 per cent to £81.9m.

Getty Images

24/35 French prosecutor seeks 3 years' jail for ex-minister over foreign bank account - Wednesday September 14

France's financial prosecutor on Wednesday sought a three-year jail term for former budget minister Jerome Cahuzac, who was forced to quit government three years ago over the discovery that he owned a secret bank account abroad. Cahuzac, 64, a plastic surgeon by profession who was appointed budget minister when Socialist President Francois Hollande took power in 2012, stands accused of tax fraud and money laundering.

Getty Images

25/35 Bank of England first polymer banknote enters circulation - Tuesday September 13

Cash machines across the UK will start to dispense the Bank of England's first plastic £5 note on Tuesday morning and it is designed to be safer and stronger.Each note is expected to last around five years - two and a half times longer than their paper counterparts - because of the durability of the polymer material.

Getty Images

26/35 Apple chief executive, Tim Cook lashes out at European Commission tax ruling - Thursday September 1

The ruling that Apple must pay the Irish government €13 billion Euros in back taxes over its "sweetheart" deal in the country ignited fury in the company's boss who called it "maddening" and "political".

AFP/Getty Images

27/35 ITV withdraws bid for Peppa Pig owner - Wednesday August 25

ITV withdrew its £1bn offer for Entertainment One, owner of the popular children's television franchise "Peppa Pig," the company said in a statement.

Getty Images

28/35 Scotland's North Sea oil revenues collapse 97 per cent leaving £14.8bn budget hole - Wednesday August 24

Scotland's revenues from North Sea oil have collapsed by 97 per cent in the past year as oil prices have plummeted, reigniting a fierce debate over whether an independent Scotland could finance itself. Scottish Liberal Democrat leader Willie Rennie said: "The nationalists' case for independence has been swallowed up by a £14 billion black hole." Taxes collected from oil production fell from £1.8 billion in 2015 to just £60 million in 2016. The gap between tax revenues and what Scotland spends is now 9.5 per cent, or £14.8 billion, compared to a 4 per cent deficit for the UK as a whole.

Reuters

29/35 Swiss watch exports to UK rise as sterling falls -Tuesday August 23

Swiss watch exports to the UK rose by 13.4% in July as tourists exploited the drop in the value of the pound to snap up luxury goods. The Federation of the Swiss Watch Industry said watches worth 110.2m Swiss francs (£87m) were exported to the UK last month, the best figures since November 2015.

Getty Images

30/35 Public borrowing worse than expected in wake of referendum vote - Friday August 19

The public finances were weaker than expected in the wake of the Brexit vote, official figures showed today. July has traditionally been a month of surplus for the public finances as it is one of the four months when companies pay a share of their annual corporation tax dues over to HMRC. City of London analysts had expected a surplus of £1.6bn.

Getty

31/35 Surprise jump in retail sales in July after EU referendum vote - Thursday August 18

There was no sign of British shoppers reining in spending in the wake of the EU referendum result, one of the first "hard" post Brexit vote set of statistics has shown. Retail sales jumped 1.4 per cent in July, more than reversing the 0.9 per cent decline in June, according to the Office for National Statistics.

PA

32/35 Unexpected fall in joblessness post Brexit vote - Wednesday August 17

The UK claimant count unexpectedly declined last month, suggesting the British labour market held up reasonably well in the wake of the Brexit vote.

Rex

33/35 Inflation rises in wake of Brexit vote - Tuesday August 16

Consumer price inflation picked up in the wake of the UK's Brexit vote, hitting its highest rate since November 2014. The Office for National Statistics said the annual rate of CPI inflation was 0.6 per cent, up from 0.5 per cent in June and slightly higher than City of London analysts had been expecting.

PA

34/35 Sports Direct warehouse staff who were underpaid could receive £1m back pay - Monday August 15

Thousands of workers at British retailing group Sports Direct's warehouse are set to receive back pay totalling an estimated £1 million for non-payment of the minimum wage, Britain's largest union confirmed. The back pay follows an admission by Mike Ashley, the founder of Sports Direct, that his company has broken the law by falling to pay the national minimum wage at a hearing of the House of Commons Business, Innovation and Skills (BiS) select committee in June.

Getty Images

35/35 Eurozone GDP growth rate halves in second quarter - Friday August 12

Eurozone growth slipped back in the second quarter of the year and dried up entirely in Italy, the bloc's most troubled large economy. Eurostat reported that the single currency's aggregate GDP expanded by 0.3 per cent in the three months to June, down from the 0.6 per cent rate in the first quarter. This was in line with the statistics agency's "flash" estimate from 29 July.

Getty
Would big signs above checkout counters urging customers to reuse bags (or to take out cloth ones) have had the same effect? It's hard to imagine so. There is probably an element of herding and even stigma too. If everyone is reusing bags, there is a social pressure to do the same. Do you really want to be the single environmental vandal in the shop?
There's another sense in which this isn't only about the money. Supermarkets could technically keep the proceeds of the levy and use them to pad out their profits. But, under pressure from the Government and shoppers, they have instead pledged to give the cash raised to environmental charities. So this might be best viewed as collective social endeavour to minimise the overall use of plastic bags. That's what those who deprecated the levy as an outrageous act of the "nanny state" – or another rapacious stealth tax imposed on a long-suffering population – missed. It's actually pushing at an open door. This is taxation by consent.
It is well established that price changes do influence consumer behaviour. When the previous Labour government temporarily cut the rate of VAT from 17.5 per cent to 15 per cent during the 2008 recession, researchers predicted a substantive increase in aggregate consumer spending, relative to where it would otherwise have been.
Yet there can be much more to human behaviour than robotic responses to price signals. Money might even have the opposite effects to what one might have imagined. Consider blood donations. Some evidence suggests that moving to a system of paying people to give donations would result in the overall numbers coming forward falling. The act of giving blood is viewed by many as altruistic and civic, something removed from the market. Turning it into a financial transaction for personal profit could mean these altruistic donors lose interest.
A sense of fairness also matters. There is a social science experiment called the ultimatum game in which two people are gifted a small pot of money. One person is then allowed to propose how to split the windfall. If the second person accepts the split, it is distributed as proposed. But if the second person rejects the proposal, neither gets anything. Logically, the second person should accept any split that means receiving a payment above zero. It's surely better to get something, rather than nothing, even if the other guy gets more. But in reality, anything significantly different from a proposed straight 50-50 split of the windfall tends to be rejected. People would apparently rather get nothing than feel insulted or exploited.
Financial incentives are powerful influences on our behaviour. But, as the curiously powerful plastic bag charge vividly demonstrates, they are by no means the whole story.
Reuse content