Fifty years ago on Saturday my grandfather died.
One hundred and ten world leaders attended his funeral. They were saying goodbye to a man who embodied the defiance, humour and greatness of the country he saved. 
For them and the people they represented Churchill stood for heroic leadership which both defended and, as importantly, promoted his core values of freedom, democracy and the rule of law. 
So enduring were these values forged in both war and peace that ten years ago he was voted the greatest Briton. It is why the 50th anniversary of his death is good moment to burnish his legacy with our younger generation.
Earliest surviving original images of Winston Churchill
Earliest surviving original images of Winston Churchill
1/5 Winston Churchill

The seven glass plate negatives show Churchill between the ages of 13 and 17 at the time he attended the Harrow School.

Save Photo

2/5 Winston Churchill

New images released this week show a different side to Winston Churchill, however, hinting at a rather sulky schoolboy persona.

Save Photo

3/5 Winston Churchill

In a hint of his future role as PM during World War II one image shows him dressed in the uniform of Harrow School Rifle Corps.

Save Photo

4/5 Winston Churchill

They images were part of a massive haul of over 90,000 photographs documenting every staff member and pupil from Harrow School between 1860 and 1965 and were discovered by Save Photo, a scanning and digital asset development company.

Save Photo

5/5 Winston Churchill

The collection was originally found in a poor condition in the dairy barn of a farm outside Cirencester in 2012.

Save Photo
It was the peace he secured in 1945 that after a millennium of war turned Europe into a space of entrenched freedom. Which is why up to 45,000 people, of all nationalities, pass every month through the doors of London's Churchill War Rooms and 200,000 every year visit Chartwell [his home in Kent].
Beyond Britain, Churchill squares and streets pepper European towns. Even one of the main buildings of the European Parliament is named after him.
Churchill's values of freedom, democracy and the rule of law are as relevant today as ever. This is why I am launching a £6,000 annual prize to anyone in that younger generation who could create the best campaign to make Churchill the European statesman relevant to a new era. It is a vital task not because people fear that Churchill will be forgotten.
Despite silly stories implying that younger people think Churchill is the insurance dog or was a fictional character, his name will always resonate. But what he actually stood for might not.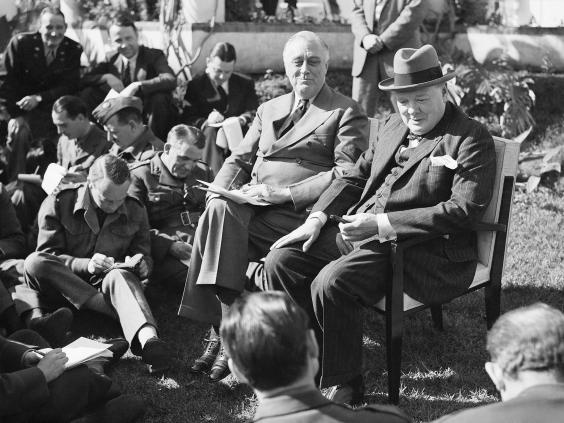 Churchill's spirit, and not just his values, is what is needed today. In 1936, he said "the era of procrastination, of half-measures, of soothing and baffling expedients, of delays is coming to its close. In its place we are entering a period of consequences." A troubled Europe is surrounded by a ring of fire comprising Russian revanchism, Middle Eastern terrorism and African migration.
Britain is facing an uncertain future. Who could deny that this is a period of consequence and that Britain needs to step up to these challenges for the next generation?
For that to happen, a bolder leadership is required to alert the public to the dangers around Europe and set out how we can best influence our neighbourhood to deal with them.
We pack real military, diplomatic, economic and cultural punch in Europe but, last year in a YouGov survey for British Influence, 65 per cent of British citizens thought that nowadays their country was insignificant, bossed by the Americans and ganged up on in Europe. I know that this is absolutely not true. But it reveals a worrying gap between the public's perception of our power and the reality.
In these difficult times, Britain now needs a European vision to promote its values and inspire its people. In 1943, Churchill said: "I believe myself to be what is called a good European and I should deem it a noble task to take part in reviving the fertile genius and in restoring the true greatness of Europe."
As they will one day direct the country, the younger generation need to understand Churchill better by applying his leadership legacy to their country and continent.
Sir Nicholas Soames is Conservative MP for Mid Sussex
Reuse content