Open secrets: The best of this year's Open House Weekend
Next weekend, almost 800 buildings will fling open their doors to let the public enjoy spaces usually closed to them. It is, says Matthew Bell, one of the highpoints of the cultural year.
Open secrets: The best of this year's Open House Weekend

Show all 8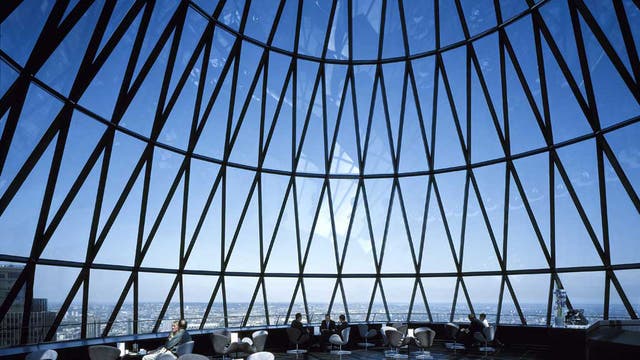 Hard to believe, but London hasn't always been quite the dynamic city it is today. Twenty years ago, when the idea for the Open House Weekend was born, the capital was as straight and grey as one of John Major's suits. The East End was not young and hip; it was poor, and served eel without irony. There was no Tate Modern, or Globe Theatre, or Millennium footbridge to reach them by. The South Bank did not teem with life: it was where you went for a concert before scurrying back over Hungerford Bridge. Even Notting Hill, with its carnival and cliffs of white houses, was still gritty, not yet entirely gentrified by the haves and have-yachts.
So when Victoria Thornton, an architecture critic and evangelist for good urban living, set about opening up buildings that were normally closed to the public, it was in a spirit of exploration that was quite unusual at the time. "Architecture was exclusive," says Thornton. "I was writing about it, so I knew about it, but the doors were very much closed if you didn't know." This was the age before Streetmap and Google Earth. It was a time before major institutions even had websites. Thornton's belief, then and now, is that to get the most out of a city, you have to have "a dialogue with your environment". By literally opening doors, she hoped to promote understanding and appreciation of the built spaces around us. She wanted architecture to be appreciated by everyone, not just critics such as herself.
Over the coming years, several changes would help. The Lottery, launched in 1994, was a major factor. Before then, as Thornton points out, major building projects were mostly privately funded. The Lottery created a new fund for the creation of civic buildings. "In 1992, when we started, there was only a heritage department, and no architecture minister," says Thornton. "That says a lot about the change in attitude towards the importance of new public building."
Also in the mid-1990s came the great home-makeover boom. It started in 1996 with the surprise-hit TV show Changing Rooms, featuring Carol Smillie and Handy Andy. This spawned others, including the more ambitious k Grand Designs, and suddenly, everyone was into domestic architecture. Our eyes had been opened to whole new ways of living, involving MDF and decking. As a nation, we became more conscious of our built environments; we fell ever more in love with property, and prices surged.
The first Open House event was small. Through her contacts in the world of architecture and planning, Thornton persuaded 20 buildings in four boroughs to open. The event grew quickly. By the following year, The Independent had become a media partner, Newell and Sorrell had designed the "key" logo, and 200 buildings opened their doors. By 1996 it was a two-day event, and by 1998, 150,000 people were visiting 500 buildings.
Its enduring popularity has mirrored a more general opening up of the city's private and public spaces. The British Museum's central courtyard and reading room is no longer the preserve of a few students; it is a vibrant exhibition space, restaurant, meeting place and tourist destination that welcomes millions of visitors per year. St Pancras station no longer resembles a neo-Gothic ghost town; it is the gateway to Paris. Even Buckingham Palace and Kensington Palace now welcome thousands through their gilded doors.
But the winning attraction of the Open House Weekend is that it embraces contemporary London, says Thornton, and not just its past. "The key thing for us is the quality of the buildings, not just the age. When we started, there was a tendency to say that everything new is bad, and everything old is good. That was when we only had a department of heritage. For me, one of the key points is that we're celebrating London as a contemporary city: we're looking at the city as it is now, we're not putting it in aspic."
Another selling point is the variety. While buildings such as the Gherkin and the Bank of England always attract huge interest, private homes are a big draw. One of last year's highlights was at 15 ½ Consort Road in Peckham, a home featuring an opening roof and a bath that slides beneath the bed, which featured on Grand Designs. Another favourite is Container City at Trinity Buoy Wharf at Leamouth, an arts centre built of shipping containers. It's also the site of London's only lighthouse.
This year, almost 800 buildings will be open to view. The selection process takes all year, and the organisers put a lot of time into researching new gems. As well as some old favourites, Thornton says 20-25 per cent will be open for the first time. "We want to keep it fresh," she says. "Though obviously there will always be something you haven't seen last year, as it's logistically impossible to see 800 buildings in two days."
For those who have experienced it, the atmosphere in London over the Open House Weekend is memorable. Everywhere, on trains and buses, you see people clutching the distinctive green guidebook, tracking down their next architectural jewel. "It definitely gets people talking," says Thornton. "People will swap tips and recommendations for what to see next." Londoners have enjoyed a similar mood across the capital all summer, thanks to the Olympics and the Paralympics. The difference, says Thornton, is that Open House Weekend is unashamedly not for tourists: it's for residents of the city to get to know and appreciate their hometown better.
Among those who have benefited are up-and-coming architects, who have their work showcased. And there's a case for saying public buildings should be open to all anyway. But what's in it for large private institutions? "I think it's about showcasing what there is," says Thornton. "If a business cares about its building, they will want to show it to others. Early on, the Bank of England said, 'Don't call us, we'll call you.' But now, they're regular participants. It's about recognising you have a building of note."
A major achievement of the scheme is that it is, and always has been, totally free. Thornton works with a team of two, and many volunteers, to make it happen. They receive support from various private and public bodies, but every year they begin, financially, from a standing start. This year, for the first time, they are publishing a fully illustrated book of 100 favourite buildings, with a foreword by Alain de Botton. There is also an app available, which flags up the Open House buildings.
The scheme has now spread worldwide, and has been exported to 22 other cities. Clearly, London is not the only city to enjoy varied and interesting architecture. But I wonder if the Open House scheme taps into a universal human attribute – nosiness. "No!" Thornton laughs. "I hate that word. It's about celebrating a living city, and engaging with it." So order your green guide, get on your bike, and spend next weekend exploring the city. Just don't call it a snoop.
Open House Weekend takes place next Saturday and Sunday. For more information, including addresses and opening hours, visit londonopenhouse.org
Five unusual Open House gems to visit
By Holly Williams
Trinity Buoy Wharf/Container City
Once home to a buoy manufacturer, this Docklands site has been given a s erious injection of creativity – and cash – to transform it into a "thriving arts quarter". Do make sure to catch Container City, where innovative living spaces have been made out of stacked old shipping containers. The wharf is also, rather wonderfully, home to London's only lighthouse…
Durbar Court, the Foreign Office
Get a glimpse inside the most seriously grandiose, Grade Ilisted government buildings of Westminster. First used in 1867, when it was the India Office building, at the heart of the Foreign Office is Durbar Court. A sumptuous Victorian courtyard, it was designed by Sir George Gilbert Scott and Matthew Digby Wyatt in the classical style, with Doric, Ionic and Corinthian columns, and an elaborate marble floor.
13 Kingsley Place, Highgate
A new kid on the block, this three-bedroomed pavilion house in Highgate, north London, was shortlisted for a RIBA Award this year. Designed by one-to-watch Luke Zuber, for Zuber Architects, it reflects his interest in natural materials, with a Brazilian-slate courtyard and a new timber frame clad in rich hardwood – plus enormous windows for gazing at the rather fine views over the capital.
The Dalston Eastern, Curve Garden
Formerly a scrub of abandoned railway – the old Eastern Curve line connecting Dalston Junction to the North London Line – architectural collective Exyzt helped it blossom into something beautiful. With the help of the Forest Road Youth Hub, wildlife-friendly bushes and shrubs have been planted; there are vegetable patches for local residents to grow their own produce, and there's a wooden pavilion for events.
The Cedars (Span House), Teddington
Built in the 1950s, The Cedars is a prime example of a T2 house by Span Developments. Designed with architect Eric Lyons, these modern, block-shaped buildings also boasted shared gardens, promoting a more communal model of living. More recently, it's been given a contemporary spin with a "Mondrian" colour scheme refurb, alongside sustainable features including solar panels and water collectors
Join our new commenting forum
Join thought-provoking conversations, follow other Independent readers and see their replies