Rooftop living: Reach for the skies
A new movement is making use of rooftops as social spaces, from tower-block swimming pools to hotel football pitches. Christopher Beanland reports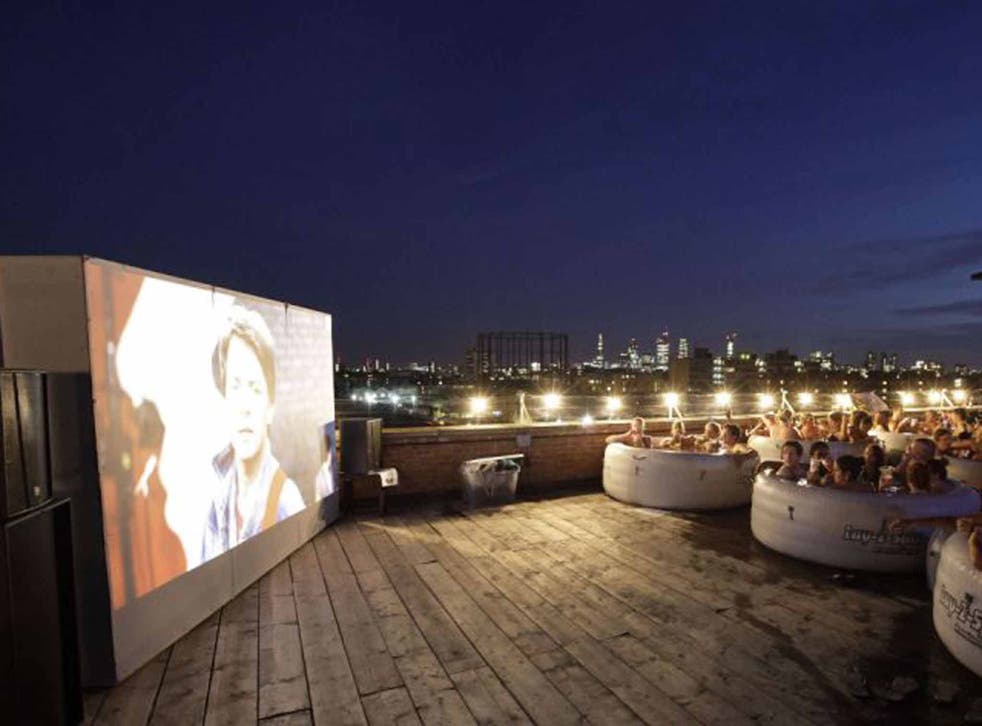 Roofs tend to be purely functional, rarely used for anything other than satellite dishes, chimney stacks or keeping what lies beneath dry. But things are looking up for a new movement to reclaim rooftops and transform these lofty surfaces into vibrant community spaces.
Using roofs in interesting ways isn't totally new. Getting up on the roof, above the city below, evolved out of the dream of creating a technologically advanced city that the Futurists of Italy held on to in the 1920s. Fiat's Lingotto Building in Turin from that era had a rooftop test track made famous in The Italian Job. Sir Geoffrey Jellicoe wanted to go one better with his 1959 plan for a new city outside Staines called Motopia, where all the roads ran along the top of blocks of flats.
But it is as popular, democratic spaces that roofs really work. Le Corbusier put a paddling pool on top of his Unité d'Habitation housing block in Marseille. Last year it was renovated as an open-air art school and exhibition centre.
Up on the roof you can leave your terrestrial cares behind. But a fear of people jumping or falling has left many roofs sealed for safety reasons. One of the Unité's English copycats, Great Arthur House in London, boasts 1950s roof gardens with priceless views – but low barriers. As interest in roofs peaks again, perhaps Great Arthur's off-limits roof is next on the list to be rediscovered? And they should be discovered – because the psychology of being so high is a potent thing. It's a thrill, a danger, an education in topography.
Roofs are great locations to get intoxicated and rooftop bars have spread inexorably. Bangkok and Istanbul have dozens and now London is moving up in the world. "London has woken up to the possibilities offered by the countless unused rooftops in the city," says Peter Chadwick, who blogs at thisbrutalhouse.com. Netil House in Hackney hosts rooftop yoga and the roof of Rockwell House in Shoreditch comes alive with 20 inflatable hot tubs for Hot Tub Cinema – which is expanding to Bristol next month. It doesn't stop there: Manchester's new Hotel Football, opening soon opposite Old Trafford, will apparently boast a rooftop football pitch.
And roofs are also places where people can come together. In Spain, architects are creating ways to share their spaces in the sky. Roofs have been turned into concert venues, theatres and cinemas by Barcelona's Encajes Urbanos (Urban Lace) group and Seville's La Matraca collective. "We try to turn roofs into community spaces because we think people are forgetting how important the links are between neighbours," explains Fernandez of La Matraca. "The rooftop has historically been a place of common life."
Roofs can be functional too. Birkdale Primary School in Southport recently put a playground on its roof. And Chinese kids going back to school last week at No.2 Primary School in Tiantai were the first to be able to try out the school's new 200 metre-long rooftop running track.
If space is tight at ground level, gardens can also be taken to the top. The Europa Hotel has just planted rosemary and parsley 13 floors above the centre of Belfast. While the roof of a Berkshire office block has been transformed into a green oasis by the Reading International Solidarity Charity (Risc), which has its offices downstairs – a trick Norman Foster played back in 1974 with his Willis, Faber & Dumas Building's astro-turfed roof garden in Ipswich. "The value added in [providing] sustainable urban drainage, creating an amenity, and possibly growing food – on an otherwise wasted space – is a no-brainer," believes Risc's Dave Richards.
The Cornerhouse entertainment complex in Nottingham recently installed beehives on its roof, as did the NHS Stella House offices in Newcastle, where staff have been trained in bee-keeping. Is it also time to start covering the tops of all our office buildings in grass? "Green roofs offer a number of benefits for the building owner but also the wider environment," says Pete Stringer, special projects manager at Red Rose Forest, which can build a green roof on top of any building you fancy. "They can, of course, improve the visual appearance of the building. But they can also enhance biodiversity by providing a habitat for wildlife such as insects and birds."
But it can be tough at the top – obviously a pitched roof isn't going to be much good for a paddling pool. And if you live in a communal block and want to create a community space, you'll need to find out who even owns the roof – not always as simple as it sounds. But in theory, could residents just go and build their own top-floor terrace? "No and yes," says Pierre Wilter, design director at Urban Roof Gardens, which creates upmarket private rooftop gardens. "'No', because you need professional advice to get planning, structural engineering and construction drawings done. 'No' again because the waterproof membrane, structural support, access and balustrading needs a professional contractor. But also, 'yes', because once the framework is done, virtually everything else can be added by enthusiastic amateurs."
Space is particularly short in China, where people throw caution to the wind and just build on top of other buildings pretty much at will. This weird piggy-backing can be seen in the ordinary-looking houses plonked on top of a mall in Zhuzhou – but reached its apotheosis when a millionaire Chinese doctor built a head-spinning super-sized rockery on the roof of Park View Tower in Beijing – which looks more like a Bond villain's lair. Because if there's one part of a building that has a license to thrill, it's the roof.
Join our new commenting forum
Join thought-provoking conversations, follow other Independent readers and see their replies