Sir Norman Foster warned by human rights campaigners after he wins bid to design Qatar World Cup stadium
Human rights groups have documented widespread abuses of migrant workers in Qatar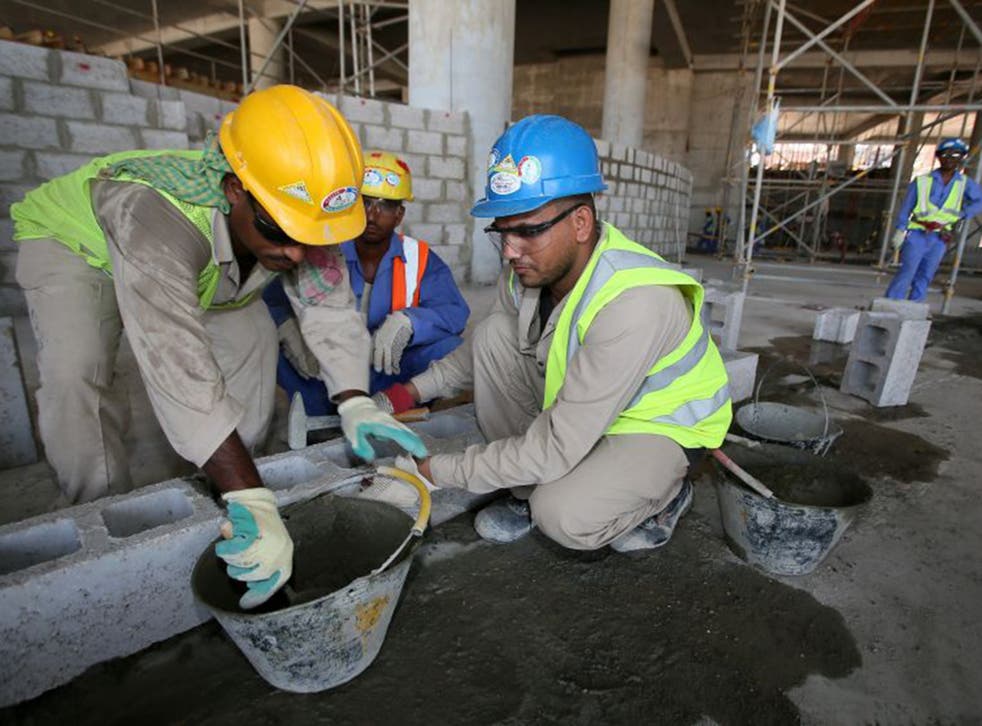 The architect Sir Norman Foster must ensure his firm is not "complicit" in human rights abuses in Qatar, campaigners have said. The warning came after it was announced that his firm will design the 80,000-seat Lusail Stadium near Doha that will host the final of the controversial 2022 World Cup.
A series of investigations by human rights groups have documented widespread abuses of migrant workers in Qatar since it was chosen to host the 2022 World Cup five years ago. The decision has proved divisive in football due to the high summer temperatures in the region.
Scottish Labour leader Jim Murphy, who travelled to Qatar last year to look at the working conditions of migrants, recently described their treatment as "shameful" and said: "It's time for everyone who cares about football's reputation to make clear that the 2022 World Cup shouldn't be built on the blood of vulnerable migrant workers."
Sir Norman, of Foster + Partners, welcomed the news of his firm's latest contract as "an exciting step forward in stadium design". Architects' Journal quoted him as saying: "It will be the first to break the mould of the free-standing suburban concept and instead anticipates the grid of this future city, of which it will be an integral part."
He added: "The project also pioneers the idea of an ongoing life for the stadium beyond the big event. The environmental strategies, particularly those that address the players and the spectators, will also be of international interest."
The pros and cons of a winter World Cup for fans

Show all 10
Mustafa Qadri, Gulf migrant-rights researcher at Amnesty International, said in response to the announcement: "Sir Norman could play an important role in ensuring that the main 2022 stadium and other World Cup sites are not built on the back of labour abuse and exploitation."
He added: "Whether or not Sir Norman speaks out on Qatar's exploitative labour conditions, he should scrupulously ensure that his company and those with which it does business are not complicit in human-rights violations taking place in Qatar."
Sir Norman is not the only high-profile British architect to have been awarded a World Cup contract. Dame Zaha Hadid is already designing the 40,000-seat al-Wakrah stadium, which will host one of the quarter-final matches.
Nicholas McGeehan, Human Rights Watch's Qatar researcher, said: "It would be fantastic if Foster was to use this position to really drive home the importance of labour reform."
Foster + Partners did not respond to requests for comment.
Building controversy: Dangerous designs
Sir Norman Foster was involved with the redesign of Astana, the capital of Kazakhstan – a former Soviet republic where torture is common, say campaigners.
Dame Zaha Hadid designed the Heydar Aliyev Centre in Baku, Azerbaijan – a country criticised for its human rights record.
Sir Norman and Dame Zaha are among a number of architects, including Frank Gehry, Jean Nouvel, and Rafael Viñoly, who are working on the Saadiyat Island development in Abu Dhabi – where workers are sometimes not paid and live in squalor, human rights groups claim.
Join our new commenting forum
Join thought-provoking conversations, follow other Independent readers and see their replies