The Top Ten: Unrealised and unfinished buildings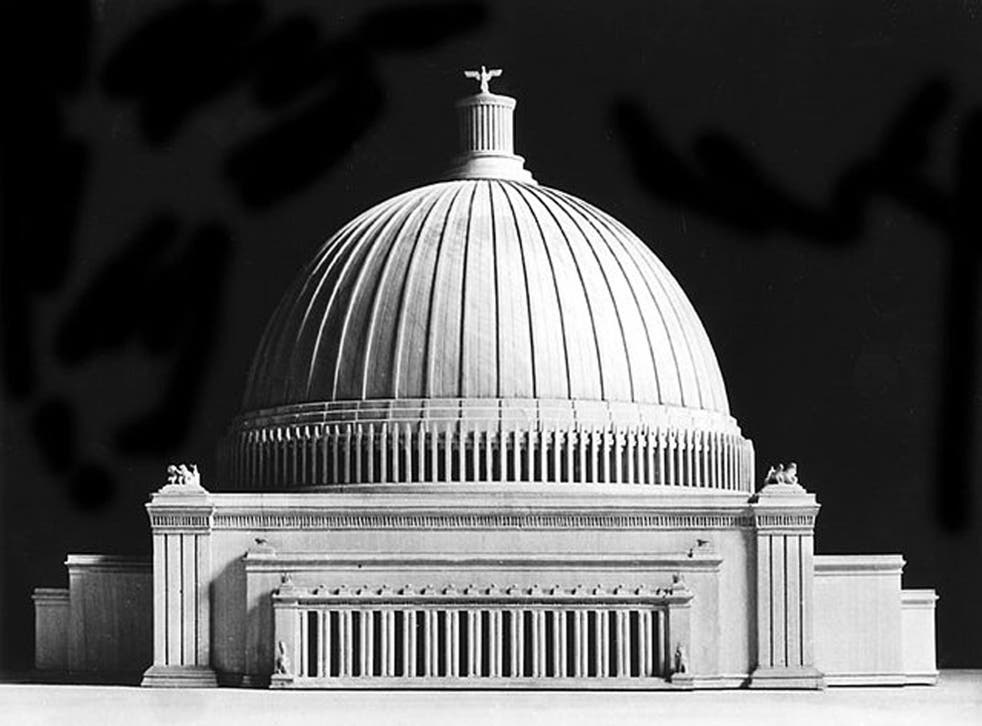 This list has been under construction for so long that I have forgotten whose idea it was originally. But now, unlike the buildings on it, it is complete.
1. Watkin's Tower, or the 'Great Tower of London'
Designed by Sir Edward Watkin to be taller than the Eiffel Tower. First tier built in 1895, demolished in 1907. Nominated by Jack Tindale.
2. Imperial Monumental Halls and Tower, Westminster
Gothic addition to Westminster Abbey with 167m tower, proposed in 1904. Pitched by Labour History Group and Graham Thorne.
3. The Volkshalle, focus of Hitler's planned renewal of Berlin
Dome designed by Albert Speer to be 16 times larger than that of St Peter's. Envisaged by David Head.
4. Palace of the Soviets, Moscow
Would have been the tallest building in the world when started in 1937, but was abandoned in the war. Proposed by Ben Lyons and Jack Tindale.
5. Edwin Lutyens' Roman Catholic Cathedral, Liverpool
The crypt of this ambitious 1930 design was the only part built. It is under Frederick Gibberd's Metropolitan Cathedral.
6. Hengistbury Head Castle, Dorset
"The largest castle in the world" designed for Harry Selfridge, founder of Selfridge's department store (which was also going to have a 150m tower). Thanks to Joe Covill.
7. Sagrada Familia, Barcelona
Basilica begun in 1882, with a target for completion of 2026, centenary of the architect's death. Put up by Steve Evans.
8. The Metropolitan Sepulchre, Primrose Hill, London
Huge pyramid tomb designed by Thomas Wilson in 1820s to ease overcrowding in graveyards. From Martin Beckford.
9. The Monument to the Third International, St Petersburg
Designed by the Constructivist Vladimir Tatlin, 1919-1920, a futurist steel tower. Recalled by Mr Frog.
10. Black Taj Mahal
A marble mirror image, over the river, supposedly for the Mughal emperor Shah Jahan himself. Nominated by Issy Flamel, but sadly turns out to be a myth.
Next week: Different songs with the same title (such as 'Dagenham Dave' by the Stranglers and Morrissey)
Coming soon: Shortest wars. Send your suggestions, and ideas for future Top 10s, to top10@independent.co.uk
Join our new commenting forum
Join thought-provoking conversations, follow other Independent readers and see their replies