What does the skyrocketing price of property in the capital mean for society?
The London luxury apartment is not a home, it's a multimillion-pound buy-to-leave 'asset class'. And, says property writer Mira Bar-Hillel, its inexorable spread threatens to plunge swathes of the capital into darkness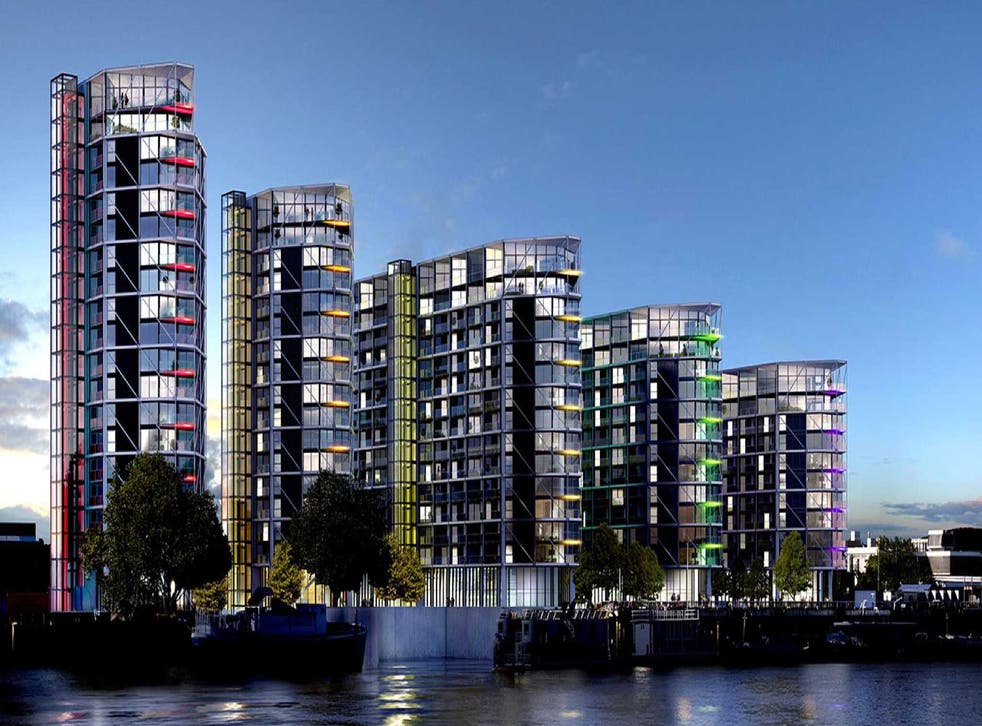 Battersea is a typical inner-London suburb. Built just south of the river over the past 150 years, it contains the usual mix of mainly Victorian houses and small blocks of flats from either side of the war. Property prices here, as across almost all of London, have rocketed, of course. For instance, a newly modernised three-bedroom flat was sold here on 28 February this year for £417,500, well out of reach for most young families.
But there was a sliver of hope: a company which bought the Battersea Power Station site had promised to build 3,500 new homes they have planning permission for with a view to creating "village-style communities". The greater the supply of local housing, the more local demand is met and, with it, perhaps, a curb on the steep rise in prices. The artists' impressions of Battersea Power Station were more Las Vegas than Ambridge , but the developers also offered to give natives a chance to purchase before selling the apartments abroad.
Early last month the developers "launched" 250 flats. They were reportedly sold off-plan within a few hours. These buyers put down a deposit then pay the balance in tranches until the apartments are ready to move into, which could be up to two years hence. The developers also claim that 75 per cent of the buyers were British, which is nice. But the prices of the "luxury living space" on sale? Well, they start at £800,000 for a studio. Three-bedroom flats are changing hands for £3,250,000, while for the penthouses the sky is the limit. All of which is somewhere between four and eight times more than the prices for existing homes in the area.
Next door, at the Riverlight by Berkeley Homes company St James in Nine Elms (formerly known as Vauxhall), a 15th-floor, five- bedroom flat in forbiddingly dense metal and glass blocks will set you back nearly £9m. This is four times the price of big period houses with gardens not too far away. The views at Riverlight, the agents assure us, "will be quite amazing and the envy of many". Assuming, of course, that this and other properties in the development will be acquired to be lived in by enough people to produce this amazement and envy. It's hard to say, as none of the buildings have been completed. And even if or when they are all sold, I am not the only one to suspect that they will remain unoccupied, their enviable living- rooms and bedrooms remaining dark as the sun sets over London.
At the very top of this eye-watering market, a penthouse at One Hyde Park in Knightsbridge, arguably the most expensive block of flats in the world, has recently been reported to have been sold to a mystery buyer for £140m. The Land Registry shows that all but one of the building's 86 units are sold. Yet few appear to live there, as the dark windows and bored doorman testify.
Does this matter? Yes, it matters very much. Throw a pebble into a pond and you will see the "ripple effect", which, when it comes to property prices, signals serious danger for any Londoner who does not yet own a home – and even for the offspring of those who do. This particular ripple effect is responsible for that otherwise inexplicable price bubble all over London.
Take Bloomsbury, for example. Property developers have scented money, and a new three-bedroom flat (luxury, naturally) in Bloomsbury will cost you around £2m, or £1,454 per square foot (about the footprint of a waste-paper basket). The same ripple effect has meant that even an ex-council three-bed flat in Bloomsbury will set you back an unheard-of £850,000, over £1,000 per square foot and around 50 times more than it would have been sold for to its original council tenants in the 1980s.
A few years ago anyone suggesting such a scenario would have been at risk of being sectioned. But the high-end housing bubble has now inflated to include swathes of London previously unfamiliar with the phrase "luxury apartment". There are new schemes totalling around 20,000 new "luxury" homes all over inner London. The prices asked for these in Earls Court and Lots Road in Fulham will raise few eyebrows – but million-pound flats at the Elephant and Castle in south London? And £900,000 for a studio in a tower at Blackfriars? Prices in all these new schemes will be closer to £1,500psf than £1,200, compared with up to £600psf for the very best homes in existing inner suburbs.
What sort of "luxury" does one's millions command in these apartments? At One Hyde Park, for instance, the fantastical prices are justified (by the developers) by the promise of "exceptional" fittings and fixtures. New purchasers do get parking spaces (an extra cost), a wine cellar, and access to swimming pool, spa, in-house cinema, uniformed porters and glass lifts plus catering by the adjoining Mandarin Oriental Hotel (extra).
The service charge is an eye-watering £16 per square foot per annum (remember that waste-paper basket?), which means that the bigger apartments pay £144,000 a year and the duplexes £288,000. The service charge is, of course, payable whether you live there or (as is the case with most of the buyers) not.
So you can imagine the annoyance which drove banker Geoffrey Logue to go to law when he took exception to the "exceptional" interiors of his £11m flat. "I wanted a dark wood kitchen framed with bronze," he said. "I didn't want cream lacquer cabinets in my kitchen... it looks like Ikea." Logue, a British-Irish millionaire, knows about elite homes having set up a property business in the US in 2003. He was just 29 in 2007 when he bought into One Hyde Park, which then was just a hole in the ground and a few glitzy brochures. As the developers required, he paid a series of deposits that totalled £5.7m before he was even able to see what he was buying.
When he did, Logue discovered that apart from the Ikea-style kitchen he had also lost the laundry room to air-conditioning equipment and that relocating it would mean he would have no bidet. The One Hyde Park development manager Chris Candy tried to placate him with the assurance that "people don't really need bidets", but Logue saw red and sued for breach of confidence, abuse of process and unlawful interference. Earlier this year the building's owners, Candy, CPC and Project Grande, paid Logue a reported £3.95m to settle the litigation.
It is impossible to say what other buyers got for their tens of millions (or more) as hardly anyone has set foot inside a One Hyde Park apartment other than at the management's discretion. The buyers are unknown (many having bought through anonymous offshore companies) and invisible, as few have moved in. The development has become known as the Black Elephant of Knightsbridge, and joins growing swathes of Belgravia, Mayfair and parts of Kensington and Hampstead in perma-darkness after nightfall.
Where does all this leave normal people? In a word – nowhere. Those who bought their homes pre-1996 are sitting on a massive capital gain which must be carefully dispersed to avoid the taxman getting the windfall. It will still not suffice to get the offspring on the ladder if you have more than two children. Yet the selfsame offspring – the so-called "boomerang generation" – may well be living at home now even if they are graduates, even if they are working, as rents in the capital are almost as unaffordable as mortgages.
But what about "affordable housing", I hear you cry. What about affordable housing indeed. Like water, it is everywhere, nor any drop to drink. There is the deplorable fact that k developers are no longer legally required to provide even a minimum amount of "affordable" housing on new sites. It's up to each council to set its threshold, and the developer can always appeal against it to Mayor Boris Johnson and/or communities secretary Eric Pickles who may tend towards leniency.
For example, at the Elephant and Castle in south London, a council estate where over 1,500 families lived is to be replaced by developers Lend Lease with over 2,000 private homes, and it's rumoured that only 79 will be for social renting. Southwark Council describes this as "regeneration".
In Islington the privatised Royal Mail wants to get away with only 12 per cent "affordable" housing provision at their Mount Pleasant development. At Kew Bridge a scheme for over 700 "luxury" flats contains no social housing at all, because the developers, Brentford FC, need the profits for a new stadium and Boris is fine with that. At Battersea there will no "affordable" housing because of the cost of restoring the listed power station. And so it goes.
So much for the requirement of these new developments to provide affordable housing – in any case, how "affordable" is the little housing that's available? Affordable housing should be within the reach of those with an average income. Given a responsible mortgage loan of 3.5 times income, that means a property costing £120,000 for a single employed Londoner or double that for a working couple with no children. There is little available in London at these prices, so successive governments have redefined "affordable" to justify decades of failure.
The only truly affordable housing is social housing built for renting, either by councils or housing associations. It is heavily subsidised by the taxpayer and in many cases propped up by Housing Benefit, and governments of all colours don't want to spend the money required to build new social housing.
The rest is smoke and mirrors: "low-cost homes", "intermediate homes", "key workers", "shared ownership" – all sound and fury signifying nothing. Essentially, anything being sold for anything below "open market price" – whatever that is – is counted as "affordable". Anything to let at "80 per cent of open market rent" – whatever that is – is counted as "affordable". With these definitions politicians can – and do – claim anything they like, while in reality people still can't afford to house themselves.
What to do? Sadly, when it comes to the current housing crisis, solutions tend to be simplistic and impractical in equal measure. "We need to build more homes" is the bland consensus. Sadly it does not take into account housebuilders who will only build as many homes as they can sell for maximum profit.
Where is the political will to acknowledge, let alone address, the severity of all this? "We must stop people buying homes and leaving them empty." Sounds good – until you try it. And sorry, Ed Miliband, but dodgy squillionaires will not be deterred by your threat of doubling their council tax. What's more, no politician has the will to take on those – including London Mayor Boris Johnson – who think all inwards investment is to be encouraged.
But foreign purchasers who "buy to leave" and who choose not to live in their London investments do nothing for our economy. They don't pay taxes here (apart from the piffling council tax) and don't shop here (there goes the VAT). Those who come to work in the City's financial-services sector make more of a contribution as they tend to live here with their families, but their numbers are small and in many cases their companies prefer them to rent.
The rot set in when our homes began to be described as an "asset class", following decades of being perceived as investments rather than places to live. The expression "property ladder", and the desperate need to get on it, is toxic. I have long advocated an end to the blind worship of home ownership in favour of the more sensible German model, where up to half the population is happy to live in long-term rented homes. Renting in Berlin, for instance, does not make you a second-class citizen, but it does stabilise the property market and takes it off the rollercoaster we have here.
But my calls have fallen on deaf ears, even among those with a personal experience of being unable to buy. As a result, no politician dares deviate from the mantra of "helping people to get on the ladder". Stuck in a hole, they dig ever deeper with policies such as Help to Buy which merely pushed prices upwards, as even the governor of the Bank of England Mark Carney has finally noticed.
As someone who has been observing – and reporting on – London's housing market since the early 1980s, I lead a life of quiet desperation. Not for myself: the house I bought in SW19 in 1975 is now worth over 100 times more than I paid for it. But I see colleagues whose graduate children cannot afford to leave home even to rent. I see recent buyers dreading a rise in interest rates which would cripple them. I see young professionals being driven out of London altogether. But I can see no end to this crisis other than a catastrophic economic event. Fasten your seatbelts, readers. It's going to be a bumpy ride.
Join our new commenting forum
Join thought-provoking conversations, follow other Independent readers and see their replies