Barbara Kruger's exhibition: The American artist that's still shooting her mouth off with her bold text-and-image artwork
Barbara Kruger's piercing text-and-image works, aimed squarely at our consumer culture, made a big impact in the Eighties. But Zoe Pilger finds a new exhibition of her work lacking in power – and somewhat out of date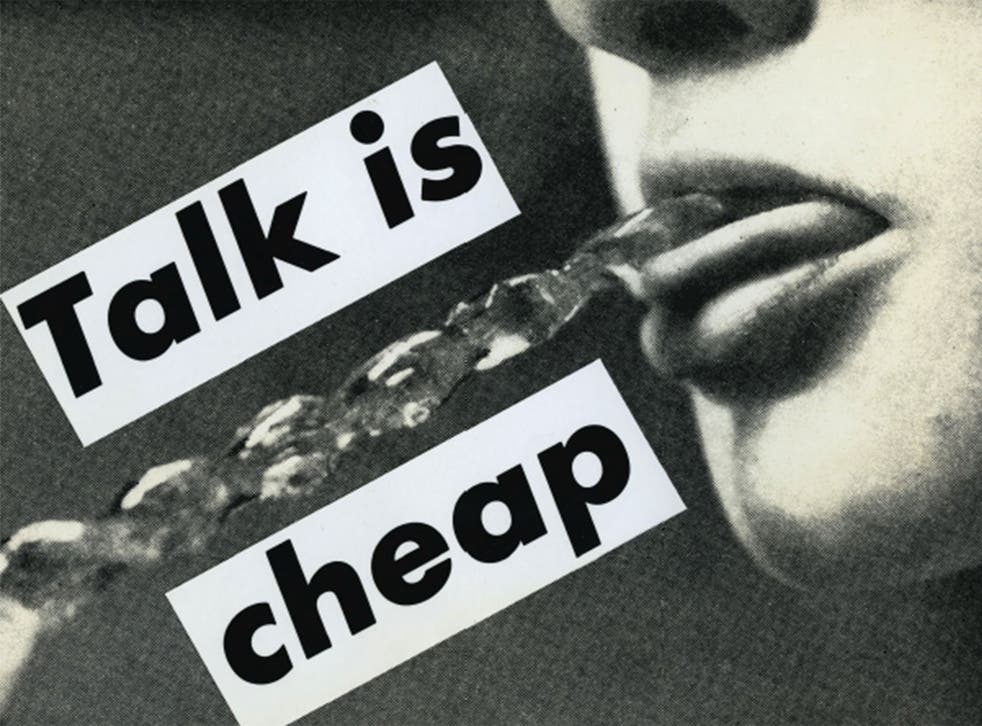 American artist Barbara Kruger came to prominence in the Eighties with bold text-and-image works bearing slogans such as "I shop therefore I am". Her reformulation of Descartes' proposition "I think, therefore I am" suggested that consumer desire had replaced consciousness in the West, reflecting the power-suited, free-market decade in which the work was made.
Another iconic work from the Eighties shows a photograph of a female classical statue, viewed up-close, and the slogan: "Your gaze hits the side of my face". The implication is that "the male gaze" is not merely symbolically violent, but violent full-stop. Its power is akin to a punch in the face. These early works are often stunning.
Kruger worked as the head of design at Mademoiselle in the 1960s, a magazine aimed at "smart young women." Her training in graphic design greatly influenced her later career as an artist; she uses the visual language of the mass media in order to critique it.
Born in Newark, New Jersey in 1945, Kruger, now 69, studied at Parsons The New School for Design under the photographer Diane Arbus. She was part of the so-called Pictures Generation, which included Sherrie Levine and Cindy Sherman, who also appropriated images from the mass media in order to subvert them.
This strategy of resistance distinguished them from the Pop Art generation that came before. While Warhol famously said that Pop Art, with its reproduced images of soup cans and film stars, was all about "liking things", Kruger and co seemed to profoundly dislike much of the consumer landscape which surrounded them.
A new exhibition of Kruger's work has just opened at Modern Art Oxford, which will be enjoyed by die-hard fans, but might leave others underwhelmed. The highlight is a huge site-specific installation in the upper gallery.
The visitor walks up a flight of stairs into a vast space entirely covered with Kruger's slogans; the walls and floor are printed with words in black and white and green. It feels as though you have entered the hyperactive imagination of someone contemplating their mortality through a haze of media-generated messages. Rather than Kruger's pointed political critiques of the 1980s, the sentiments expressed here are abstract and resigned. Notably, the title of the 1969 Peggy Lee song is writ large in green: "Is That All There Is?"
The work has immediate visual impact. The word "immersive" is often bandied around in relation to installation; the artist's goal of completely subsuming the viewer is rarely achieved, however. Kruger does achieve it – she uses the space to maximum effect. Most strikingly, an artificial wall has been built to emulate that of a church and the word "Joyful" is emblazoned across it, which feels more bullying than uplifting.
This is Kruger's gift; she directs her critical gaze at the pleasure and leisure industries, which demand that we be happy at all times – or else. The emotional blackmail of contemporary advertising is countered here by sorrowful questions such as "Is there life without pain?" But many of these fragments seem indistinguishable from the kind of quasi-profound self-help speak which Kruger is so adept at critiquing.
The rise of the internet has intensified the media onslaught of images since Kruger began making work. A wall of the installation is adorned with two emoticons, one happy, one sad, which suggests a brutally simplified inner state. More emoticons swarm in the background – winking, laughing, wearing sunglasses, looking evil. I'm not sure that this works. The emoticons are ironic, vacant – annoying.
The scale drops suddenly in the next gallery, which is filled with small, framed, black-and-white text-and-image works from the Eighties. They combine pithy lines of text with found images. These are not Kruger at her best. Neither "I shop therefore I am" nor "Your gaze hits the side of my face" is included.
Many express a chronic disenchantment. For example, "You kill time" is printed across a photograph of a glass of water and pills (1983). The work was made 20 years after the phenomenon of the depressed and medicated suburban housewife came to light with the publication of Betty Friedan's 1963 classic The Feminine Mystique; it was made ten years prior to Elizabeth Wurtzel's memoir Prozac Nation. Kruger's image could be viewed in this tradition – as a comment on the link between femininity and depression, or Big Pharma more generally. For me, it seems dated.
Other slogans include "Your misery loves company" with an image of a dentist drilling teeth (1985), and "We don't need another hero" with an image of a double-chinned man unpeeling a banana (1988). Both appear angsty rather than astute. They would not be out of place as posters on the bedroom wall of a disaffected teenager, or bumper-stickers marketed at those suffering a mid-life crisis. More snappy is "You delight in the loss of others", which is accompanied by an image of a woman's manicured hand spilling a glass of milk (1982). The combination of her glossy nail-polish and the dynamism of the milk hurtling through the air is effective. But the flip schadenfreude is tiresome overall.
Next, there is a small room in which a film, Plenty LA (2008), is projected onto a corner, which warps the succession of moving and still images: a glowing sunset, a tacky blue handbag, a bejeweled mobile phone, a car with a smashed bonnet, the words: "Plenty should be enough, enough, enough." The word "enough" flashes repeatedly at the viewer, which reinforces Kruger's point that consumerism leaves us all with an overwhelming spiritual lack. Again, the film is anti-capitalist in tone and trite in style.
The final video installation, Twelve (2004), is the most complex and fascinating work in the exhibition by far. A film of a face appears on each wall, enlarged and arguing with all the other faces. These are actors, reading from scripts. The viewer sits in the centre, ambushed. While the characters insult and antagonize one another, their thoughts spool across the bottom of the screen in the form of text, like a never-ending news update.
Perhaps the most moving is a domestic conflict between a young couple. On one wall, a woman is shown with her head bent. She is telling her abusive boyfriend that she is leaving him. He appears on the opposing wall, contrite and threatening by turns. Her resolve is betrayed by her thoughts, which read: "We belong together. Maybe not." He thinks: "Don't leave me. Don't turn me inside out," while commanding: "Go get me a beer." Finally, she gives in. She decides not to leave him after all.
These fragments of American life appear both real and stagey. At times, they are melodramatic – a woman accusing her friend of sleeping with her boyfriend – or wilfully pretentious – young people debating irony versus sincerity. There is a group of sorority girls, sitting in a cafeteria, whose thoughts all mirror one another's: "Starve yourself… knowing nothing, believing anything." They are self-critical and critical of other women: "Can we please talk about that sweater?"
One blonde woman in particular is magnetic; she forks cake into her mouth, seductive, seemingly performing for a camera in her head, which of course is Kruger's point. We are watching ourselves being watched. We have internalised the forces of capitalist oppression. Another proclaims, "We are the slaves of the objects around us." The problem with this exhibition is that it is simply not nuanced or original enough. µ
Barbara Kruger, Modern Art Oxford (01865 722 733) to 31 August
Join our new commenting forum
Join thought-provoking conversations, follow other Independent readers and see their replies