Hirstonomics: How Damien Hirst became a cash cow again
His reputation has taken a battering in recent years, but experts claim Hirst's work will one day be as durable as Picasso's, according to Adam Sherwin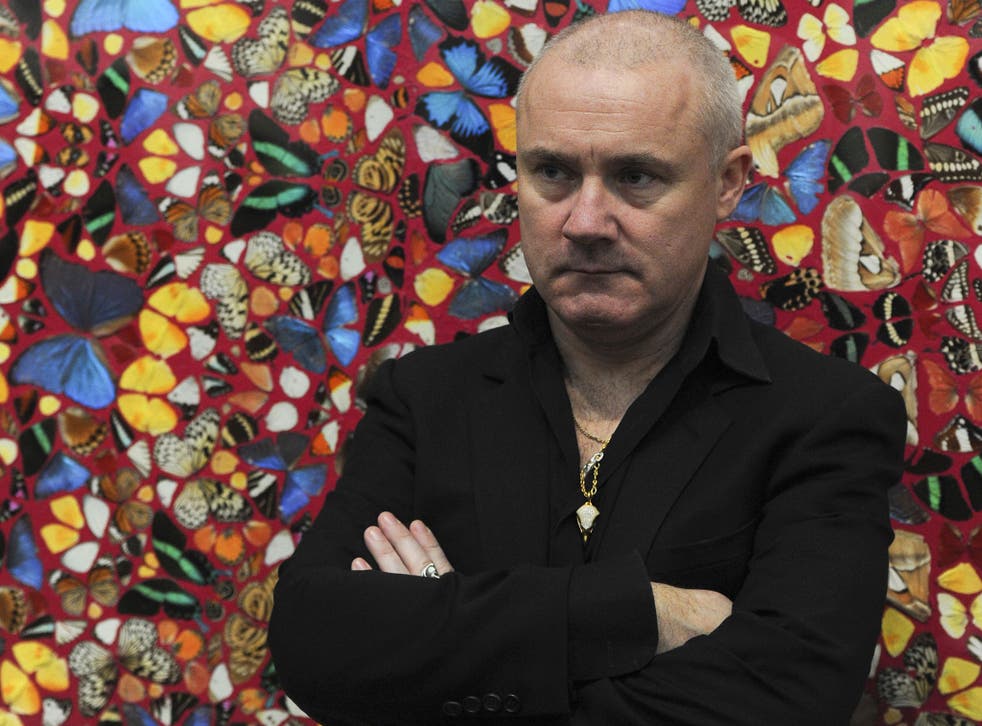 It was the night that confirmed Damien Hirst as the art world's most powerful celebrity brand. Yet even as his audacious one-man Sotheby's sale raised a record £111 million, the news that Lehman Brothers had collapsed proved a prescient sign that Hirst's long-term value may similarly have been built on sand.
Within months, prices for Hirst's work had slumped and the reputation of Britain's leading conceptual artist began to take a battering.
But don't dispose of that dissected sheep in formaldehyde just yet. The 48-year-old's body of work will ultimately prove as durable as Picasso, according to a new report, compiled by art market experts.
Confidence in Hirst, who shot to fame in the 90s with the Young British Artists movement, recently fell to such a low that the critic Julian Spalding published a book titled Why You Ought to Sell Your Damien Hirst While You Can.
Russian oligarchs and Saudi royals had competed for the 223 works which went under the hammer at Hirst's Beautiful Inside My Head Forever sale at Sotheby's in September 2008, which raised a record amount for a single artist.
Since that giddy night, auction sales and the average price levels for Hirst's works have dropped back to 2005 levels. One in three of the 1,700 pieces offered at auction failed to sell at all in 2009.
Hirst has been accused of churning out, via a team of assistants, uninspired variations of his signature Spot Paintings. This week the Turner Prize-winning artist Grayson Perry attacked Hirst's work as "hackneyed" and "tatty".
However a new report by ArtTactic, a market research body which compiles surveys for art institutions and collectors, argues that it would be premature to write Hirst off.
Comparing Hirst to Andy Warhol, whose works plummeted in value during the 90s, the report predicts that the market will "re-value" the British artist's output, which over future years should place him in the same high-value category to collectors as Picasso.
But if Hirst, whose wealth is estimated at £215 million, is to be rehabilitated, he needs to end the over-production of works which carry his name.
Questioning a "lack of inventory control", the report says: "ArtTactic has received a confirmation from Hirst's company, Science Ltd, that the total number of original works (paintings and sculpture) produced up until today is just under 6,000, with another 2,000 drawings."
This compares to the 95,000 works of art left by Andy Warhol after his death in 1987 and 50,000 produced by Picasso.
Hirst's most lucrative period occurred between 2005 and 2008, when he bypassed his dealers and took his work direct to auction at Sotheby's. But these have since resold for nearly 30 per cent less than their original purchase price.
Hirst's auction prices began to slump after his Beautiful Inside My Head Forever sale at Sotheby's in September 2008, which raised a single-artist record of £111 million. ArtTactic attributes the fall to a general cooling-off of auction sales in the wake of the Lehman Brothers collapse, which occurred on the day of the Hirst event.
Hirst split with Gagosian, the world's richest art gallery, last year, ending a 17-year partnership. But private sales of his work have continued to prosper. The White Cube gallery in London confirmed to the report's authors that its Hirst sales were in excess of $110 million in 2012, more than five times higher than the equivalent sales achieved at auction.
The report says: "Despite negative short-term sentiment, the market has since the downturn in 2009 remained confident about Damien Hirst's importance in 10 years' time. We believe the market has become over-pessimistic, and fails to see the wider importance and influence of Hirst's legacy."
It predicts: "The growing interest in art as an investment and art secured lending is likely to trigger further demand for Damien Hirst in the future. Increase in auction liquidity and price transparency would make Hirst an ideal candidate in terms of investment value, similar to what other prolific artists such as Picasso, Warhol and Calder are today."
Hirst's retrospective at Tate Modern last year, featuring a rotting cow's head and the Bristol-born artist's £50 million diamond-encrusted human skull, attracted 463,000 visitors, confirming that public interest in his work remains high.
However collectors are "already becoming more discerning in regard to the important periods and works by the artist" who has put his name to more than 1,000 spot paintings. ArtTactic questions where Hirst will ever produce ground-breaking new work to match his 90s pieces and concludes that it is from this period where collectors will find most value.
Jose Mugrabi, the world's largest private owner of Warhol works, said "today's market offers a great opportunity" to buy Hirst works. "The Andy Warhol market in the 1990s was terrible, people thought it was the end of the Warhol market," he said. "However, I saw this as a great opportunity and I became the biggest buyer of Warhol in this period. I believe the same will happen to the Damien Hirst market. He is one of the greatest artists of our time; there is no doubt about it."
The most expensive artwork sold by Hirst remains 'Lullaby Spring', which consists of thousands of hand-painted pills and fetched $17 million at Sotheby's in 2007.
ArtTactic warns that Hirst must find "a more prominent role" in the auction market once again, "otherwise he risks being left behind as a number of artists are knocking on the door." Gerhard Richter, Jeff Koons and Peter Doig are cited as contemporary artists who have enjoyed price appreciation during Hirst's slump.
The upbeat ArtTactic report counters Julian Spalding's book, which described Hirst's work as "the sub-prime of the art world" which would prove worthless.
The critic dismissed Hirst, saying: "The emperor has nothing on. When the penny drops that these are not art, it's all going to collapse."
Join our new commenting forum
Join thought-provoking conversations, follow other Independent readers and see their replies