How Japanese designers pioneered gender-neutral dressing
30 years ago, they confronted norms – and the rest of the industry still has a lot to learn from them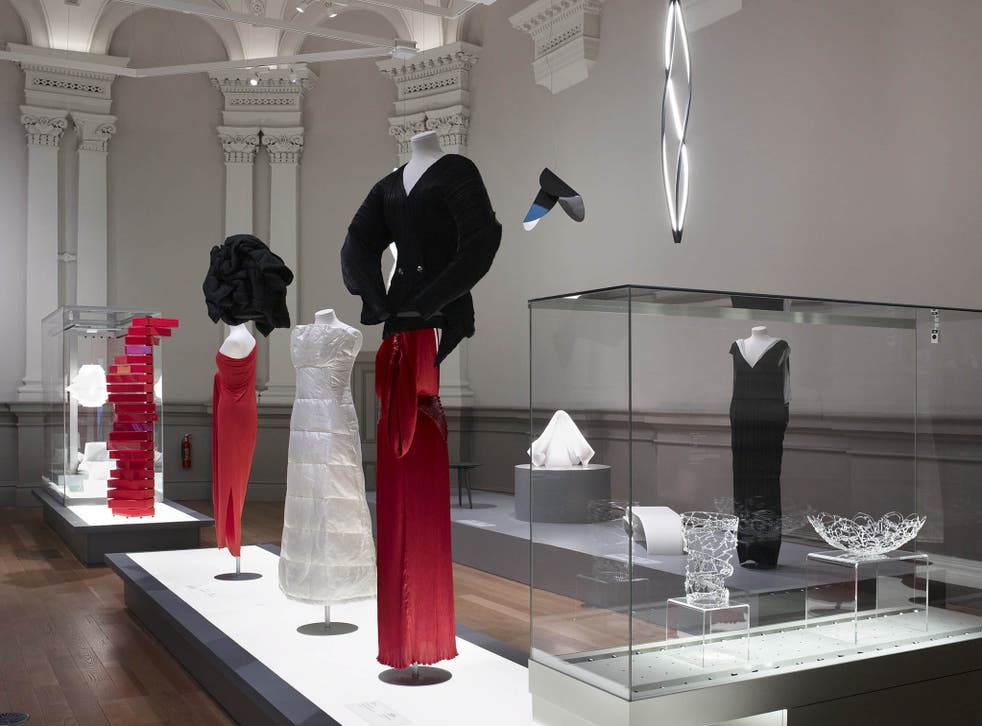 At the close of a year in which the cultural agenda has been dominated by talk of gender, it seems apt for Manchester Art Gallery to be opening an exhibition dedicated to modern fashion and design from Japan.
Back in 1983, decades before Selfridges' Agender clothing line was a tickle on a marketing team's collective cortex, Yohji Yamamoto professed his preference for gender-neutral dress to The New York Times.
"When I started designing, I wanted to make men's clothes for women. But there were no buyers. Now there are. I always wonder who decided that there should be a difference in the clothes of men and women. Perhaps men have decided this."
It has taken the rest of the fashion world three decades to make ground on Japan's pioneers, and even now, it lags behind: the first choice demanded on even the most cutting-edge fashion e-store, Selfridges included, remains "men" or "women".
In Manchester, one of the few "menswear" pieces on display – a navy wool jacket by Yamamoto with voluminous sleeves that hang in deep swags above a belted waist – suggests the body that might best occupy it through its size alone. In cut and conception it is a jacket for any body.
Evening wear and catwalk pieces in this small show play more dramatically with gendered signals, including one ensemble with a Victorian-inspired bustle and another in which a dramatic train is formed from two dresses stitched hem to hem, with the choice of which dress to leave trailing resting with the wearer. Such OTT markers of feminine identity through a garment contribute to the (again, very 2015) idea of gender as performance rather than something fixed or innate.
Zodiac-themed fashion

Show all 5
"These designers are so establishment now that it's easy to forget how radical they were," notes Miles Lambert, curator of costume for the Manchester City Galleries. As he examines a plain black smock, again by Yamamoto, he adds: "They are also hard to date: this is from the 1990s, but designs like this were done over a series of years."
Labels such as Yamamoto, Issey Miyake, Comme des Garçons and Yuki always showed scant concern for seasons: interviewed by The Village Voice in 1983, Issey Miyake outlined his opposition to the fashion cycle: "I want my customer to be able to wear a sweater I designed 10 years ago with this year's pants." The approach may frustrate fashion historians, but as with the issue of gender, they were ahead of their time, tapping into concerns now held more widely within the industry.
"When they started presenting collections in Europe in the 1970s and '80s, I don't think these designers held the same view of wanting people to change what they wore or the need for new ideas for every collection," explains Lambert. "In the early 1980s they were seen as very much anti-establishment fashion. When Comme and Yamamoto showed in Paris in 1981 the models were 'unkempt', the clothes had a muted palette of black, white and grey, the music was dirge-like – it was deliberately different. They've had an immense effect on what has subsequently been seen on the catwalk."
The fashion press was not universally positive – Women's Wear Daily notoriously dubbed Rei Kawakubo's designs for Comme des Garçons as "The Hiroshima bag-lady look" and printed a double page spread of avant-garde designs from Japan with large black "X"s through each image.
The loose, layered, body-concealing garments of the early collections came in dramatic contrast to the clingy, Lycra-enriched styles of designers such as Azzedine Alaïa or Thierry Mugler. These were not clothes that demanded hours in the gym. Nor, with their worn textures, exposed stitching, raw edges and deconstructed tailoring, did they cleave to the concept of luxury espoused by other houses showing in Paris.
In placing such garments alongside furniture and decorative arts of the era, Modern Japanese Design shows "radical" features were part of the visual culture of Japan at the time – not least an interest in natural materials and the appearance of being unfinished. Fiona Corridan, Curator of Contemporary Art at Manchester, sees a definite "influence on British makers of the time from Japan," which included "deconstruction and playing around with different materials – not being blinkered ... but with an eye on the past and tradition."
The silhouettes in the exhibition bring together catwalk looks purchased by the museum and pieces donated by collectors. One of the most apparently modest is the most intriguing – an ivory Comme des Garçons dress with a T-Shirt-like shoulder line covered in crumple-inspired fan-shaped pleats. It was worn as a wedding dress in 1984 and was later donated to the museum. With its understated wrapped shaped and apparently neglected finish, it's a spirited break from tradition. (An educated guess suggests a drive to Rita Britton's trailblazing Pollyanna boutique in Barnsley was involved.)
One assumes such garments were the property of spirited and defiant women – certainly true of the most recent exhibit, a headpiece by Maiko Takeda worn by Björk on the cover of Vulnicura (2015). "The costumes have such presence," says Lambert, looking at an ensemble in which the bodice appears to be made from a man's jacket mid-construction, with one perfectly finished pocket on the chest and an asymmetric skirt. "This deliberately looks unfinished or inside out, the fabrics don't match, but you could wear this at my age or at the age of 70."
The peculiar ageless quality of Japanese fashion was well conveyed to me recently by artist Liliane Lijn (who I interviewed about a new book, Fashion Game Changers). She modelled for Issey Miyake in 1987, aged 48, when already an artist of repute. Describing one outfit, Lijn noted the clothes "didn't subscribe to the conventional notions of what the female should look like – but Issey also doesn't subscribe to how the conventional male should look".
Nearly 30 years on, she was happy to be photographed for the book in the same ensemble. Lijn noted, in parting: "Women want to grow up just as men want to grow up, they don't want to be little girls." Yet, despite the radically inclusive outlook these Japanese designers espoused, the wider fashion industry's discomfort around issues of age and body shape continues to warrant discussion – and it's clear it still has a lot to learn from them.
'Modern Japanese Design', Manchester Art Gallery, through January 2017. 'Fashion Game Changers' will be published by Bloomsbury in March 2016
Join our new commenting forum
Join thought-provoking conversations, follow other Independent readers and see their replies