Keep on trucking: The human impact of the rise of Monterrey's new super-suburbs
The American dream is taking shape in Monterrey, Mexico, complete with elite apartments and luxury shopping malls. But what of the men building this modern-day El Dorado – have their lives changed for the better? Photographer Alejandro Cartagena peers into their world as they make their way to work…
Keep on trucking: The human impact of the rise of Monterrey's new super-suburbs

Show all 20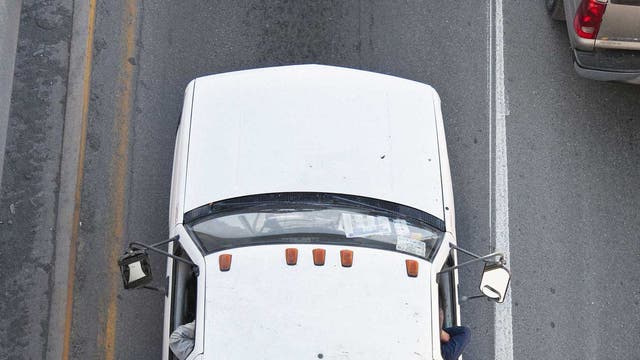 The city of San Pedro Garza Garcia in Mexico is living the Mexican-American dream: only two hours' drive from Texas, it has become the closest thing to an elite north-American suburb available south of the border, with its sumptuous condominiums stacked in leafy hills, its country club and Porsche sales room, its large choice of private schools, its five-star hotels and luxury malls. This is where the neo-liberals' vision of Mexico is taking its most seductive form.
Of course, all that blue-chip real estate needs to be built, and the men who build it live on the reverse side of the dream: no longer in squalid shanty towns but in the surreal new working-class housing estates that have sprung up on the opposite side of Monterrey from San Pedro, to the north-east, in remote locations where nobody lived at all until developers descended and unloaded row after row of tiny detached homes, one-up one-down, in surreally tasteful pastel shades, lined up along long, empty roads.
So Monterrey's workers are now proud home-owners. The downside is that it's a long way in to work – 25km or so across town, which can take between 30 minutes and an hour-and-a-half, depending on the traffic, which is often gridlocked. So the work teams in the back of the pick-ups have plenty of time to relax.
Alejandro Cartagena has been training his lens on the fragmentation of Monterrey for several years. "The traffic jams in the area are unbearable," he says. "I've been photographing how people use the city, how people who live in the outskirts are managing to work in the centre, how people make these journeys every single day. And one day I saw these guys carpooling, coming in from the new cities of Apodaca and Escobedo to work on construction or landscaping in San Pedro Garza Garcia. Each pick-up contains a team of workers. Some of them work together for a long time – I've photographed some of them three times. I always shoot from the same bridge, 1km north of San Pedro."
Some of the workers have got to know Cartagena and look out for him – hence the friendly smiles. Of course, they have never spoken, they don't know each others' names nor does he know anything else about them. And that's the modern city, too: so near, and yet so far.
For more: alejandrocartagena.com/car-poolers
Join our new commenting forum
Join thought-provoking conversations, follow other Independent readers and see their replies