Paul Strand photographed people living on the 'edge of society' in the Hebrides
When the celebrated American photographer Paul Strand visited the Outer Hebrides in 1954, he immersed himself in a dignified community whose traditional way of life he feared was about to be disrupted by an invasion of the very modern US military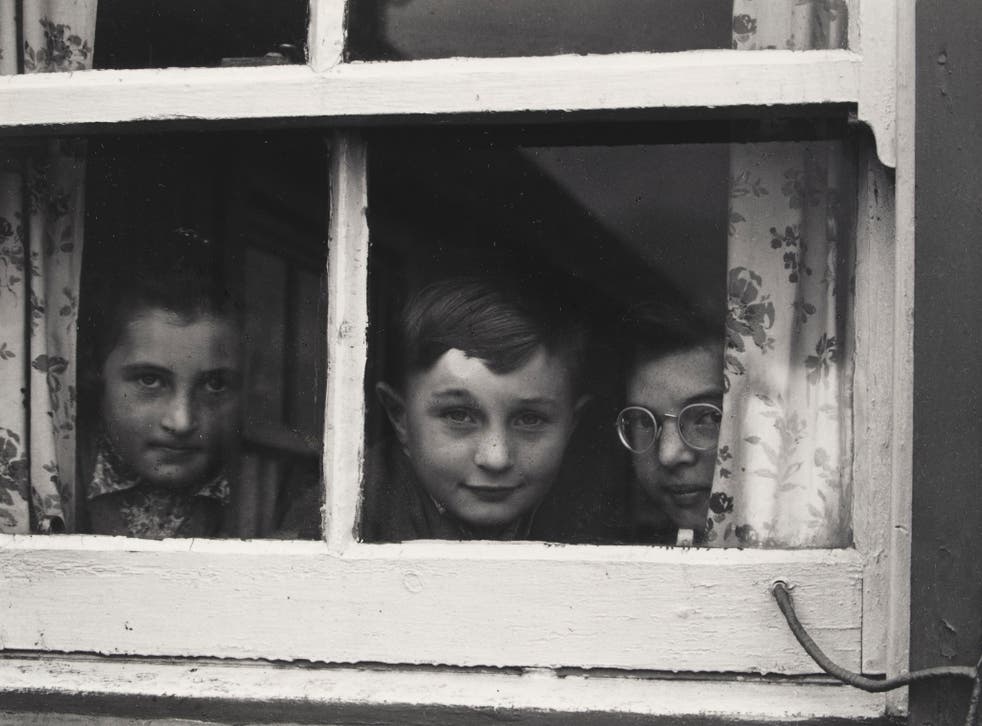 John MacLellan didn't know the name of the photographer who came to take his portrait as he posed alongside his two sisters, all three children poking their faces against the window of their home on the Outer Hebrides island of South Uist in 1954 – but he knew that he was important. "He must have been because looking at the photograph now, it seems we had our hair combed well, so our mum must have got us all brushed up and tidied, as if we were going out," says MacLellan today from his home in Edinburgh.
The photographer was, in fact, one of the most important of the 20th century, Paul Strand, and he was compiling a book about life in the Hebrides, called Tir A'Mhurain. "It means Land of Bent Grass," explains Martin Barnes, the V&A's senior curator of photography. "The idea being that it's such a windswept place that the grass never grows straight – a difficult place to live and survive." The V&A's new exhibition, Paul Strand: Photography and Film for the 20th Century, opens on 19 March and in the run-up, the V&A acquired nine photographs Strand took in the Hebrides. "They are vintage prints, made within five years of the negatives, probably by Strand himself," says Barnes. "They are small but very beautiful, and there aren't a huge amount around – Strand made some for exhibitions, some for the book. We felt this incredible series of photographs taken in Britain by one of America's greatest photographers should be seen in this country."
Paul Strand's 1954 photographs of South Uist

Show all 5
Born in New York in 1890, Strand's formative years came as people questioned the role of photography in the modern world, both as an art and as a means of documenting life. "Strand was interested in abstraction, Cubism, Impressionism and all the different kinds of photography happening at that time – documentary, street, poetic, fine art," says Barnes. "He was like a sponge, and spent his life trying to work out how photography could be a poetic art form that could also have social impact and reach as many people as possible."
Strand studied under Lewis Hine – famed for photographing European immigrants as they arrived in New York, as well as documenting child labour – which instilled in Strand an interest in social conditions. He was also influenced by the work at Alfred Stieglitz's Little Galleries of the Photo-Secession at 291 Fifth Avenue, which championed fine-art photography. "These were the two poles k Strand absorbed as a young man, which he tried throughout his life to reconcile," says Barnes. "He wanted to make photography accessible and socially relevant, and to comment on issues of class, employment and locality, while making poetic statements."
This is the preoccupation that took Strand to South Uist. He'd already travelled widely across Canada, Mexico and the US when he arrived in Europe, partly fleeing a political climate he considered unsympathetic, despite his reputation (he'd been the subject of a one-man retrospective at New York's Museum of Modern Art in 1945). Strand photographed communities in France and Italy before hearing a BBC radio broadcast about the Outer Hebrides that discussed the threats to the islanders' traditions, featuring Gaelic songs recorded by the American folklorist Alan Lomax. Strand spent several months on South Uist and its neighbouring island Benbecula, recording the people and landscape.
"He was interested in this place on the edge of society, which for him offered a model of an alternative way of life," says Barnes. "It had survived for thousands of years with its own traditions, industries and languages. He felt that was a dignified, noble, sustainable way of life, but the Americans were about to build a missile base on the islands, so it was being co-opted into the modern world. He felt he was capturing a place on the cusp of enormous change."
John MacLellan, then eight, was one of many islanders Strand photographed. MacLellan's father had been in the army before settling on South Uist. "He worked for the Lochboisdale Hotel; he was friends with the people who owned it," says MacLennan. "They were a lovely family and gave us little jobs to do in the garden. They had a small fleet of cars that people would hire to go fishing. My father would drive the hire cars." MacLellan was photographed from behind a window alongside his sisters Jean and Mary (named Milly in the caption).
Aside from the clue presented by his neatly combed hair, he remembers little about the moment other than that he realised the photographer was serious due to the quality of his equipment. Strand was said to carefully compose his subjects, instructing them on pose and costume, possibly to recreate moments he had glimpsed during long periods of study. For MacLellan, this made the experience much like having his picture taken at school. "Everyone was lined up and knew to look at the camera," he says. "I've since read that Paul Strand had a way of having the camera facing straight at the person he was photographing, at the right height, so you naturally looked straight at it. [The shots] are very well composed. He was motivated by the idea that things would change as they had after the clearances [when forced evacuations saw numerous communities destroyed to make way for sheep farms], and he wanted to capture that."
Barnes marvels at the way this native New Yorker, supposedly in the twilight of his career, managed to express the dignity of the islanders. "He shows such affinity," he says. "It's a long, slow, meditative look, and that is appropriate to this place. His approach was about using slow exposures and also exposing himself to the culture and language, listening and learning. He was immersed in it, and in the faces of the people and the texture of the physical land, you get the impression that they are the final extension of the land itself – they seem to grow out of the rock. He's making the case that these people are like an indigenous, rooted community who have survived because they have a strong, unspoken awareness of their heritage and how they use that land."
For MacLellan, the photographs offer a more personal pleasure; the chance to revisit his childhood. "It's wonderful being able to look at them now," he says. "I know so many people in the book, so it's wonderful to have this record to look back on. Even the scenery of the hills, the landscape and seascape. It's stunning, really."
Paul Strand: Photography and Film for the 20th Century is at the V&A, London SW7 (vam.ac.uk), from 19 March to 3 July
Join our new commenting forum
Join thought-provoking conversations, follow other Independent readers and see their replies