Pussy Riot: Putin-bashing, punk rock and politics make for a riotous mix
A film by a British director gets to the heart of the Pussy Riot trial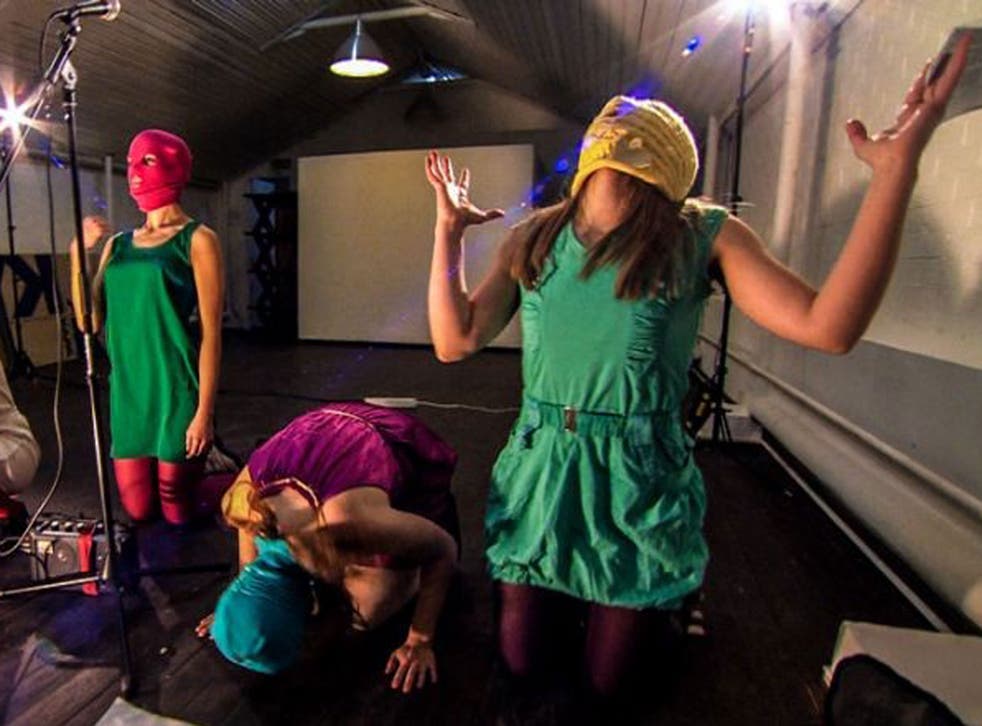 It is more than a year since five members of feminist punk group Pussy Riot wearing brightly coloured balaclava masks staged a short and cacophonous performance in front of the altar of Moscow's Christ The Saviour Cathedral. Their impromptu gig (in February 2012) caused immediate outrage while becoming a worldwide media sensation in the process.
"If someone came into your apartment and took a shit, you wouldn't like that. They [Pussy Riot] walked into the heart of Russia and took a shit," is how a hostile observer characterises their actions in new feature documentary Pussy Riot – a Punk Prayer (which opens the Sheffield Doc Festival next month.)
Two of the group members, Nadya Tolokonnikova and Maria "Masha" Alyokhina, are still imprisoned because of their part in the impromptu gig. (A third, Katya Samutsevich, was released in October, and is expected to be interviewed live by Skype at the Sheffield screening.)
To their detractors, Pussy Riot members are hooligans. Orthodox Christians pushed for them to be punished and imprisoned, likening them to witches. "In the 16th century, they would have hanged them... they would have burned them," one states.
President Putin seemed to agree, comparing the protesters to the Bolsheviks who terrorised the Christians after the 1917 Revolution. For 70 years, the Church had been suppressed and destroyed by the communists... and now a handful of women were dancing wildly and singing their Cockney Reject-like anthems against Putin and the Church. "In our country, we have painful memories of the early Soviet period. The government must protect the feelings of believers. The punishment should be in proportion to the act," Putin told one journalist when asked about the Pussy Riot trial (which forms the major part of the new film.)
For British director Mike Lerner, who spent six months in Russia filming the Pussy Riot trial, the women are truly heroic figures: idealists who embrace the punk spirit and campaign relentlessly for feminism and gay rights.
"It was very exhilarating," Lerner says of the process of making the documentary. "To meet these activists and to appreciate their degree of courage and energy and wit and intelligence was a very thrilling thing."
Lerner and his fellow director Maxim Pozdorovkin were determined that their film would allow the women to express themselves in their own words.
The director accepts that followers of the Orthodox Church had reason to be upset at Pussy Riot's stunt. "But being upset and causing a criminal act are very different things," he reflects. "I am insulted by all kinds of behaviour. I don't have the right to imprison people for that insult.... Blasphemy is not illegal in this country or in Russia, thank God!"
He argues that the Russian Orthodox Church has become increasingly politicised. "It is a focus for people who object to social progress in many ways."
In the West, in an era of TV talent contests, the idea that art can have a political dimension seems very far-fetched.
In one touching aside, we learn from a Pussy Riot member's parents that "she loved the Spice Girls, especially Victoria Beckham". There is footage of the concert that Madonna gave in Moscow after the arrests, proclaiming her support for the band. She even had "Pussy Riot" written on her naked back.
Observers have likened their court case to a Stalinist show trial in which a guilty verdict was inevitable. Even so, the women refused to be cowed. "As performance artists, they really used the court as a form of performance," Lerner notes. "One of the most amazing things about Pussy Riot is how they have controlled the story."
Their songs combine wit, political insight and irreverence. They yell out lyrics like "Liberty is dead and gone/ Gay pride sent to Siberia in chains."
Some in Moscow were sceptical about a British film-maker like Lerner taking it on himself to tell such a quintessentially Russian tale. Lerner counters that, as a Brit who grew up in London in the 1970s, he has "punk in my bones". Besides, he points out, he has made several earlier films dealing with art and politics. "The realm where art and politics meet is really my sweet spot."
Lerner insists that his film isn't an attack on the Russian government and society. It's a film about freedom of speech. Pussy Riot members are suffering two years of imprisonment for "something that should have been an administrative fine".
Since finishing A Punk Prayer, Lerner has stayed in touch with the Pussy Riot members. The film will be shown to a Russian audience at a film festival in Moscow in October. He expects it will provoke strong reactions but insists that it is a balanced piece of work, not propaganda.
The film-makers are planning to visit the imprisoned women at the penal colonies where they are still incarcerated and possibly to shoot more footage. ("They get one visit a month from a family member who can bring a guest.") In the meantime, Lerner hopes the film will dispel the myth that the Pussy Riot members are anti-Russian. "They are not unpatriotic. They want their country to be successful, progressive and fairer. They are not outside agents trying to bring down the country. They want to improve their society and make it more just... they're trying to make their country a better place for their children to live in and that's an extremely noble thing to do given the consequences!"
'Pussy Riot – a Punk Prayer' opens the Sheffield Doc/Fest (sheffdocfest.com), 12 to 16 June, and will be released in the UK later in the year
Join our new commenting forum
Join thought-provoking conversations, follow other Independent readers and see their replies