In the studio with Celia Paul
'Lucian came to my last show in 2011 – and he was so tender and loving'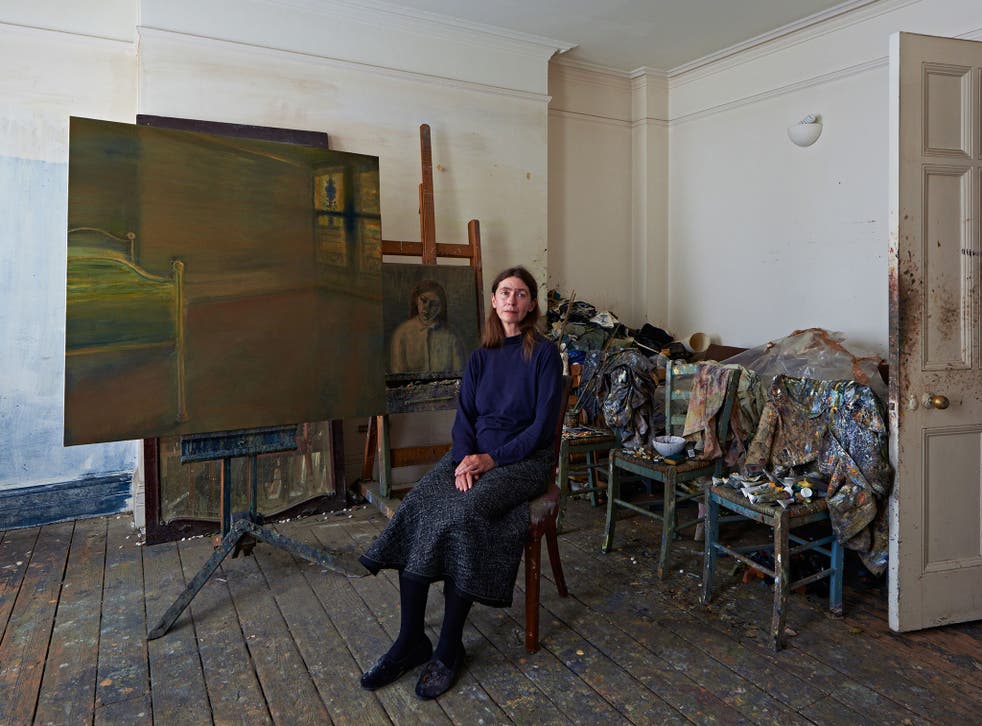 The painter Celia Paul has been living and working in her apartment overlooking the British Museum in London since 1982. Up 80 stairs, it has wonderful light and a breathtaking view of the museum. "When I lie in bed, I am eye-level with the frieze above the door." The smell of paint and white spirit engulfs you as you enter the space, which is furnished simply with an easel, bed and chaise-longue.
Paul was born in 1959 in Thiruvananthapuram, India, where her father was a missionary. She was one of five daughters, each of whom were sent to different schools. Paul was sent to a "terrible" boarding school in Bideford in Devon, where a teacher spotted her artistic potential and wrote to Lawrence Gowing to ask him to take her on at the Slade. She was only 16 at the time and it required him not only to bend the rules but also convince her conservative father that it was important for her to go and study. "He wrote my father a great letter. He said 'pictures unpainted make the heart sick'"– a phrase that softened her father's heart.
She studied for her A-levels in the evening and before graduating met Lucian Freud when he came to the school to look at students' work. Paul went on to have a long-term relationship with him, becoming one of his muses. He painted some of his most famous works of her.
"I think he worked well from me – that one of me in the striped night-shirt is so tender and so great." He fathered her son, Frank, born in 1984, the youngest of his acknowledged children.
It was Freud who bought Paul this flat, but when I ask if he sat for her, she tells me a strange story of him agreeing and buying a special slate-grey boiler suit to pose in. It was put in a cupboard and disappeared. "I kept the half-finished painting for a long time and then I needed the canvas and I painted over it. I then painted over it again and it became a very beautiful painting."
For a long time, Paul painted her family and in particular her mother. Gowing told her, "Your mother is your Mont Sainte-Victoire", but she is now too old and frail to climb the stairs to the studio. Paul has tried to paint her in her small house in Cambridge but finds it impossible.
As for her relationship with Freud, does she have regrets? "Lucian came to my last show at Marlborough Fine Art Gallery in 2011 – he came to the private view and he was so tender and loving. My mother was there and my mother kissed his hand and he kissed her hand and it was courtly and it was such a blessing. We continually forgave each other – and we had art and love and Frank."
Celia Paul's work can be seen by appointment at Victoria Miro Gallery, London (victoria-miro.com)
Join our new commenting forum
Join thought-provoking conversations, follow other Independent readers and see their replies