In the studio: Lynette Yiadom-Boakye, painter
'I work so much and make so much but I don't feel like I have quite done it'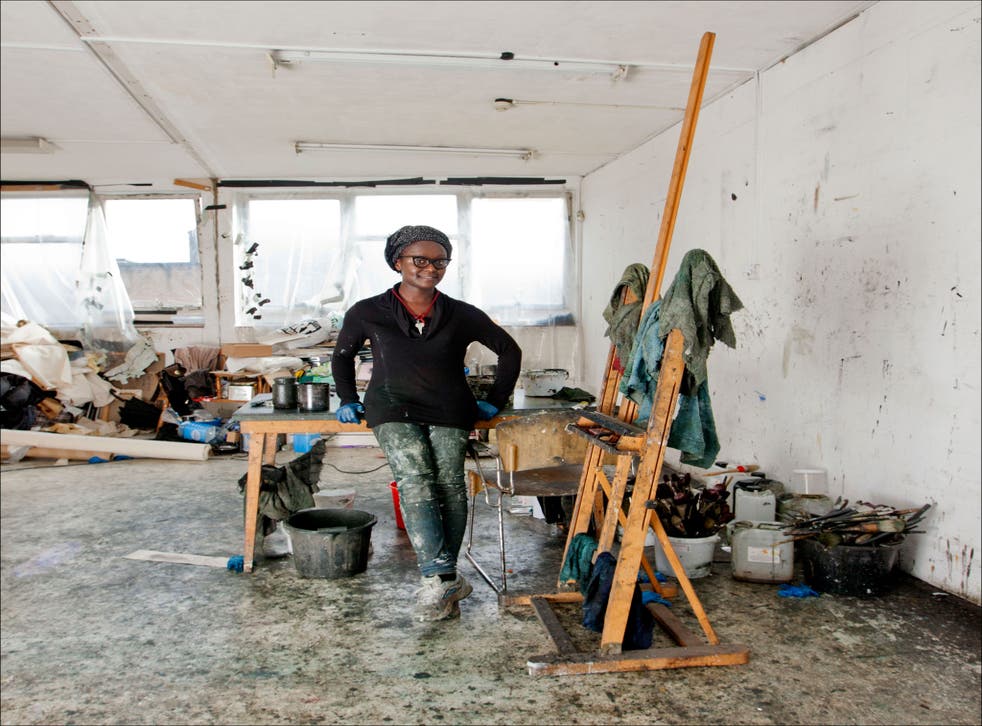 Entering Lynette Yiadom-Boakye's modest studio in Bethnal Green, east London, where she has been since 2005, I pass a journalist on his way out. It is a busy day of interviews about the Turner Prize show.
Squishing out paint into worms of colour on her table, the artist carries on with her tasks as the photographer sets up, and then poses good-naturedly. There is no work here at the moment – it is all out in shows or in storage. "The studio is really small and I should find something bigger. I love the light, I just wish I could make it bigger," she says.
Yiadom-Boakye was born in 1977 in London. Her parents, both nurses of Ghanaian descent moved to the city in the 1960s. She is clear that she is a Londoner and is tired of the misconceptions about her heritage.
After a foundation course at St Martins she was determined to get a fresh view at art school: "I had spent my whole life in London so I wanted to go somewhere the complete opposite." She chose Falmouth College of Art before completing her studies at the Royal Academy Schools. It was a privilege to study there, she says, as the students were allowed to visit the exhibitions upstairs alone.
Leaving college she took a studio but found she could not afford it. She tested mobile phones for six months and then worked at an art shop, where she "worked for paint." Her work was discovered by the curator Okwui Enwezor, who included her in the Bienal Internacional de Arte Contemporaneo in Seville.
A group and solo show followed at the Studio Museum New York, and she won the Pinchuk Foundation Future Generation Art Prize 2012. Her inclusion on the Turner Prize shortlist this year reflects an explosion of interest in her work.
The subjects of Yiadom-Boakye's mostly large imposing paintings are always black, always conjured up from her imagination. "People ask: 'Why don't you paint everyone green?' Because I want them to look real, and this is not a Benetton ad. Of course it is political – everything is political." They are usually described as portraits. "It's funny but I don't think of them as portraits. I always think of them as figurative but they don't always follow the model of portraits."
Yiadom-Boakye is highly self-critical. "I keep clawing at it. I work so much and I make so much and I don't feel like I have quite done it. And that is the whole point – that you don't really get there. And if I got there I would just stop," she says.
Turner Prize 2013, Ebrington, Derry-Londonderr (turnerprize2013.org) to 5 January
Join our new commenting forum
Join thought-provoking conversations, follow other Independent readers and see their replies