In The Studio: Sophie Calle, artist
'I don't know where inspiration comes from. Maybe the street, friends?'
In The Studio: Sophie Calle, artist

Show all 2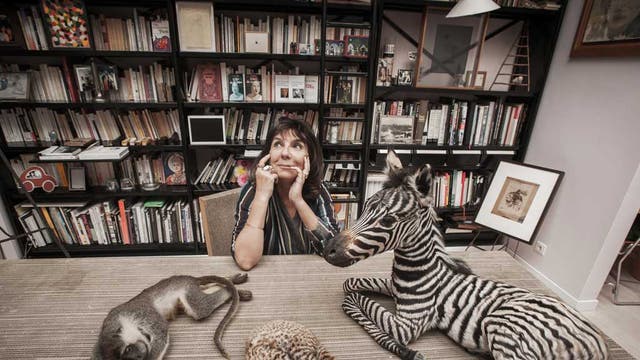 Sophie Calle lives outside Paris – or so the grumpy taxi driver tells me as we cross the périphérique after a tortuous journey. I am guided by a disembodied voice through a modernist building into a garden to Calle's home, a light glass structure full of eye-catching objects.
Calle was born in Paris in 1953 and has lived here since 1980, she tells me, drawn by the fact that it was "super-cheap, and it was 10 times the size for the same price as something I could have found inside Paris". It is light-filled, enlivened by the prismatic reflection of shivering birch trees in a large glitter ball.
Calle is probably best known for her work at the 2007 Venice Biennale, Take Care of Yourself, in which she took revenge on a boyfriend who chose to end their relationship via email. Calle had a ballet dancer and a singer, among others, respond to the email in individual and unforgettable ways, expressing the universality of this particular pain. Nearby, Pas pu saisir la mort ("Couldn't capture death"), a film of Calle's dying mother, explored a wrenching experience.
Unsurprisingly, the real Calle is tough. When I ask about inspiration, she remarks tersely, "I don't know where it comes from. Maybe the street, or from friends? The show I just made, inspiration came from obligation and from reading the paper." When I ask about her relationship with her mother, she says she will not discuss her private life, only her work. I suggest that her private life is part of the work, as the work she is currently showing me is a book about her mother.
Eventually she grudgingly concedes that the book resulted from a show, where she read out all her mother's diaries that had been left to her.
"It is about discovery. I could not read it by myself, as it was not easy. It was adding something to the atmosphere of the whole church."
Around us is a menagerie of stuffed animals. Calle tells me they represent people she knows, living and dead. A lion wearing a crown, she says, represents her father; a truncated giraffe, her mother. "She is the giraffe. She is dead. She looks at me with sadness and irony."
On one wall are works Calle has exchanged with other artists, including Cindy Sherman and Robert Gober. Dramatic eyelashes turn out to be by English artist Lisa Milroy. A series of small coffins, made in China, are for burying pet crickets, Calle tells me. Why does she collect these macabre items? She shrugs. "I don't know. Death, I guess."
Sophie Calle is part of Thresholds at Tate Liverpool (tate.org.uk) to 7 April
Join our new commenting forum
Join thought-provoking conversations, follow other Independent readers and see their replies