Tales from the night bus: Photographer Tim Kavanagh's eerie photo series Omnibus
Late-night bus rides home create a unique, melancholy environment. Photographer Tim Kavanagh set up outside one stop in Bishopsgate in the City of London to capture their peculiar poetry in a series called Omnibus. Plus, Sophie Heawood recalls some memorable, boozy journeys on the night service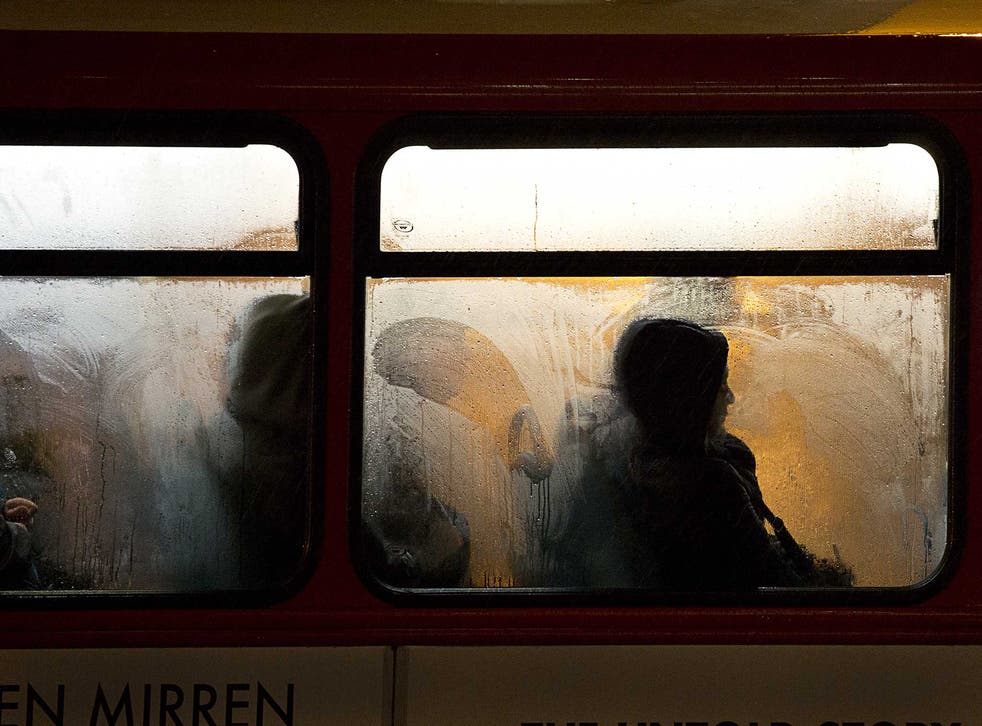 The thing about going out and getting drunk in London is that you spend all evening involved in the getting, while the actual being drunk bit is played out across the public transport network on your way home.
This is where the nightbus comes in, as a sort of ratcatchers' van for drunks. Never was I fonder of these doom-laden party wagons than in the years I worked at a nightclub called Trash near Tottenham Court Road.
At 2am, everybody would get kicked out and congregate at the nightbus stop across the road, outside a church that had been depicted by Hogarth in his drawing of Gin Alley.
And so Gin Alley would be recreated, in the early years of the 21st century, by a bunch of boys in eyeliner and girls wearing disco balls on their heads, all looking for trouble. The smell of a night out not quite finished on their breath, with them viewing the nightbus as the bonus ball in their pulling lottery. Didn't find anyone in the club? Don't give up! You can still find a girl with pink hair and lonely eyes who hungers for your chips in curry sauce on the N55, wobbling only slightly as she mumbles about new wave cinema and the, like, total absence of God.
And thus the nightbus reveals itself to be the photographic negative of its daytime equivalent. Public transport in London has long been defined by how studiously people avoid talking to each other – but that's just in the daytime. By night, there is no shortage of people who want to make eye contact and chat you up. Sometimes you think they might love you. Sometimes you think they might just love to stab you.
Peculiar poetry: Photographer Tim Kavanagh's Omnibus series

Show all 10
It's a jaded jalopy; you learn to stay on your guard. Not like the nightbus I used to get as a teenager in York, where the cheery driver once called out, "As it's a quiet night, where do you live exactly?"
After I told him the street, he took his double-decker on a detour, clattered off the main road through the suburbs, and drove me home.
Of course you get lovely nightbus drivers in London, too, it's just their task is so much more arduous, taking a gaggle of nutters on such a long and winding route, from the heart of the capital out to its orbital.
On one of those nights after Trash, I remember the driver stopping the bus, racing up to the top deck, looking around to see nobody there but me, and then asking me where the man had gone.
What man, I asked him, blearily.
"The man who has been snoring so loudly, for so long, that the passengers downstairs think he must have missed his stop," he replied.
I said there was no such man, looked out of the window, and realised that we were in Essex. And that my house was 30 stops ago, in Bethnal Green. And that the snoring man was me.
Join our new commenting forum
Join thought-provoking conversations, follow other Independent readers and see their replies