Well-known actors and their dogs are immortalised in portraits
The artist David Remfry has painted stars and their dogs including Ethan Hawke and Susan Sarandon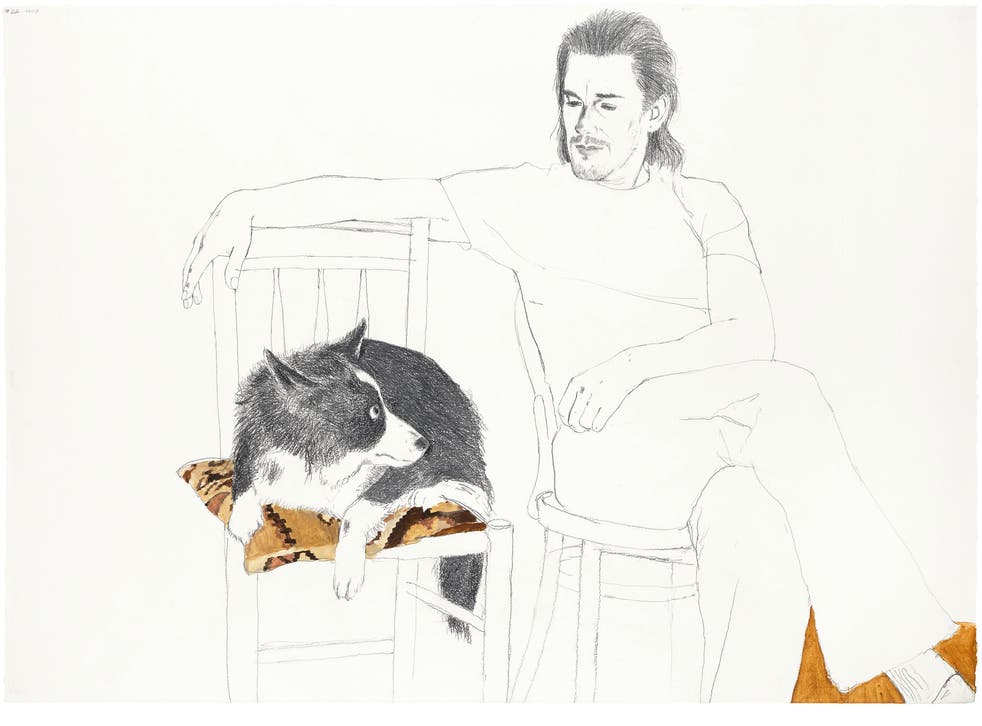 It is often said that dogs are a man's best friend. This is demonstrated in portraits of famous dog owners and their pets by the British painter and Royal Academician, David Remfry. Sitters have included Ethan Hawke and his border collie, Nina, Susan Sarandon and her two Pomerarian cross-breeds, Rigby and Sam and Alan Cumming's collie-German shepherd mix named Honey. The pencil-and-watercolour portraits by the artist feature in his new book and exhibition, We Think the World of You: People and Dogs Drawn Together.
Remfry, 73, who has lived in the Chelsea Hotel, in New York City, since 1995 and also has a studio in Kensington, west London, has created these dog portraits with their owners out of love.
"It is about what sparks a relationship – in this case between two species," says Remfry, who also painted Sir John Gielgud for the National Portrait Gallery in the Eighties. "I observe the chemistry. It happens very clearly with people and their animal friends. It changes both the owner and the dog."
While some of the paintings of dogs with their owners are well-known actors, the majority of the portraits are merely of his friends with their dogs. He wishes he had painted Graham Norton with his mutts, as well as Cindi Lauper, another dog lover. But it is not fame that interests him – more the connection with the owner and their canine friend. The novelist Erica Jong, best known for her novel Fear of Flying, did start to sit for him with her large poodle, but unfortunately it died before the portrait was finished.
'We Think the World of You: People and Dogs Drawn Together' by David Remfry is published by the Royal Academy of Arts, £16.95 hardback. An exhibition of David Remfry's drawings in the book, Pallant House Gallery, Chichester (www.pallant.org.uk), until 13 December
Join our new commenting forum
Join thought-provoking conversations, follow other Independent readers and see their replies