Great Works: Two Drinkers (Deux Buveurs) By Honoré Daumier, 1860-4
Private collection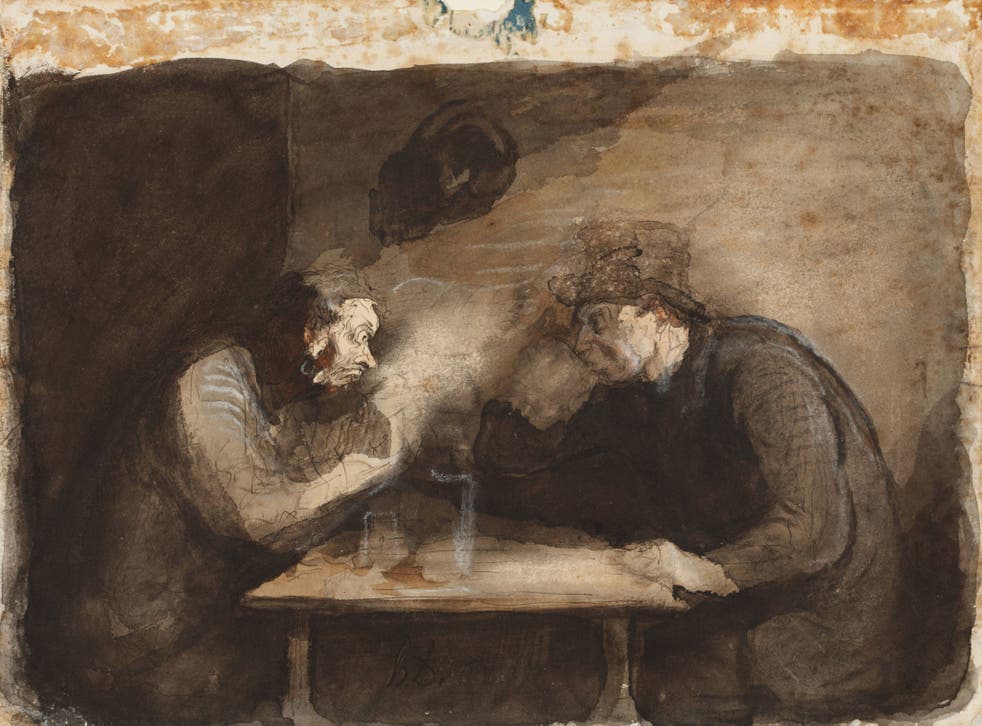 Honoré Daumier exhibited little during his lifetime, and sold even less. His subject matter was not what the public wanted. What prosperous collector would be eager to stare at the enshadowed profile of a poor, burdened laundrywoman with a miserable child in tow on the banks of the Seine? Who would want to relax into images of thin and near-spectral street drifters, the straitened poor, the marginalised, with their awkward stooping postures and bent backs? Who wants to remember the unremarkable?
There is so much physical awkwardness in Daumier's figures, so many hulking, slumped, wrenched-awry forms. What is more, the paintings are almost never highly finished. They often look slightly abandoned through sheer vexation. They lack smoothness, nobility, colour. They are aggressively unpretty and often quite dark and muddy. They do not celebrate anything. What is more, for the most part they are disappointingly small in scale. Daumier simply could not manage heroic scale – just as he was temperamentally unsuited to heroism.
Here is a desperate scene indeed. When we first look at these two men hunched over a table, we think of Cézanne's Card Players. But the two paintings are worlds apart. Cézanne's hard-bitten peasants look poised, becalmed, and even statuesque by comparison. We admire that painting as an exercise in the subtle harmonics of colour. It is coolly crafted. There is nothing cool about Daumier. The exchange of gaze is terrible, unnerving, wild, pop-eyed. Bulbous eye stares at bulbous eye. The faces themselves are weirdly lit, in white. They appear stunned, mask-like. Those masks look loose enough to be peelable, to reveal the skull beneath – as in that famous scene in Bergman's Hour of the Wolf.
What does this strange act of mutual interrogation amount to? We see the bulk of the two bodies clearly enough, but there is also much blurring and smudging of detail; strange, floating patches of what look ectoplasmic globs mar the painting's surface. It ends, at the top, horribly smearily, before the paper on which it has been painted runs out. The paint is unevenly spread about the surface. Frankly, Daumier doesn't much seem to care about such outrageous evidence of imperfection. That is not what he is up to. He doesn't care about being crude. He has never pretended to paint like Ingres. Life is often harsh, crude and savage, and especially for those neighbours of his in the working-class area of the Ile Saint-Louis where he lived.
Much of this aggressive insouciance is highly characteristic of the man. Daumier didn't go for the gloss of academic exactitude – which is why he showed so seldom at the Salon. He usually painted from memory, without models. Much of his work seems hole-in-corner, even furtive. This painting is currently on display at the Royal Academy in its excellent show devoted to Daumier's career as painter and satirist. The work is beautifully stage-managed, set deep into a grey niche, so that you have to peer, as if into a cellar or underground bar where the two mad-eyed tipplers are sitting, inelegantly hunched, slumped, self-propped. The confrontation seems dramatic – but we also feel that it may not be so at all. It may simply be a truthful rendering of the kind of wild-eyed exaggeration common to two drunks – in which case we can feel entitled to laugh at it, harshly. It possesses that degree of enthralling ambiguity.
'Two Drinkers' can be seen at Daumier (1808-79): Visions of Paris, Royal Academy, London W1 (020 7300 8000) to 26 January
About the artist
Honoré Daumier (1808-79) Honoré Daumier, the son of a glazier, was born in Marseilles, but moved to Paris at 16 planning to become a dramatist. He became a bailiff's boy, and then began to gain recognition as a lithographer, increasingly savage in his themes – he was a staunch republican and occasionally involved himself in street fighting. He died from apoplexy.
Join our new commenting forum
Join thought-provoking conversations, follow other Independent readers and see their replies