Great Works: Woman at a Window, Waving at a Girl (c1650, 47.5cm x 39.2cm by Jacobus Vrel)
Fondation Custodia, Paris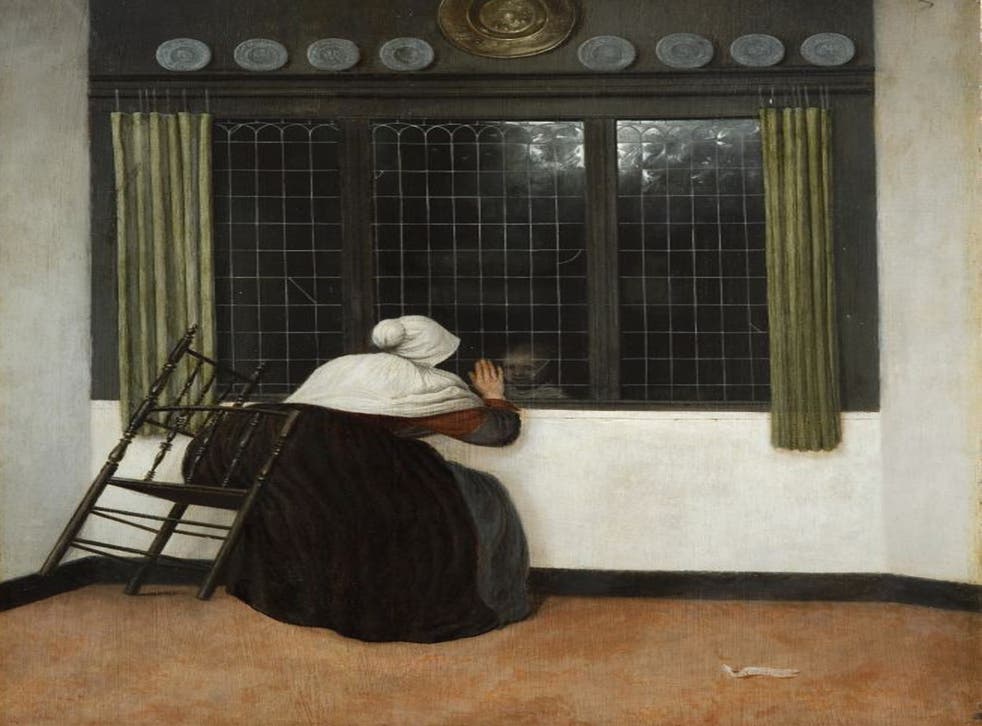 It seems entirely fitting, and entirely in keeping with the mood of this spare and enigmatic interior, which we seem to have stumbled upon or might even be seeing without permission, that we should know so little about the 17th-century Dutch genre painter Jacobus Vrel. Where did he work? Pass. Who did he know? Pass. And are we even sure that he was Dutch? Sorry, pass.
The fact that there is so little to be seen in this room makes the little that there is jump out at us and take on a strange (and perhaps even an undeserved) significance – that scrap of winged paper on the floor which, if you look closely enough, will be seen to contain a fragment (not the whole) of a signature; that nail, which almost seems to be grazing the top right hand corner of the picture plane; the dully self-effacing regularity of that line of plates above the pelmet. It is so unusual, this lack of clutter. Are not the Dutch households we usually get a glimpse into so often raucous, if not riotous, and full of dogs, hanging partridges, ziggurats of luscious fruit, steins of beer and amorous adventures? There are exceptions, of course – consider the rich silences of Vermeer, for example. Interestingly, this painting looks later than its actual date in certain respects. It seems to incline, in mood and manner, towards Hammershoi (this mysterious woman, with her back turned away from us, for example) and the 19th century. It has a touch of gothic creepiness about it. Everything seems to hang suspended here, spectrally unresolved. Maupassant could have sniffed around the edges of this theme.
What exactly is the subject of this painting anyway? Given its imposing centrality, it might be said to be this handsome wooden window, which occupies so much of our attention. It looks a like a box bed, re-fashioned, re-hung to suit a different occasion. It is immensely black. But what of this woman? What exactly does the gesture of this woman mean? That hand raised flat against the window pane may not be a gesture of greeting at all. There is too much hurry about it – is she not bolting out of her chair? Would that explain its extraordinary tilt? This chair almost dances to a tune by Edward Lear. The gesture, though the painting's title calls it a wave, is surely more akin to what Doubting Thomas did when he demanded solid proof of the resurrection of Christ, by putting his hand to the wound. It is tantamount to a touch, a frustrated touch, a thwarted attempt to prove the reality of what it is that she is seeing, the image of this child's face on the other side of the window. The child's face is rendered all the stranger by the fact that the woman's face is wholly occluded. We begin to wonder whether she might be gazing at the image of herself as a child, that she might be attempting to feel some miracle that has just emerged out of that rich and treacly dark, which is lightened only by the strange, spreading smear of what might be moonlight or even gas light.
We ask ourselves what this ill-defined space might be beyond the window. Apart from the hovering image, there is nothing here but unrelieved blackness. Is this bituminous, viscous blackness pressing in on us – on her – from an inner courtyard then? (Hammershoi lived in an apartment overlooking an inner courtyard). Has this spectral child – he does look a little ghoulish – been generated by this blackness? Do tell us, Mr Poe.
Join our new commenting forum
Join thought-provoking conversations, follow other Independent readers and see their replies