How Alberto Giacometti's fragile world view still resonates
The artist's figures are alone and vulnerable
Joanne Crawford
Saturday 23 September 2017 12:20 Comments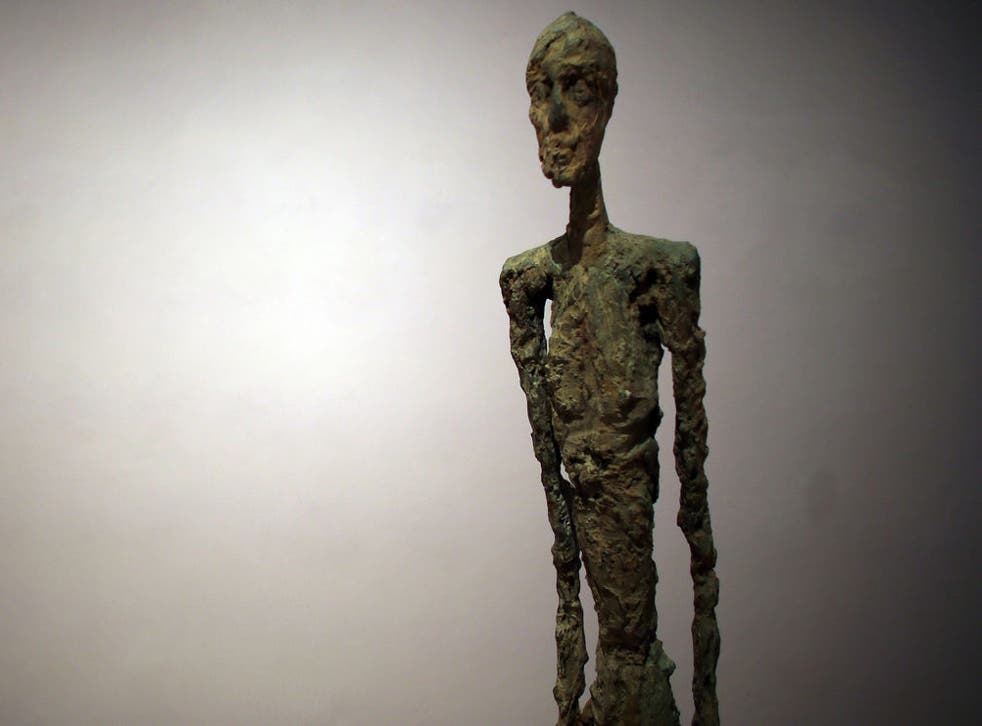 The life and art of Alberto Giacometti have received plenty of attention in 2017. A major exhibition of his work was held at Tate Modern in London, and then came the release of Stanley Tucci's biopic, Final Portrait, a film which focuses on the final year of the artist's life.
Giacometti, who died in 1966 at the age of 64, has always been an important and influential figure within the history of mid-20th century art – despite the apparent focus on the big splashy canvases coming out of New York at the time by the likes of Jackson Pollock.
While art critics were declaring American painting as the zenith of modern art, Europe was also producing some amazing eccentric and eclectic work – particularly sculpture. The public resurfacing of Giacometti this year (as well as a recent exhibition of the British artist Kenneth Armitage) goes some way to finally redress the balance – and shows that Giacometti's battered, elongated figures can still speak to an audience in the 21st century.
Giacometti, who was from Switzerland, is often depicted as a mercurial soul – socially and emotionally awkward, a man who endears and enrages in equal measure. Back in 1948, the philosopher Jean-Paul Sartre wrote an essay entitled The Search for the Absolute, which revealed that the process of making art was so psychologically painful for Giacometti that he would take years to produce anything that didn't (for him) fail. He would often destroy more than he sent out of the studio.
Sartre also writes about Giacometti's strange use of space – the sense that however physically close you get to his sculptures, they always seem distant, unreachable. This is reinforced in the film Final Portrait where the main protagonist, exhausted by Giacometti's demands on his time and patience, exclaims: "He is determined to remain completely unsatisfied."
This is the Giacometti we know. And it now seems impossible to find any other version. But we we all love a "tortured genius" when it comes to our artists – however reductive that is when searching for the contextual nuances which inspired their work.
The difficulty of understanding Giacometti is equally stressed when we encounter his sculptures. We are puzzled by his long, thin, angular figures, often grouped on oversized plinths. Huddled together, it seems, for protection – but always seeming strangely alone.
Their feet are usually set in large lumps of metal while their bodies are stretched towards the void of the heavens. This pulls the figures almost into insignificance. The body, as the home of the soul, becomes fragile, vulnerable, rather than solid and stable or known.
A heavy weight
They were created at a time when World War II had recently ended, but its consequences, the Cold War and the threat of global nuclear annihilation, were a reality. The frailness of the body and community through warfare was brought into everyone's daily psychological view.
Maybe Giacometti's famous figures speak to us at a time of anxiety and doubt – when technology becomes the potential slayer, rather than the saviour, and the world becomes an uncertain place. The articulation of this uncertainty is, more often than not, the realm of the arts.
Artists look around them and gather the socio-cultural resources available to present something that can be shared and understood among those who exist in the same world. Separate but together.
Aspects of Giacometti's world that he attempted to represent, the fragmentary and fragile nature of human understanding in an ever-quickening world, can somehow connect to what we are experiencing now.
We are drawn to the often repeated idea that Giacometti was a troubled maverick who struggled with both his art and his relationships. That he was unruly and difficult. But it could also be true that we are drawn to Giacometti not just because of what he represents as an individual – but also because his work reflects our profound need to understand the world's continuing potential for seismic and potentially catastrophic change.
Joanne Crawford is a lecturer in history of art at the University of Leeds. This article was originally published on The Conversation (www.theconversation.com)
Register for free to continue reading
Registration is a free and easy way to support our truly independent journalism
By registering, you will also enjoy limited access to Premium articles, exclusive newsletters, commenting, and virtual events with our leading journalists
Already have an account? sign in
Join our new commenting forum
Join thought-provoking conversations, follow other Independent readers and see their replies