Anti-Renoir protesters picket Boston art gallery over 'aesthetic terrorism'
The Renoir Sucks movement call for gallery curators to be sacked
Wednesday 07 October 2015 15:23
comments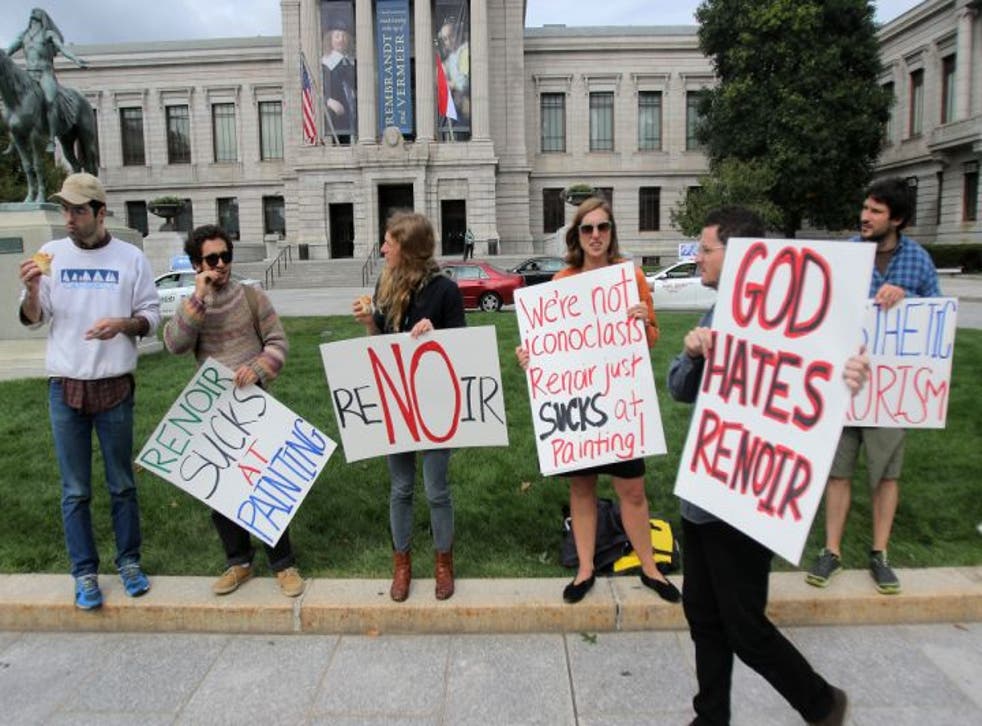 Proponents of "artistic justice" have been protesting outside the American Museum of Fine Arts complaining that work by Pierre-Auguste Renoir doesn't deserve to be on display.
Reportedly chanting "Put some fingers on those hands! Give us work by Paul Gauguin!" a group of self-confessed "aesthetes" have been holding placards and standing outside the illustrious art institution in Boston.
The members of a group calling themselves the "Renoir Sucks At Painting movement" called for the AMF's curators to resign and held up placards with apparently ironical statements such as "God hates Renoir" and "aesthetic terrorism".
They tongue-in-cheek activists claim this is the first of many "anti-Renoir direct actions" and explained their motivation in a post on Instagram.
"After years of silently coping with the irredeemable treacle of Pierre-Auguste Renoir diluting the collection at the Boston Museum of Fine Arts, an international grassroots network of cultural justice seekers announce their intention to march on the MFA and picket outside," a statement reads.
It goes on to describe the decision to hang work by the French Impressionism as a "curatorial failing" which "amounts to an act of Aesthetic Terrorism".
The group said it expected "dozens" to picket the museum but reports from the action suggest there were only around 10 people outside the gallery.
Renoir Sucks founder Max Geller organised the protest and was joined by Harvard scientist Ben Ewen-Campen and artist Craig Ronan, who heard about the action in Instagram, and told the Boston Globe: "I don't have any relationship with these people apart from wanting artistic justice."
Ewen-Campen said: "Seeing Renoirs in the MFA makes me sad. All the other art in the museum is great - Manet, Van Gogh, Singer Sargent, they're great! But then we get exposed to Renoir's deformed pink fuzzy women and scary looking babies. It really detracts from the overall experience."
The AMF declined to comment on the protest.
Quite an impression: Exhibition shines fresh light on the gardens that inspired Monet, Renoir, Cezanne and Pissarro

Show all 26
Renoir, who died in 1919, was a leading member of the Impressionist movement and is one of the best-known and widely reproduced painters in the history of art.
Join our new commenting forum
Join thought-provoking conversations, follow other Independent readers and see their replies