Banksy in Calais jungle: Steve Jobs graffiti reminds people Apple founder was son of Syrian migrants
The painting shows Jobs carrying an early Apple computer with a sack of belongings on his back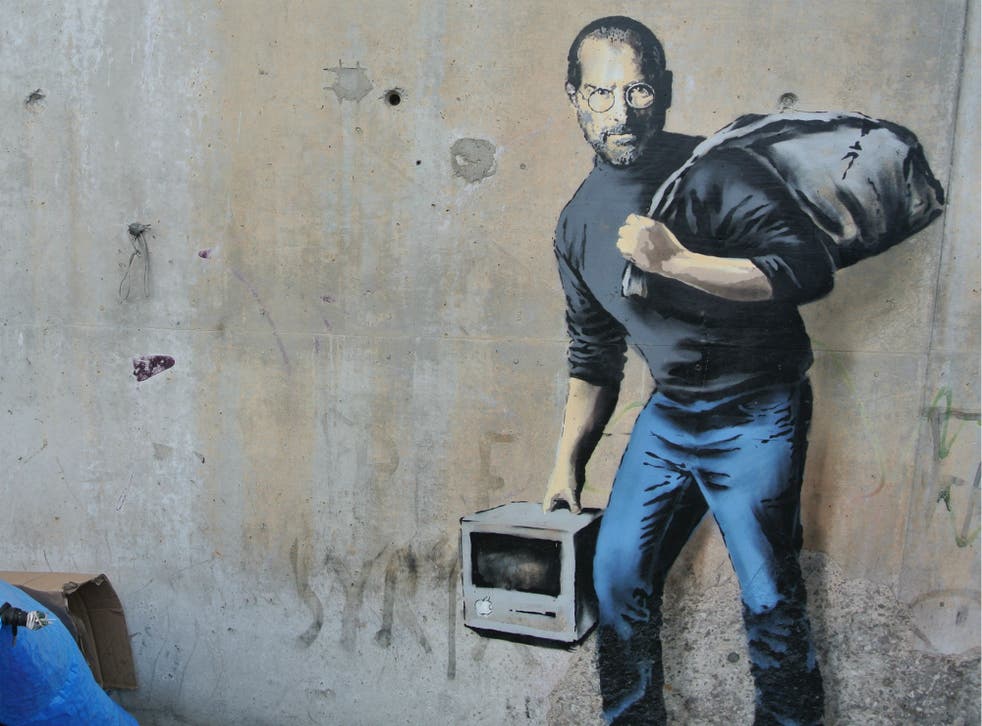 A new Banksy graffiti has appeared on a concrete bridge in the Calais migrant camp, showing late Apple founder Steve Jobs migrating from Syria.
Known as the Jungle, the makeshift town is located on what used to be a rubbish tip on the outskirts of the French port and is currently home to more than 7,000 migrants. The majority come from war-torn Syria and Afghanistan are are hoping to get to the UK to start a new life.
The timely new artwork features Jobs' trademark spectacles, as he carries an early Apple computer in one hand a sack of belongings on his back.
Multiple pictures can be seen on Banksy's official website, with an array of tents set up close to the painting. Further along the wall to the right is written "Nobody deserves to live this way".
Banksy said in a statement: "We're often led to believe migration is a drain on the country's resources, but Steve Jobs was the son of a Syrian migrant.
"Apple is the world's most profitable company, it pays over $7 billion a year in taxes - and it only exists because they allowed in a young man from Homs."
Banksy has been supplying aid to the Calais 'jungle' in the form of leftover infrastructure from his now closed UK 'bemusement park' Dismaland.
Inside Banksy's Dismaland

Show all 13
The materials are being used to create emergency shelters, community buildings and play areas for those in need.
While in Calais, Banksy also painted images following the migrant theme on other walls, including a riff on "Raft of the Medusa" by Theodore Gericault with its luxury yacht.
Join our new commenting forum
Join thought-provoking conversations, follow other Independent readers and see their replies