Bob and Roberta Smith will run against Michael Gove at the election on culture platform
Pseudonymous artist in 'one-man van' campaign to highlight value of the arts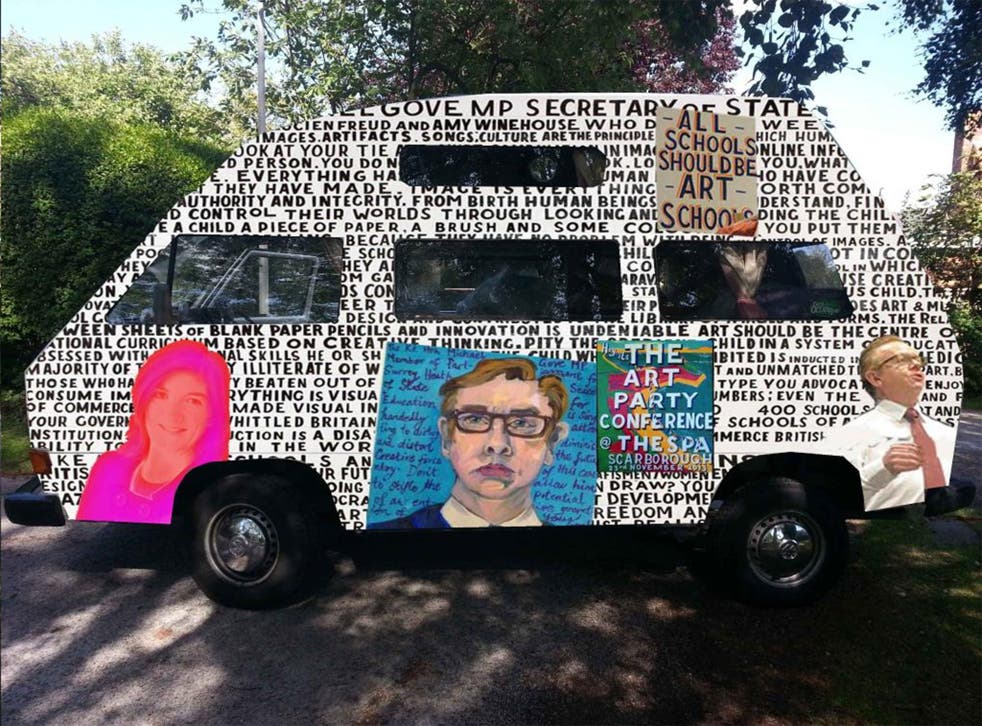 The arts proved a thorn in Michael Gove's side throughout his four-year tenure as Education Secretary. Now, one acclaimed artist is taking protests a step further by running against him in the next general election.
Bob and Roberta Smith, the pseudonym of Patrick Brill who specialises in painted placards, is to run against Mr Gove in his Surrey Heath constituency.
Although Mr Gove left his post as Education Secretary, following a Cabinet reshuffle in July, to become the Tory's chief whip, Brill said he is running against him as the "architect" of the policies that have marginalised arts in schools.
"He has become a fulcrum to say the arts are really important in this country," he said. "It's a chance to say a lot of positive things about the arts rather than just bashing politicians."
One of the artist's best known works is Letter To Michael Gove, a huge placard carrying a diatribe of almost 1,000 words.
However, he said his decision to run was sparked by recent comments made by Mr Gove's ministerial successor, Nicky Morgan, over how students could be held back by studying arts subjects. Mr Brill said: "What she said has got everyone fired up again. I thought: 'I've got to stand'."
The artist has bought a camper van and painted it in the style of many of his works with comments about the importance of the arts from residents of Surrey Heath.
The constituency has been staunchly Conservative since the boundary was redrawn in 1997. At the last election Mr Gove secured 57 per cent of the vote, more than double his nearest rival, Liberal Democrat Allan Hilliar.
Brill joked that he was not so confident of winning that he was about to buy a second home in the constituency, adding: "The point is to raise the issue of the importance of the arts. But it would be great to chip away at that majority."
The former Education Secretary angered the artistic community in 2012, by proposing to drop the arts as core subjects as part of his plans to overhaul the GCSE system.
Figures including Tate director Sir Nicholas Serota, architect Richard Rogers, and playwright Sir David Hare all expressed their fears over the policies' effect on the arts in Britain, and Mr Gove was later forced to climb down.
Campaigning on behalf of the arts has long been a key part of Brill's work as Bob and Roberta Smith, saying that "all schools should be art schools".
He set up The Art Party movement with filmmaker Tim Newton in 2011 to "better advocate the arts". They saw it as a call to arms to protect the creative arts in Britain, "which is being jeopardised by the current Government."
Join our new commenting forum
Join thought-provoking conversations, follow other Independent readers and see their replies