Boeing 737 jet to be buried just outside Birmingham - all in the name of art
Roger Hiorns needs a £250,000 grant to complete the project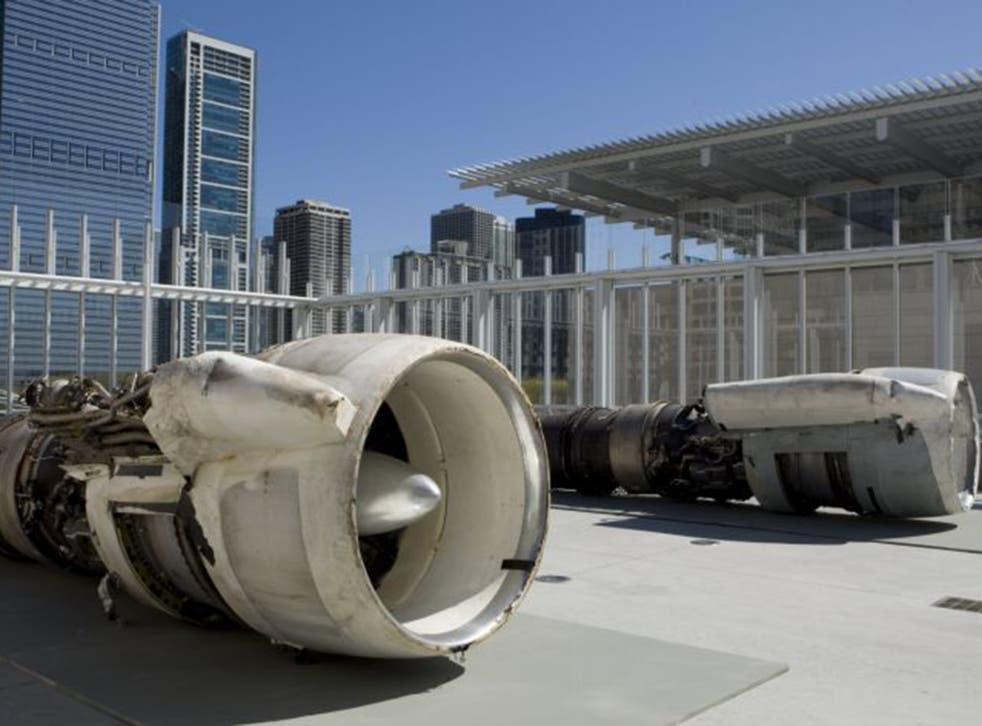 A Turner Prize-nominated artist will bury a Boeing 737 jet under derelict land outside Birmingham in a large-scale installation which requires a £250,000 grant from Arts Council England to stage.
Roger Hiorns has spent four years planning the jet burial, a conceptual work which is designed to "amplify the contemporary anxiety which the object holds over us."
The Birmingham-born artist, 39, who was nominated for the Turner Prize in 2009, admits that the buried plane will be invisible to most spectators and is likely to repel others.
"Some people will refuse to go anywhere near it," said the artist, who plans to bury the plane 7m below ground and will allow visitors unconcerned by claustrophobia access to the fuselage via a narrow spiral staircase.
The Art Newspaper reported last week that Hiorns has identified a patch of industrial wasteland at Icknield Port Loop, a canal-side regeneration site in Birmingham for the project, which he hopes to stage next Summer.
"People won't be able to see anything," said the artist, who has had "very enthusiastic discussions" with the Arts Council.
A decommissioned Boeing 737 has been sourced from an aircraft breaking firm in Gloucestershire, said Hiorns.
A planning application will be lodged with Birmingham City Council for the temporary installation, which will be staged in collaboration with the city's Ikon Gallery.
"This is a work that can't exist on the surface of the world," said Hiorns. "We want to bury the plane as deep as allowed, at least to seven metres. The only access route will be a hole and a very basic spiral staircase. People will be able to walk up and down the fuselage and sit in the seats."
Hiorns, who previously filled the engines of a Boeing EC-135c surveillance aircraft with crushed anti-depressant drugs in a sculpture contrasting global security and individual well-being, explained: "The idea I am proposing is that this is the next phase of the plane. If we find the right depth you will feel like you are leaving the upper realm and entering the lower realm.
"I'm presenting a space that's deeply familiar but filled with anxiety and increasing the level of anxiety by placing the compressed atmosphere of an aluminium shell underground."
There will be ventilation and lighting to assist those who venture into the Stygian fuselage underworld. "The hole will lead people towards an adverse experience. I don't know how many people will actually want to experience it."
Fundraising has begun for the installation with the Ikon Gallery preparing an official grant application to Arts Council England. Jonathan Watkins, Ikon Gallery director, said: "If you have a claustrophobic tendency it may not be for you but we think the plane will be a quiet place for reflection. The plane would be so incongruous, like a person in the future stumbling across Tutankhamun's tomb."
Hiorns is not the only artist seeking to bury a jet. Swiss artist Christoph Büchel is raising $1.5m for his plan to bury a decommissioned Boeing 727 in the Mojave desert. An environmental collective called Bury The Jumbo who also plan to bury an aeroplane underground in collaboration with airline Swiss.
"It isn't a race to be first to bury a jet," said Hiorns, whose ambition stretches to burying a global network of planes in upstate New York, the Netherlands, Japan and Chad alongside the Birmingham project.
Hiorns himself is not big on air travel. "I limit my flying to once every two or three years," he said.
For his 2009 Turner Prize nominated work Seizure, Hiorns encrusted every surface of a flat on a condemned London council estate with blue copper sulphate crystals.
Birmingham City Council said it was awaiting an official planning application for the project. The permissions process may push the project back to the Summer of 2017.
Join our new commenting forum
Join thought-provoking conversations, follow other Independent readers and see their replies