Damien Hirst artworks censored for sensitive audiences in China and Qatar
Statue's genitals covered up with a fig leaf to avoid causing offence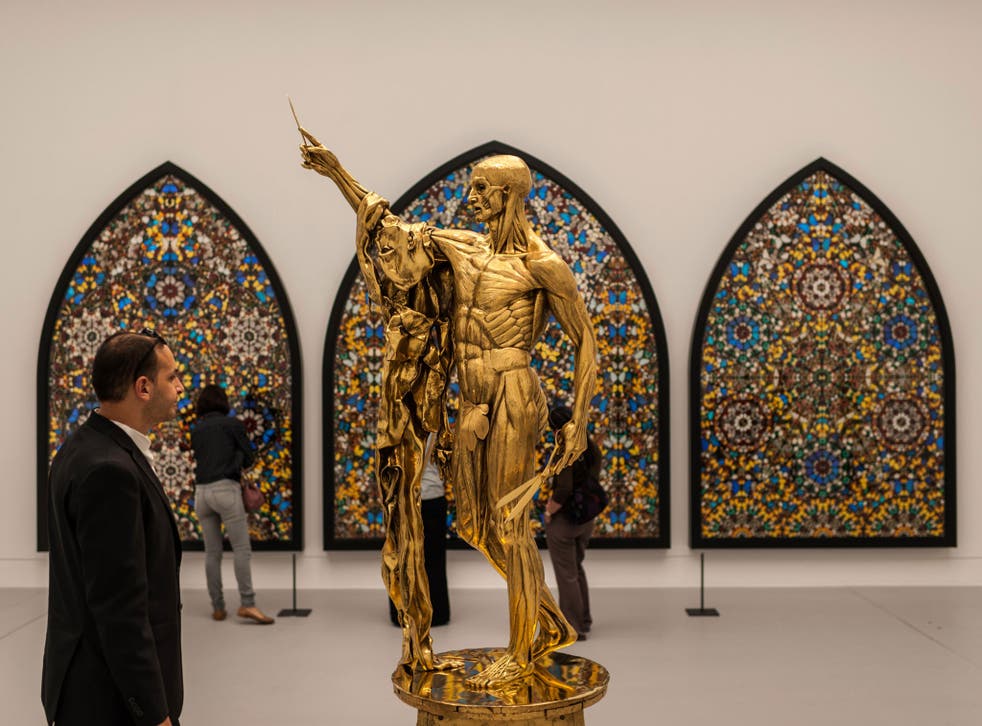 Damien Hirst has never shied away from causing controversy. Yet in the major show he has just opened in Qatar, has the enfant terrible of British art reached for a fig life to spare the blushes of his audience?
Relics opened in capital city Doha this week and runs until January. Among the eye-catching pieces was a sculpture of a saint with nothing but a fig leaf to protect his modesty.
The original 2006 sculpture "Saint Bartholomew, Exquisite Pain", which showed the skinned martyr with his skin hung over his arm, had no such protective foliage.
Francesco Bonami, the show's curator denied that the leaf had been placed on the saint to prevent causing offence in the socially conservative country, saying he operated in "total freedom".
When the statue was shown in the Gagosian Gallery's Hong Kong site, Hirst added the leaf to prevent issues with Chinese collectors. Hirst said he could have removed the leaf in Doha as "they seem pretty open-minded here".
Bonami did admit, however, that some of Hirst's more "gratuitous" works were omitted from the Doha exhibition.
"It is not about shocking [people]," he told Doha News. "We're coming to not just an Islamic culture, but a place where the general public has not been exposed to contemporary art." He said one or two pieces had been excluded as a result, but could not recall which.
Two sculptures from Ancient Greece were removed from an exhibition at the same Al Riwaq venue because of the nudity.
Fig leaves have spared delicate art viewers' blushes in the past. When Michelangelo's "David" was unveiled in Florence it was pelted with rocks, before it was covered with real fig leaves.
A cast of the same statue given to the V&A in the 1850s was given a removable plaster cast fig leaf after Queen Victoria's shock over the nudity.
The V&A, then the South Kensington Museum, had used tin fig leaves before that to hide other statues showing male nudity.
Stephen Smith, who presented Fig Leaf: The Biggest Cover-Up in History, wrote: "Nature's jockstrap remains an impressively elastic device, two millennia after it was first twanged into place. And it's not stretching things too far to say that it can still be a snug fit for 21st century sculpture."
Join our new commenting forum
Join thought-provoking conversations, follow other Independent readers and see their replies