Eduardo Paolozzi's 'much-loved' murals at Tottenham Court Road Tube station under threat from £400m Crossrail redevelopment
Campaigners say they are 'convinced more can be done to save them'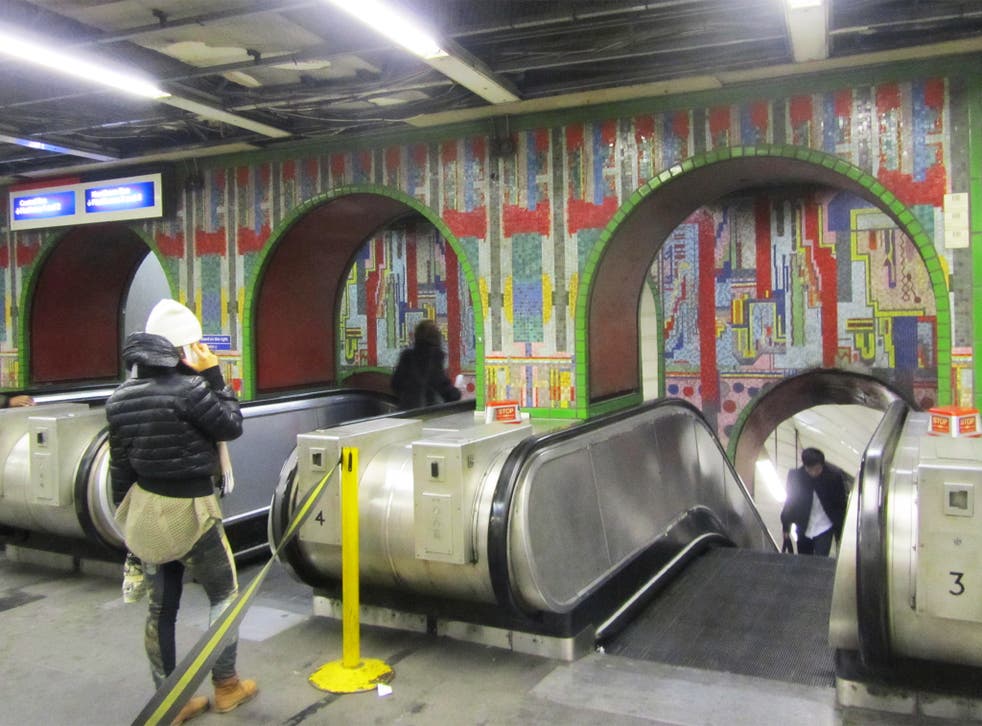 Campaigners have called for Tottenham Court Road tube station's "much-loved" murals – which were designed by the Scottish artist Eduardo Paolozzi – to be saved from demolition.
The tiled arches over the escalators on the central London station's main concourse are seen by more than 150,000 people every day.
Yet the £400m redevelopment of the station – meant to boost capacity to 200,000 for the arrival of Crossrail – means the arches will be removed and the mosaics, which were installed in the early 1980s, would be lost.
Architectural heritage charity the Twentieth Century Society has called for the mosaics to be saved, with senior conservation adviser Henrietta Billings saying: "They are integral to the scheme that Paolozzi set out for the station. We're convinced more can be done to save them," adding that they were "much-loved and important".
Next week, members of the society will meet with Transport for London (TfL) and Roger Hawkins, of Hawkins Brown, the architects masterminding the redevelopment.
It is understood that TfL has held discussions with the V&A and the Transport Museum in a bid to save the arches, but neither could house them.
Gareth Powell, London Underground's director of strategy and service development, said the group "considers the Paolozzi mosaics to be an important artwork," adding it had worked closely with the artist's foundation to ensure the station "continues to provide a home for the work".
He pointed out that 95 per cent of the Paolozzi mosaics throughout the station and on the platforms will be retained in their current place.
The Paolozzi Foundation said that while it was an "unhappy situation" that the arches would be lost, they supported the extent of work that TfL had done to preserve the rest of the mosaics in the station.
In pictures: Women take part in a 'Lunch Party' against the Facebook website 'Women Who Eat on Tubes'

Show all 8
Join our new commenting forum
Join thought-provoking conversations, follow other Independent readers and see their replies