The Independent's journalism is supported by our readers. When you purchase through links on our site, we may earn commission.
George Zimmerman painting attracts $100,000 bid on eBay
The man who shot dead Trayvon Martin started the bidding at 99 cents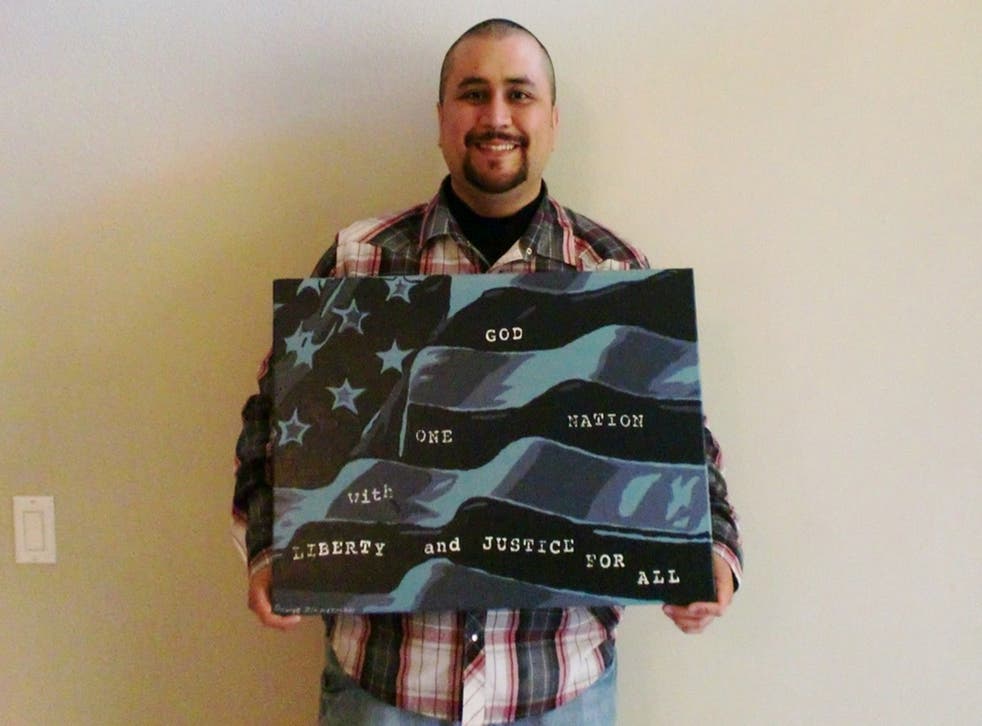 An original artwork by the man found not guilty of killing Trayvon Martin earlier this year has attracted bids of over $100,000 in an online auction that opened on Monday.
George Zimmerman's painting – a signed, blue-tinted depiction of the US flag with an overlay of "God, One Country with Liberty and Justice for All" in typewriter font – has dramatically exceeded its 99 cents plus $40 shipping estimate.
"Everyone has been asking what I have been doing with myself," the former neighbourhood watch volunteer wrote on eBay. "I found a creative way to express myself, my emotions and the symbols that represent my experience.
"My art work allows me to reflect, providing a therapeutic outlet and allows me to remain indoors," he continued, adding a smiley face emoticon.
Zimmerman's brother Robert Zimmerman Jr has confirmed the auction is real.
Photos were also added to the listing, with Zimmerman shown grinning while holding the painting. The item description states that no returns or exchanges are permitted.
Zimmerman, 30, was arrested after the fatal shooting of the black 17-year-old in February 2012. Martin was walking home unarmed from high school, when Zimmerman took aim and killed him in Sanford, Florida.
A national outcry was sparked when police released him, fuelling a fierce debate about racial profiling in the US.
Zimmerman was then tried for second-degree murder and manslaughter in court proceedings that ended with his acquittal in July.
The court ruled Zimmerman had acted in self-defence and was justified under Florida law in using deadly force to "prevent imminent death or great bodily harm" to himself.
Until recently, he was due to face a further trial for allegedly pointing a gun at his girlfriend, but she later dropped the charges.
Last month, Zimmerman told a judge he was $2.5 million in debt with just $150 to his name.
Bidding for his 18-by-24 inch "Stars and Stripes "canvas, created using house paint donated by a friend, will end on Sunday.