Gilbert & George become a trio as they take to the stage alongside transgender nurse
Britain's most outrageous artists have conferred 'living sculpture' status upon Victoria, to illustrate 'transformation'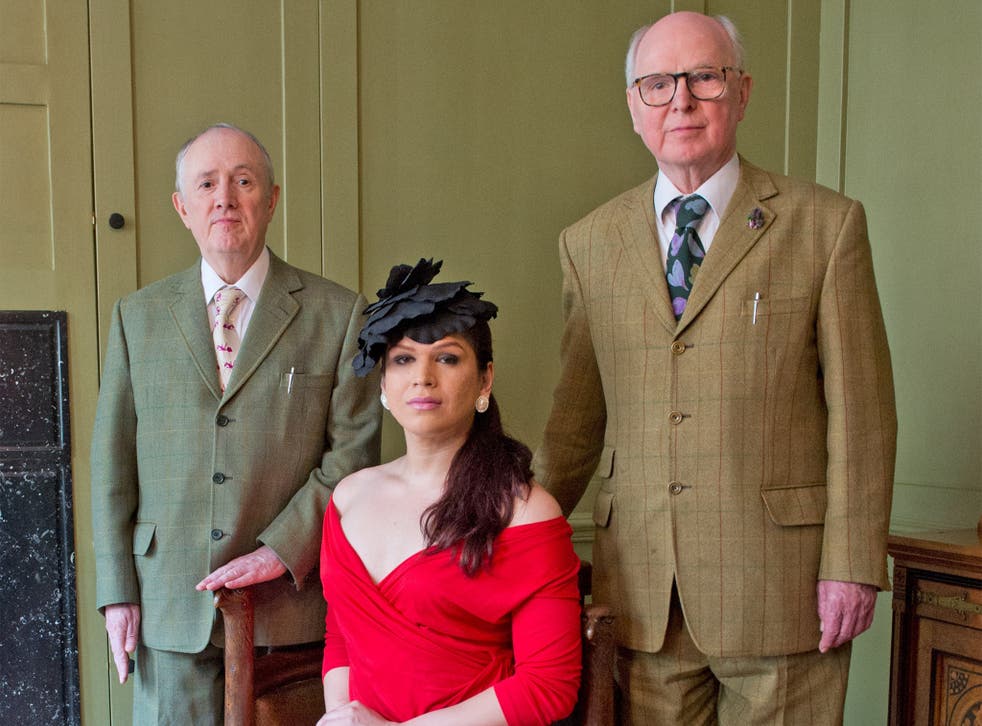 They have been the most notorious duo on the British art scene for almost five decades – outraging, inspiring and amusing the public in equal measure.
But now, for the first time since they started collaborating, Gilbert & George are to become a trio.
Saturday marks the debut of Gilbert & George with Victoria, a transgender nurse. She is the only other person to whom they have awarded the title of "living sculpture" alongside themselves.
The trio will take the stage at the Serpentine Gallery in London at the gallery's 10th annual "marathon", which features writers, thinkers, artists and scientists. This year's theme is "transformation".
"When we heard transformation was the theme, we realised we had our transformation," George says. "We've never worked with another person like this before. On Saturday we will be Gilbert and George and Victoria. This is the first time we've had another living sculpture with us."
The pair met Victoria, who lives and works in the UK, by chance in Monaco. Victoria was there for her birthday and was introduced to the artists by their assistant.
Victoria, 30, arrived from the Philippines as a student in 2009 and now works as a nurse in a hospital in Harrow on the Hill, north-west London. She has taken hormones since she was 18 and lived as a woman for the past two years.
Victoria has never been involved in the art world before. "It's a very big pleasure," she says. "Though I feel nervous – it's the first time I've done anything like this."
Gilbert says: "We have the best transformation. There is nothing better than a living transformation."
During the live performance the duo will interview Victoria about her everyday life, all in the name of art. Gilbert says: "We don't want to tell the audience too much; we want them to feel it. The visual is very important.
"We are living sculptures and Victoria is a third one. We made it the centre of our art. Even without our pictures, G&G are visual objects. When we are on the bus, people know we are artists."
Gilbert Proesch, 72, and George Passmore, 73, met in 1967 while studying at Saint Martin's School of Art in London, and early on declared themselves "living sculptures". They have become known for their humorous and provocative art, often including their own images and challenging or satirical slogans. A major retrospective of their work is due to be staged in Tasmania next month and they have another show of 30 new works to be unveiled at the White Cube Bermondsey gallery in London.
For the White Cube show they have written their own 10 commandments, inspired by last year's Serpentine marathon whose theme was the environment. Then they unfurled a large banner that said: "Fuck the Planet".
George says: "Everyone who goes will be keen to save the planet, so how can we contribute? We thought we should say something that speaks to the people that want to save the planet. Everyone froze." Other messages will include "ban religion," "decriminalise sex" and "fuck the teachers".
George adds: "We think it's interesting to put those statements out there. We do it for people to think about, not for people to ask what we think. We can't do it on the street, we'd be arrested. As artists we can get away with murder."
"To be free to do whatever you want, it's energising." Gilbert says.
To nominate someone for The Independent on Sunday Rainbow List, which celebrates influential LGBTI people, please go to independent.co.uk/rainbowlist
Art and politics: Shy Tories?
Few contemporary artists admit to supporting the Conservative Party but many in the industry do, according to Gilbert & George.
The scale of support for the Tories is hidden because creative people are too ashamed to admit it, the artists told The Independent.
The arts are traditionally associated with left-wing politics but Gilbert &George have long talked of their support for the Conservatives and their admiration for Mrs Thatcher. The only other high-profile artist to express her support for the Tory-led Coalition was Tracey Emin.
"The [Tories] are strongly supported by the arts community behind closed doors," George said. "They think it's a shame to say it."
Join our new commenting forum
Join thought-provoking conversations, follow other Independent readers and see their replies