Grammys 2016: Jimmy Carter level with President Obama after winning second award
Carter won the Best Spoken Word Album category for the audio book version of his memoir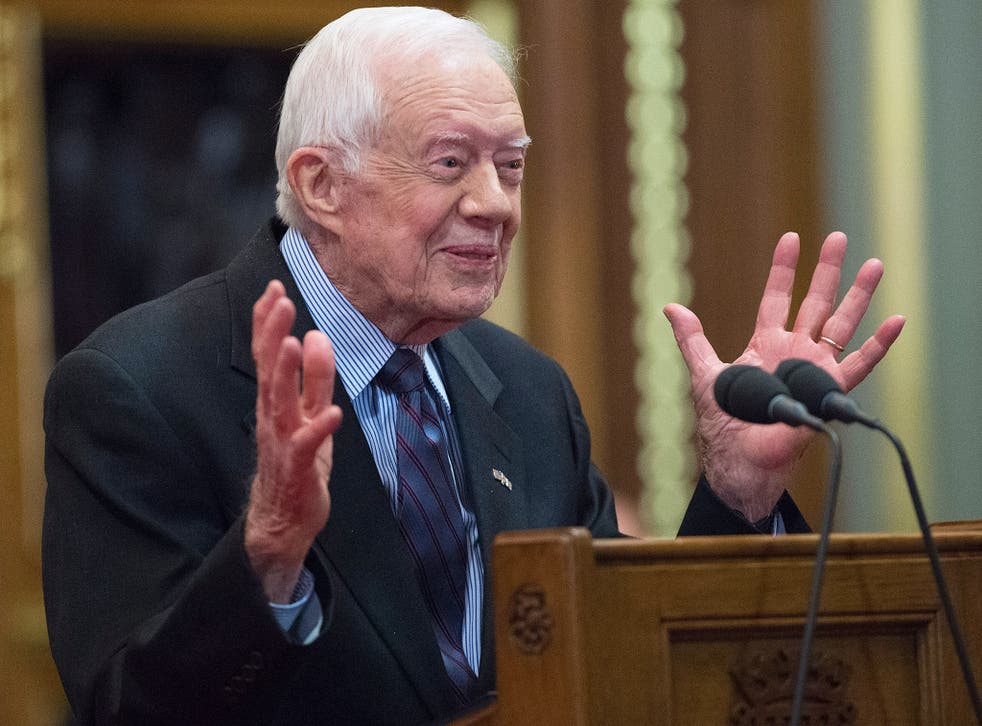 He may only have won one term in office but former President Jimmy Carter has drawn level with Barack Obama after winning his second Grammy award.
Carter, 91, struck a victory for seniority at the recording industry awards which honoured Taylor Swift, Justin Bieber and Ed Sheeran.
Carter won the Best Spoken Word Album category for the audio book version of his memoir, A Full Life: Reflections at Ninety.
It was his second victory at the Grammys. In 2007, Carter's reading of Our Endangered Values: America's Moral Crisis won him honours alongside Ossie Davis and Ruby Dee.
President Obama is also a two-time Grammy winner in the spoken word category. He first took the prize in 2005 for his memoirs Dreams From My Father and again two years later for the audio book version of The Audacity Of Hope: Thoughts On Reclaiming The American Dream.
Carter is not the oldest Grammy winner. That honour resides with Pinetop Perkins, who was awarded Best Traditional Blues Album for Joined At The Hip in 2011, at 97 years of age.
Grammys 2016: in pictures

Show all 30
Taylor Swift, who won Album of the Year for 1989, hit back at Kanye West, who claimed that he made "that bitch famous" in a new song insulting the singer.
Pointing out that she is the first woman to win album of the year twice, Swift said in her acceptance speech: "I want to say to all the young women out there – there are going to be people along the way who are going to try to undercut your success or take credit for your accomplishments or your fame."
Swift, who won three Grammys at the Los Angeles ceremony, added: "But if you just focus on the work and you don't let those people side-track you, someday when you get where you're going, you'll look around and you will know that it was you and the people who love you who put you there."
Adele's performance of "All I Ask" was marred by technical difficulties. Her microphone cut out and the song appeared to feature an extraneous guitar track. "The piano mics fell on to the piano strings, that's what the guitar sound was. It made it sound out of tune. Shit happens," she later tweeted.
Record of the Year went to "Uptown Funk" by Mark Ronson featuring Bruno Mars, whilst Ed Sheeran accepted his first ever Grammy for the Song of the Year, Thinking Out Loud.
Performing in David Bowie-inspired make-up, Lady Gaga paid tribute to the late musician by running through a selection of his hits including "Space Oddity", "Changes" and "Heroes".
Join our new commenting forum
Join thought-provoking conversations, follow other Independent readers and see their replies