National Gallery: Room for one more at the back
Tickets for the National's new Leonardo show are the most sought-after items in town. Yet the age of the packed-out art blockbuster may soon be over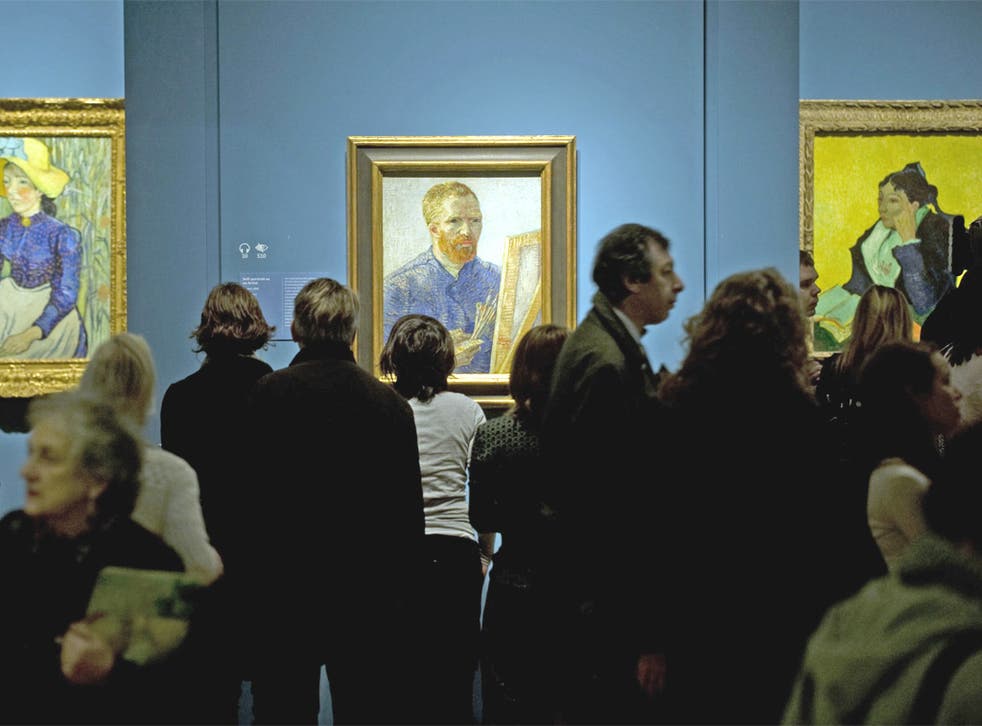 Want to make yourself really unpopular at the National Gallery's latest blockbuster exhibition? Then follow the advice of its curator and stand for a full 10 minutes before each Leonardo da Vinci masterpiece whilst "gallery rage" reaches new heights around you.
Art lovers were sharpening their elbows and taking deep breath this morning for the opening day of the most complete display of Da Vinci's rare surviving paintings ever held. Tickets have sold out until mid-December. An additional 500 will be made available to the public each day. But that is unlikely to satisfy demand for the biggest art blockbuster in the world this year, which features seven paintings by the Renaissance master never seen in Britain.
Exhibitions that become events fill the coffers of galleries, add to their international prestige and can help make the name of curators. Yet Colin Tweedy, the influential chief executive of the Prince of Wales's Arts and Business charity, is not the only figure to have claimed that such events are "killing art" because the scrum surrounding the works means that few can be viewed at leisure.
After last year's over-subscribed Gaugin exhibition at the Tate Modern became a weary trudge of flustered viewers craning their necks for a brief audience with the great works, the National Gallery has taken steps to reduce over-crowding. It will limit numbers to 180 per half hour, with a fixed entry time on tickets, to reduce the crush. The gallery could admit 230 visitors under health and safety rules.
Yet even with late opening at weekends to meet demand, sheer numbers will make it a challenge to follow the advice of Luke Syson, the Da Vinci exhibition's curator. He told the Today programme yesterday: "You need to spend time with each of these pictures, to absorb them and allow them to enter your soul. I'd say you should give each picture 10 minutes minimum." Capping the numbers would make the Da Vinci show "a bearable experience", promised Syson, who admitted: "It will be crowded – there's no point pretending it won't be."
Despite Tweedy's plea, the blockbuster shows no sign of fading. The Tate is hoping to capitalise on next summer's Olympics with major exhibitions of works by Damien Hirst, Edvard Munch and Pablo Picasso.
Exhibitions like these are a necessary evil, said Dr Stephen Deuchar, director of the Art Fund, which raises money for museums and galleries. "The National Gallery hasn't just mounted the Da Vinci exhibition to sell tickets. It's a hugely important show in art-historical terms which they have pulled off after years of discussions with the Louvre and other institutions, and expensive to stage. Unfortunately a by-product of that is that it will be crowded."
Not all ticket-holders are put off by the crowds. Dr Deuchar added: "People like the excitement of being part of an event. A blockbuster is a once-in-a-lifetime opportunity to see all these works. It's like attending the performance of a great orchestra which you might have to queue for a long time to see."
Beyond limiting numbers, the National Gallery has taken steps to help visitors achieve Mr Syson's 10-minute minimum. Some of the 15 paintings have been hung at a greater height so they can be viewed over other people's heads.
Ticket-holders can take their own action to reduce congestion. Charles Saumarez Smith, chief executive of the Royal Academy, who commissioned the Da Vinci show when director of the National Gallery, said: "Buy the catalogue now and read it before you get to the exhibition so you're not trying to do all the work that an exhibition encourages you to do. You should spend your time actually looking at the works." Galleries should beware, he added, that "Sound guides [audio tours] can be problematic because they make everybody follow the same route."
The Da Vinci exhibition is open until February but Evan Davis, the Today presenter, asked why galleries couldn't open overnight to accommodate visitors. "Blockbusters" are often closed to the public before breakfast and in the evenings for private tours booked by corporate guests.
Leonardo da Vinci: Painter at the Court of Milan includes virtually all of the known Leonardo paintings from Milan, where he was court artist to the city's ruler Ludovico Sforza from around 1482-1499. Assembled from Poland, Russia, America and France, the exhibition includes The Virgin of the Rocks and the Madonna Litta. But those who want to see the Mona Lisa will still have deploy even sharper elbows to beat the hordes at the Louvre in Paris.
A fine art: 10 ways to beat the crowds
Go backwards
Skip to the end and hit reverse. Backwards walking optional.
Do a Sarkozy
Rise above the crowds on heels – Cuban if you're a man. Stilts are better, but may not pass security.
Ditch the audio tour
Use a book instead to guide you at your own pace. Read the plaques.
Sharpen your elbows
Whatever you do, there will be crowds. Hold your ground.
Up periscope!
Achieve a higher appreciation of art with a periscope. Make your own with mirrored card.
Pretend to work there
You won't get jostled if people think you're staff. Wear a budget blazer and scuffed shoes.
'Buy' the gallery
Fill the National by buying its maximum number of tickets for an exclusive half-hour visit. It will only set you back (theoretically at least): £3,168.
Be wise with time
Weekends? Not a chance. Skive off work or aim late – doors stay open till 9 on Fridays.
Pray for snow
Fair-weather art lovers will stay away if the heavens decide to open.
Reach for the remote
Last night Sky screened the exhibition's opening night. Find it on the internet to enjoy the gallery's works from the crowd-free comfort of your own home.
The National in numbers
309,120 Total public tickets for the Leonardo exhibition, which runs until 5 February.
230 Visitors legally allowed per half hour. The gallery will limit it to 180.
1.1m Visitors to the National's record 2006 Manet to Picasso exhibition.
Join our new commenting forum
Join thought-provoking conversations, follow other Independent readers and see their replies