New Banksy art sees love and smartphones at odds, but where in the UK is it?
Meanwhile, an unconfirmed work pops up at GCHQ in Cheltenham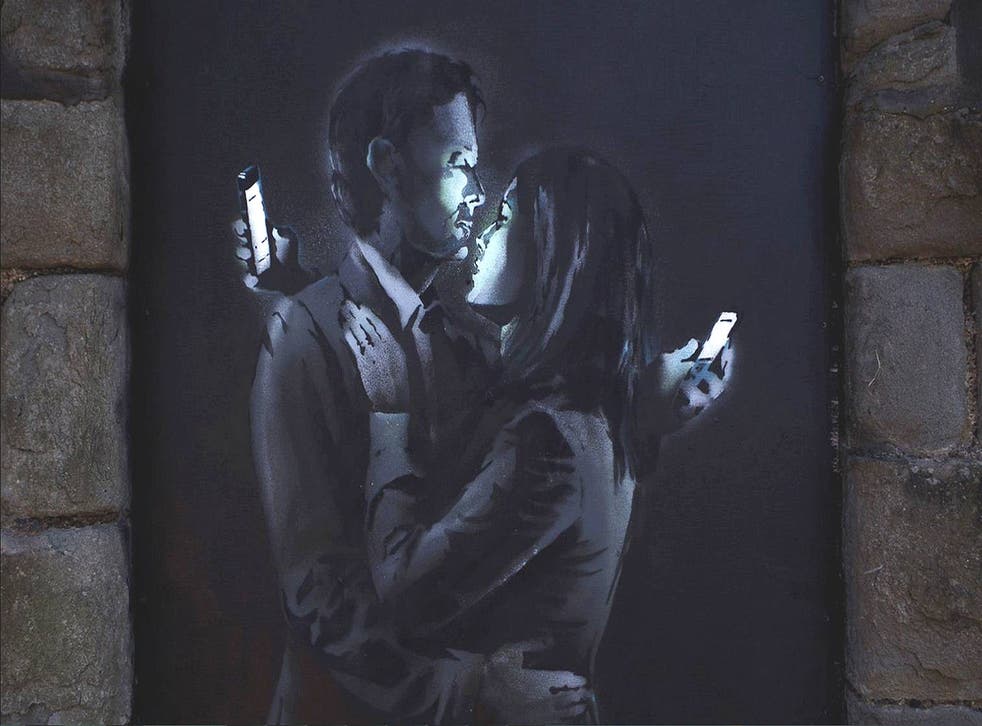 Banksy has posted a new art mural on his website that is being dubbed 'Mobile Lovers', but its location (at least for the next few hours) remains a mystery.
UPDATE: It's been prized off the wall and is hanging by the toilets in a boys club - More here
The graffiti sees a pair of lovers in just-finished-work attire embracing in a doorway, both distracted by their smartphones which give their faces a ghostly, detached glow.
Perhaps a comment on love and lust's migration to mobile apps like Tinder and Grindr, perhaps a reflection on the public's technology addiction in general, the mural may require people to put down their phones in order to find it, or ironically stare at them more avidly, as snaps of it will inevitably wind up on social media.
The double yellow lines, cobbled streets and black lamppost that serve as the mural's canvas suggest the graffiti was stencilled somewhere in the UK, but no-one has as yet tracked it down.
It would be a homecoming for Banksy, who last posted new art on his website in October during his New York residency.
Coincidentally (?), the mural comes on the same day that a 'suspected Banksy' was spotted on a wall near GCHQ, depicting secret service agents listening in on a phone box.
Banksy's New York residency

Show all 14
The piece has not been confirmed by the artist, but has his satirical hallmarks.
Join our new commenting forum
Join thought-provoking conversations, follow other Independent readers and see their replies