New Banksy mural appears on Folkestone wall
The artist said the piece was 'kind of' part of the town's art triennial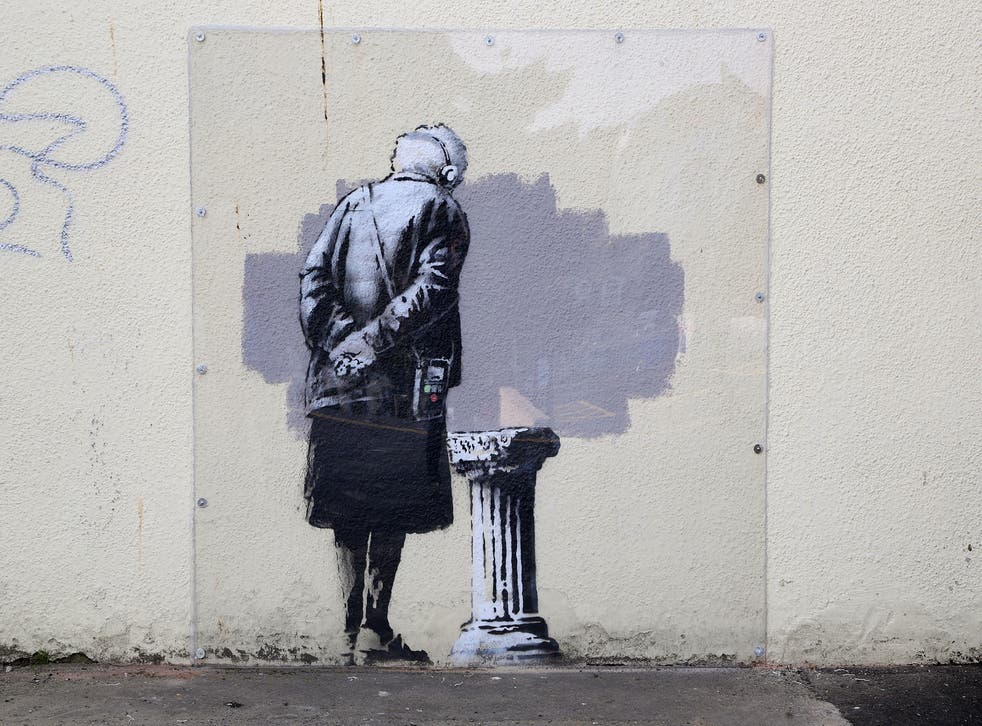 A new mural by artist Banksy has appeared on a wall in the seaside town of Folkestone in Kent.
The piece, called "Art Buff", depicts an older woman staring at an empty plinth while wearing headphones with her hands clasped behind her back.
Clear plastic sheeting has been placed over the artwork by Banksy, after a number of his stencils have been removed by third parties and sold at auction.
The local authority, Shepway District Council, said it was working with the owner of the building to ensure it remains undamaged.
The owners of the building, an amusement arcade, have employed a body guard to oversee the artwork.
The anonymous artist confirmed the work was his on his website last night. Visitors to banksy.co.uk are greeted with a slideshow of the wall before and after the mural when they enter the site.
As users click through the three pictures featured, they are faced with the words "Part Of The Folkestone Triennial. Kind Of" at the bottom of the last image.
The triennial is a two-month long showcase of art in the resort, which has attracted the likes of Yoko Ono, widow of the late Beatle John Lennon.
The event gained headlines at this year's launch when Berlin-based artist Michael Sailstorfer sparked a stampede when he hid 30 bars of 24-carat gold, worth £10,000, on Folkestone beach.
Banksy's New York residency

Show all 14
The emergence overnight of an original Banksy artwork is another publicity coup for organisers of the event, which runs until 2 November.
Shepway councillor Jenny Hollingsbee said: "This is a tremendous opportunity for the people of Folkestone to see a Banksy original. It is another reason to be proud of Folkestone."
With additional reporting from the Press Association.
Join our new commenting forum
Join thought-provoking conversations, follow other Independent readers and see their replies