Norman Rockwell's 'Saying Grace' tops record week of art auction sales in US
Extraordinary week of sales as buyers seek safe investments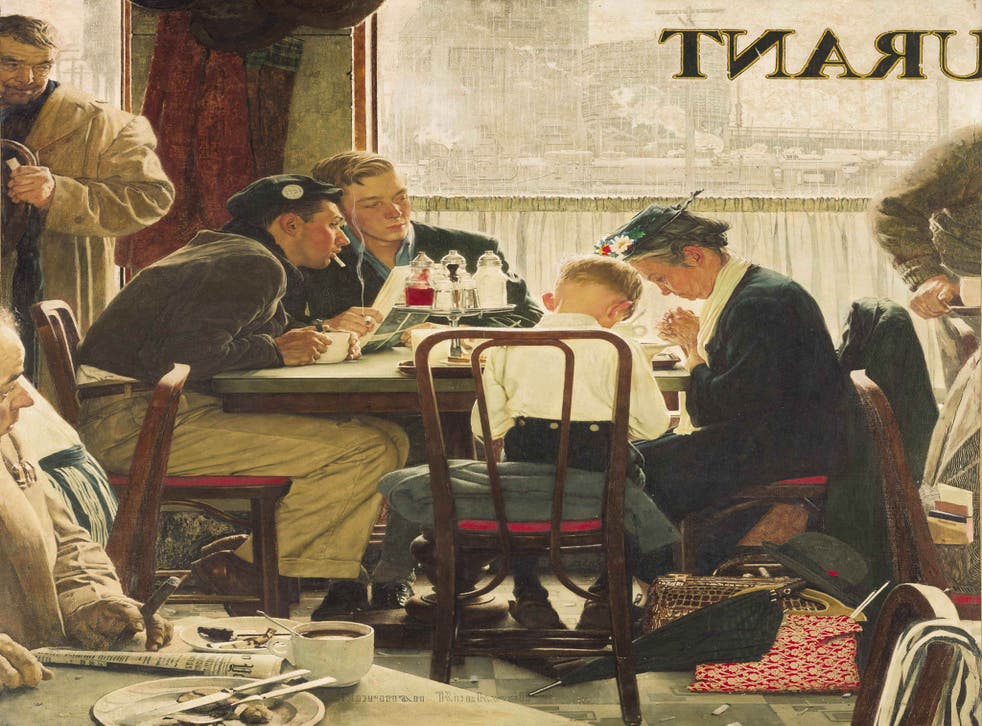 Norman Rockwell's Saying Grace became the most expensive American painting ever sold at auction last week, fetching $46m (£28m) at Sotheby's in New York.
The following day at Christie's, an anonymous buyer set a record for a painting by Rockwell's contemporary, Edward Hopper, whose Depression-era work, East Wind Over Weehawken, sold for $40.5m.
And yet, as recent sales go, both seem like small fry. Over 48 hours in November, Manhattan's two leading auction houses saw more than $1.1bn spent on 20th-century art, setting new records for the most-expensive work ever sold at auction, the most expensive work by a living artist ever sold at auction and – with $691m splurged in a single evening at Christie's – the highest ever total for a single auction.
All three records had previously been broken within the past 18 months, which only goes to show how quickly the contemporary art market is ballooning. The most-expensive auctioned artwork of all, Francis Bacon's 1969 triptych, Three Studies of Lucian Freud, were sold to an anonymous buyer for $142.4m following a seven-way bidding war. That was about $20m more than the last record-holder, the Norwegian painter Edvard Munch's The Scream, which was sold in 2012.
At the same Christie's sale, Jeff Koons's sculpture, Balloon Dog, fetched $58.4m, also about $20m more than the previous record for a living artist's work – the $37m paid for a painting by Gerhard Richter at Sotheby's in May of this year. Georgina Adam, editor-at-large for The Art Newspaper, called the sums involved "demented", adding: "If you're a multi-billionaire, you want trophies, but… $58m for a Koons is bananas."
While most people are still reeling from the financial crisis, the world's wealth has risen to those at the top. A recent report found there were 2,170 billionaires worldwide, three times as many than five years ago. To many of them, art seems a safer place to spend their money than the financial system – and contemporary art is what comes to market most frequently.
"The art coming to auction is neither better nor worse than the art that came to auction a year or 10 years ago," said Todd Levin, director of Levin Art Group. "[But] there is now an extremely thin layer of ultra-high net worth individuals, who have massive amounts of excess capital sloshing around, and they have to put that money somewhere."
The art market has also spread geographically, drawing in wealthy buyers from emerging markets in Asia, the Middle East and Latin America. At its record-breaking November sale, Christie's registered bidders from 42 countries.
"This is certainly a new era for the art market," said Doug Woodham, the president of Christie's Americas, adding: "The market has truly globalised."
Among those rumoured to have bought the Bacon was Russian businessman Roman Abramovich, who, in 2007, paid $86.3m for another triptych by the artist. It has since been reported that the real buyer was Qatari royal Sheika al-Mayassa al-Thani, who chairs the Qatar Museums Authority. She also topped the ArtReview Power 100, an annual ranking of the most influential people in contemporary art.
Join our new commenting forum
Join thought-provoking conversations, follow other Independent readers and see their replies