For sale: thousands of pounds worth of Pete Doherty's blood, sweat and tears
Former Libertines frontman is auctioning his paintings and collected curiosities
For sale: thousands of pounds worth of Pete Doherty's blood, sweat and tears

Show all 4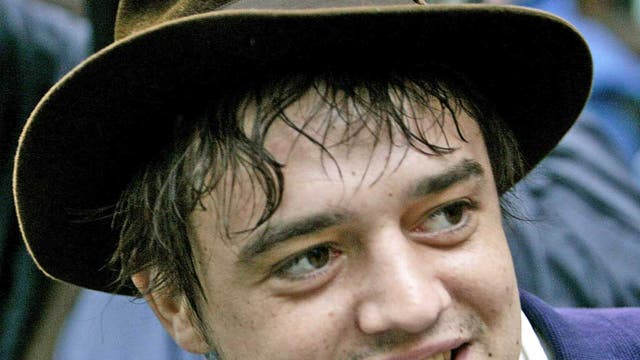 Each piece could fetch tens of thousands of pounds when it is auctioned next week. But despite the high price tag, this is one collection of artwork unlikely to find its way into the austere corridors of Sotheby's.
This Friday, former Libertines frontman Peter Doherty is to auction off paintings smeared with his own blood, as well as prized possessions including his private diaries, military jackets from the band's glory days, guitars and a selection of personal trinkets.
"Blood plays the starring role in my work. Sweat and tears are often waiting in the wings," Doherty said of the auction, referring to his unusual painting style. The musician, who has been trying to make a name for himself as a fine artist, uses a technique he calls "arterial splatter", in which he squirts his blood from a syringe on to canvas, or cuts a finger and draws with it. The highlight of the sale is likely to be a collaborative painting by Doherty and his friend Amy Winehouse, called Ladylike. It features a small self-portrait scrawled in the late Back to Black singer's own blood and is expected to fetch £50,000-£80,000 when it is sold at the Cob Gallery in London.
Auctioneer Edward Rising told The Independent of his "great excitement" at selling the picture, predicting that the "popularity of these two legends will certainly help drive up the pr ice". An undisclosed percentage will be donated to the Amy Winehouse Foundation, which aims to help young people.
The auction follows a 10-day exhibition of Doherty's work, On Blood: A Portrait of the Artist, which took place at the gallery in February and during which more than 15 of the 20 blood paintings and prints exhibited were sold. The highest price fetched was for Salome, the blood and ink cover artwork for Doherty's 2009 solo album Grace/Wastelands, which went for £7,000.
Winehouse's Ladylike was also exhibited at the gallery in February but was not put up for sale "due to its personal nature". Doherty said of the collaboration: "Amy was on the phone to her dad when she did that [painting]. She said, 'Dad, I'm with Pete and he's making me draw with my blood!' He didn't like me much, her dad."
Doherty is a collector of curiosities, a selection of which also went on display earlier this year. They were not for sale, but the gallery said that due to "huge interest", in particular his diaries and his writing bureau, Doherty was including some in the auction.
The diaries are expected to fetch up to £9,000, and his writing desk, a French floral piece he has engraved with profanities, is estimated at £6,000 to £12,000.
Join our new commenting forum
Join thought-provoking conversations, follow other Independent readers and see their replies