Shakespeare 400th anniversary: Hogarth collection author portraits take inspiration from Bard's characters
The collection of paintings by Ralph Heimans marks a series of novels published to mark Shakespeare's 400th birthday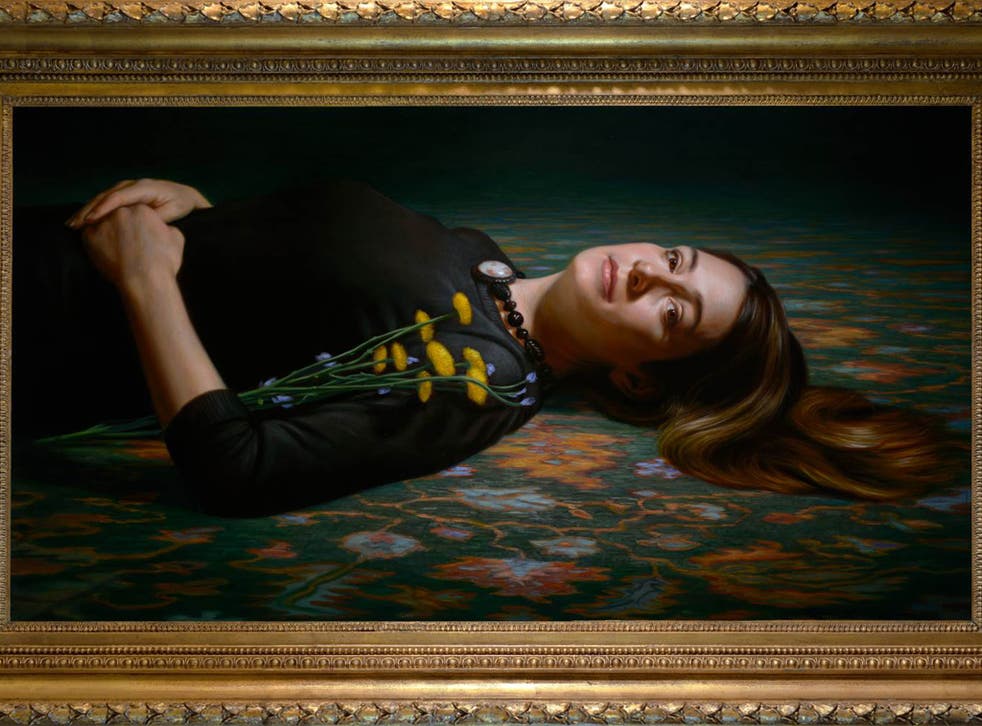 A man gazes mournfully into the distance, his thoughts frozen behind innumerable brushstrokes, locked inside a dark wooden frame. The subject is either the Man Booker prize-winning writer Howard Jacobson or, possibly, Shylock, the most infamous Jewish character in literature who lives on in the pages of Jacobson's latest novel.
The ambiguity is deliberate. The painting is one of a series by Ralph Heimans, who painted the Queen's diamond jubilee portrait, to mark the Hogarth Shakespeare collection – a series of novels celebrating the Bard's 400th anniversary.
"When I look at that portrait, I think: 'That's me, as Shylock,'" says Jacobson, who relocates The Merchant of Venice to Cheshire's flashy "golden triangle" for his contribution to the series, Shylock Is My Name.
Heimans's subjects, reproduced exclusively in The Independent on Sunday, also include Anne Tyler, Gillian Flynn, Jo Nesbo, Margaret Atwood and Tracy Chevalier. The novelists have each reworked a Shakespeare play.
The books will be published by Penguin Random House during the next few months. The idea for the series of paintings was sparked by a chance meeting between Heimans and Jacobson at the Royal Academy's Australia exhibition, in the autumn of 2013.
"We got chatting, and [Jacobson] told me what he was working on. The notion of reinterpreting Shakespeare really fascinates me," Heimans says. "It was a wonderful opportunity to have a dialogue with the visual tradition, much as the writers are having a dialogue with the literary tradition."
The artist is renowned for portraits that integrate subject and context. For this series, his imagery evoked both the Shakespeare play in question and the author's own work.
"There is an automatic association with Howard and Shylock; or with Gillian [Flynn, who reworked Hamlet] and Ophelia – if you consider the types of heroines she writes about," Heimans says. "In Gone Girl, the lead is a very tragic figure who happens to plunge into the watery depths at one point.
"With Jo [Nesbo], and the figure of Macbeth, he's constantly writing about serial killers."
Thus with Nesbo, who is famous for his Nordic crime fiction, Heimans wanted to create a "slightly menacing feeling. You can see through to an unmade bed. It might be Macbeth after the murder; it's not explicit."
Heimans, who draws heavily on the Old Masters in all his paintings, adds: "There are always two shades with Shakespeare. I wanted the paintings to be in that spirit. What is going through their minds?"
In Jacobson's case, the author says: "It's a grave story [The Merchant of Venice], a grave play, and you can't think about it other than in tragic terms."
But that morose expression he wears in the portrait? It's Jacobson thinking about biscuits. Specifically, about not eating any of the biscuits he had got ready for tea in his London flat when Heimans visited.
"I didn't even know I was sitting for him [Heimans]. He said: 'Do you mind if I take some photographs?' I suspected he would do some sketches, based on those," Jacobson says. "But he then suddenly turned up with the painting. It really blew me away. The funny thing is, I remembered we were having tea, and I'd served him some biscuits. I was sitting there looking at the biscuits, thinking I was supposed not to be eating them.
"I suspect the tragic expression in the portrait was me thinking I couldn't have another biscuit!"
Jacobson said Heimans's paintings add weight to the Hogarth Shakespeare project: "They're all very noble. The business of being a writer of these books is a serious one without, I hope, self-importance.
"I really like the gravity. We live in trivial times. It's nice to feel the series has gravitas."
Heimans, who trained as an architect before taking lessons from an old Polish artist, pays homage to painters such as the Renaissance artist Antonello da Messina and Dutch master Rembrandt.
"I work in a very traditional technique. My paintings are all very conceptual, very composed, constructed. I reimagine settings. Within each painting [for the Shakespeare series], I did draw upon historical references. I'm very passionate about art history, without having to apologise for it – which contemporary artists often have to do."
Flynn's painting "obviously drew on Ophelia by [Sir John Everett] Millais", Heimans explained, while the "imagery in Margaret Atwood's figure of Prospero is very much like the Saint Jeromes in the wilderness: craggy caves, and dystopian-like landscapes".
Join our new commenting forum
Join thought-provoking conversations, follow other Independent readers and see their replies