The Simpsons in Auschwitz: Harrowing aleXsandro Palombo cartoons mark 70th anniversary of death camp liberation
'Never Again' project invites reflection on the horrific events of the Holocaust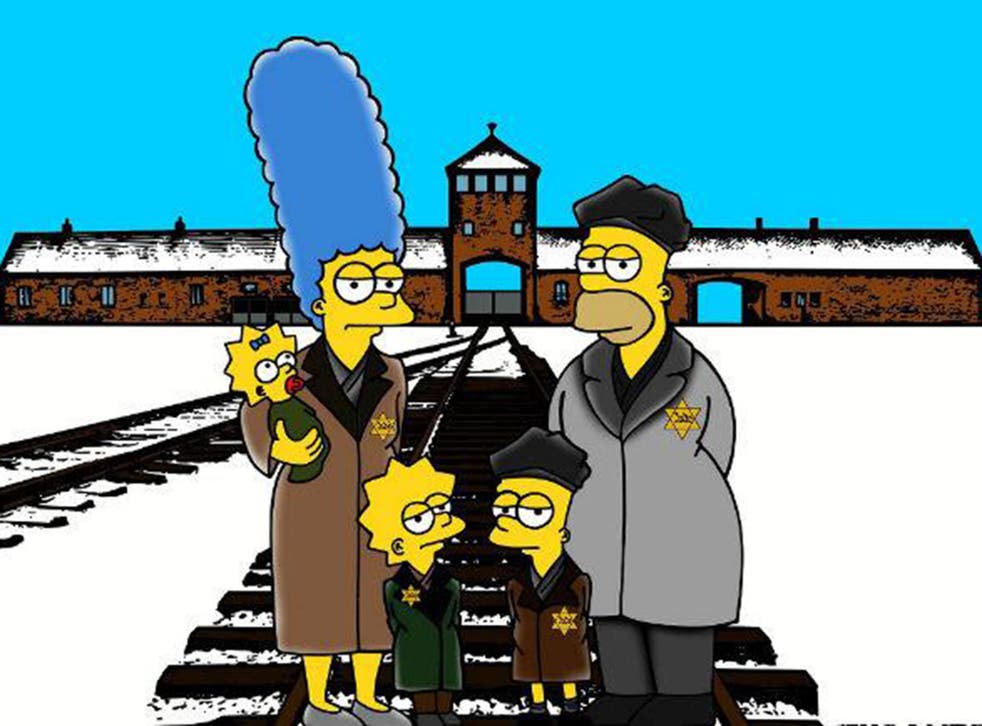 When reflecting on the horrors of Auschwitz, the last thing you think of is Homer Simpson. After all, The Simpsons usually provokes laughter, not sorrow.
But to mark the 70th anniversary of the Nazi death camp's liberation, Italian satirical artist aleXsandro Palombo has redrawn our favourite yellow family looking emaciated behind barbed wire.
His harrowing 'Never Again' cartoons serve as "an invitation to reflect, an artwork to raise awareness, an indictment against intolerance, a punch to inhumanity".
The images show Homer, Marge, Bart, Maggie and Lisa dressed in striped pyjamas with yellow stars, while one particularly horrifying picture sees them naked and starving in a gas chamber.
"We must educate the new generations and tell them what happened," Palombo said. "We have to do it without filters, bluntly, over and over again, through the memory of facts and terrifying images that reflect the horror of the Holocaust and the extermination of millions of human beings.
"Only the awareness of the horror of that period can create the anticorps to prevent anti-Semitism to spread again. Auschwitz-Birkenau is the symbol of this inhumane delirium, the industry of death.
"It is only through memory that we are able to fight all forms of intolerance that threaten society, our freedom and respect for all diversity."
Palombo has recreated The Simpsons for a cause before, when he drew Marge as a domestic violence victim last November. His graphic pictures of iconic female animated characters with bloodied faces quickly went viral.
'No Violence Against Women' by aleXsandro Palombo

Show all 12
Following the Charlie Hebdo attack in Paris, Palombo shared political cartoons supporting freedom of speech, including one showing a terrorist carrying a "Je suis idiot" flag as doves holding pencils fly behind him.
Join our new commenting forum
Join thought-provoking conversations, follow other Independent readers and see their replies