South Korean designers paint colourful murals on streets that only appear when it rains
The Seoul team wanted to 'give people something to look forward to in monsoon season'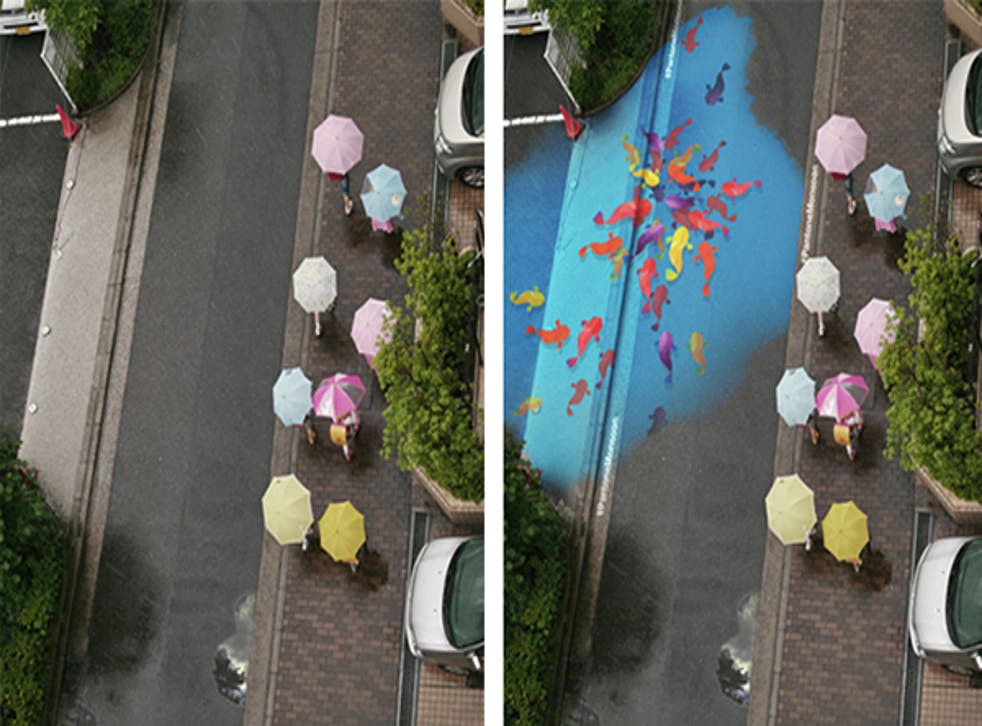 Wouldn't it be nice if when it rained, colourful paintings miraculously appeared on the streets to brighten up everyone's miserable days? Fortunately a group of South Korean designers in Seoul are doing just that.
Every year, a three-week long monsoon season forces people to stay indoors and avoid the pouring rain, sapping the capital city of its vibrancy. Project Monsoon, a team up between the School of the Art Institute of Chicago and colour matching system company Pantone, has painted the pavements with a special hydrochromic paint that changes from transparent to opaque when wet.
The paintings are inspired by the importance of rivers in South Korean culture and feature rainbow fish, turtles and even a giant pink whale. Areas where puddles tend to form have been targeted to turn into bright blue ponds.
Before and after pictures show how cool Seoul is going to look once the rains arrive.
The project has set up an online gallery that displays photos of the murals on a map of the city, using tweets hash tagged #ProjectMonsoon. People can pin point where paintings are and go and see them for themselves.
Join our new commenting forum
Join thought-provoking conversations, follow other Independent readers and see their replies