Turner Prize winners: regeneration collective Assemble ask, 'what is an artist?'
Now here's a controversy actually worth talking about.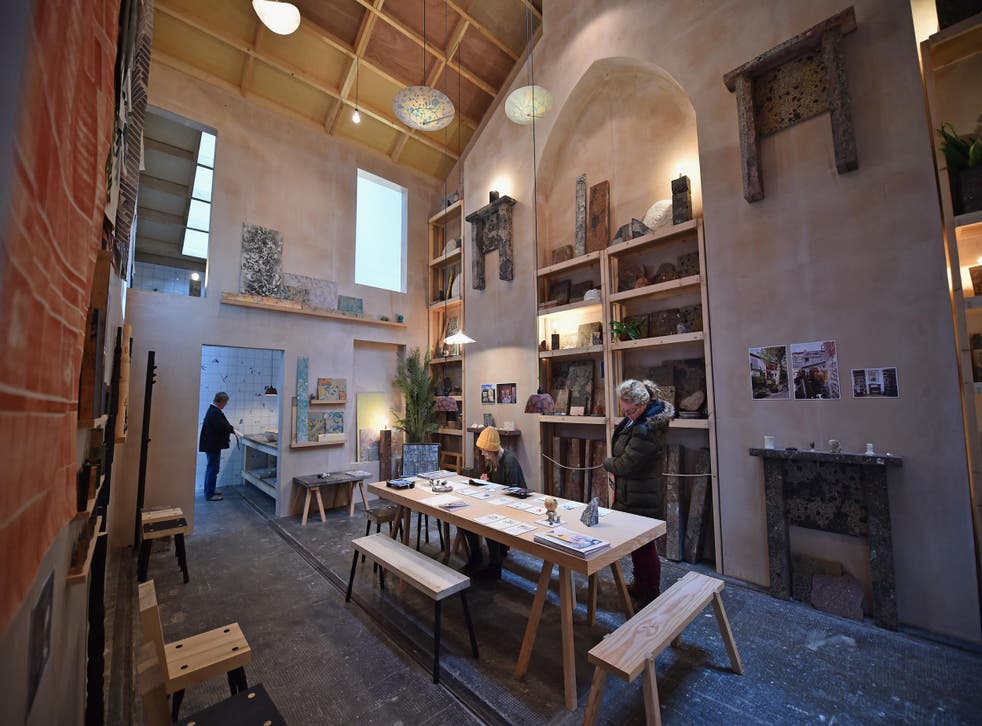 The urban regeneration collective Assemble has been named as the winner of the 31st Turner prize.
The 18-strong group, founded in London in 2010, were presented with the £25,000 prize by Sonic Youth's Kim Gordon (an artist herself) at the Glasgow awards ceremony. Describing themselves to the New Statesman as, "sort of architects, sort of not, sort of maybe", their win challenges the notion of what exactly constitutes art in a way that rarely gives the conversation a sense of purpose outside of simply bickering over subjective preferences.
Their nominated work saw them regenerate the Toxteth area of south Liverpool; their manifesto intending to see art used as a social tool, improving the lives of residents in the area known as Granby Four Streets. The homes, at risk of demolishment, had largely been acquired by the government after the 1981 riots; the result saw hundreds leave the area, and the remaining residents banding together as a community to grow vegetables and organise a monthly market. Assemble's win is so significant because it marks an expanding consideration of whether art may co-exist with other purposes; looking past the restrictions of galleries and commercial art markets and towards work which can serve a solid function within community spaces.
Turner Prize exhibition 2015

Show all 7
The group did enter a piece for the exhibition of the nominees; yet, the full-size, wooden mockup was only a partial reflection of the work currently taking place in Granby. Using a combination of low-cost materials and demolition waste, the group have created a true sense of warmth and welcoming within these interiors by creating bespoke fireplace surroundings and furnishings; furthermore, their selling of select furnishing designs, as crafted by local residents, helps to pour money back into the scheme. Door handles made from sawdust are available for £15, and a pressed terracotta lampshade for £150.

The Prize judges praised their, "ground-up approach to regeneration, city planning, and development in opposite to corporate gentrification. They draw on long traditions of artistic and collective initiatives that experiment in art, design, and architecture. In doing so they offer alternative models to how societies can work. The long-term collaboration between Granby Four Streets and Assemble shows the importance of artistic practice able to drive and shape urgent issues."

Anthony Engi-Meacock, a collective member, did respond to some of the controversy surrounding their win, "It's just not a conversation we have. I mean what is an artist? There is no answer to it."What is an artist? There is no answer." Without any exact definition as to what precisely art consists of, and where it belongs, Assemble's status will be in perpetual question. Though, in its simplest form, if art has always existed in the pursuit of beauty and meaningful connection, these homes have certainly brought both to the people of Granby, whether or not they exist inside the stifling confines of galleries and auction houses.
The other arists nominated were Bonnie Camplin's conspiracy theory-themed "The Military Industrial Complex"; Janice Kerbel's opera DOUG, described as "a choreographed history of imagined disaster"; and Nicole Wermers' "Untitled Chairs 2014-15", which featured fur coats stitched over Marcel Breuer chairs. All pieces still considered non-traditional art, guaranteeing that next year's Turner Prize will still bring round that incessant query. 'What is art?'

Join our new commenting forum
Join thought-provoking conversations, follow other Independent readers and see their replies