Turner's 'imbecile' years: New Tate exhibition hopes to revive reputation of the painter's abstract later works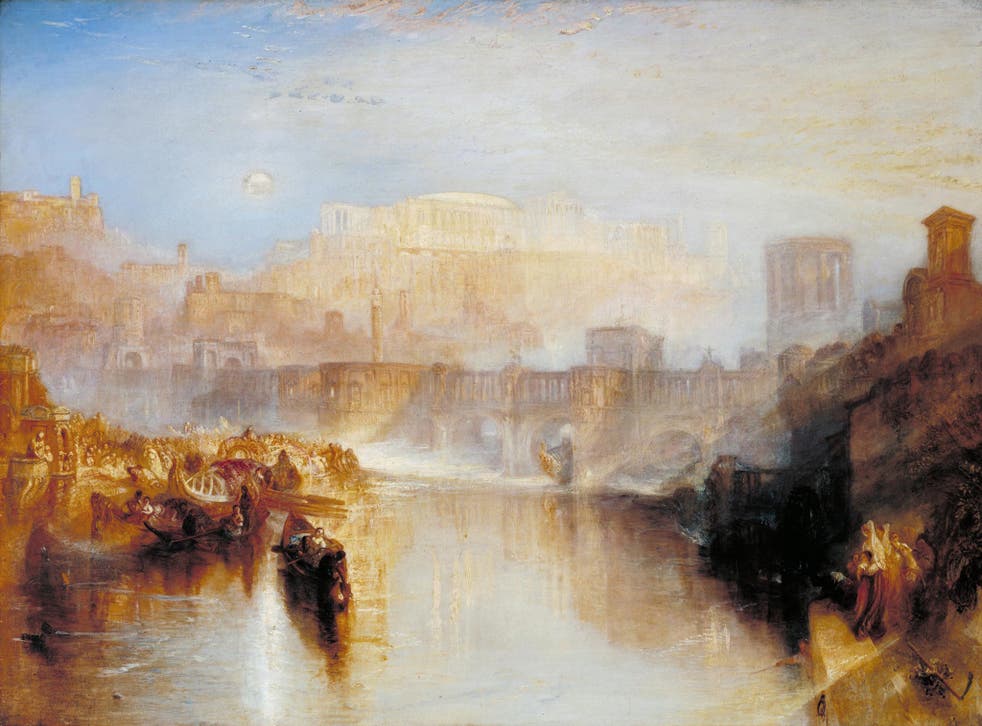 Towards the end of his life, one of Britain's finest landscape painters, JMW Turner, came under brutal attack for a controversial series of paintings which critics wrote off as a product of "madness" and "the imbecility of old age".
Over 150 years on, the Tate hopes to overturn "the myth his mind and hand increasingly failed" and instead reposition those late work as that of a "challenging and daring artist".
Late Turner – Painting Set Free is to be the major exhibition at Tate Britain this autumn, the first major survey of the works Turner produced in the 15 years up to his death in 1851.
The curators hope to redefine the period as one of "admirable and audacious" work; rather than the criticism of a weakening mind and body that had been levelled, adding there was "no slowing of his ceaseless invention".
"It's a really important occasion for us," gallery director Penelope Curtis said adding late Turner "hasn't been explored in any real depth".
Nine controversial canvases are being brought together for the first time as part of the exhibition, which the curators said would bring "new perspectives" on the painter's work at the end of his life.
The works exhibited from 1843, including Shade and Darkness and Light and Colour, showed his "dramatic use of the vortex, a technique characteristic in his later work".
Curator Sam Smiles, professor of art history and visual culture at Exeter University, said the work showed the artist "continued to innovate even in his final years. The world around Turner was changing and he was changing with it".
Yet his contemporaries felt differently. "He faced a critical barrage, with accusations of the imbecility of old age, which was an insult thrown at him and the accusations of madness. That must have gone deep in him," Professor Smiles.
Even art historian John Ruskin, a devotee of Turner's work, described the pieces in 1846 as "indicative of mental disease".
David Blayney Brown, a curator at Tate Britain, said: "These pictures met with hails of abuse from critics when they were first exhibits, who thought he had completely lost it. We are going to suggest they are a wonderful synthesis of everything that interested Turner throughout his life."
He believed the attacks came as the critics had no frame of reference to judge such innovative style, and added: "No one else was painting pictures like this in the 1840s, let alone with such panache."
While Turner often remained stoical in the face of criticism, there are some anecdotes, the curator said "of him being tearful, wringing his hands and spluttering with indignation about how critics had misunderstood what he was trying to do".
Turner was a prolific painter producing about 550 oil paintings, over 2,000 watercolours, and many more works on paper. Upon his death he bestowed his legacy to the nation, with the majority of those works held at Tate Britain.
Turner turned 60 in 1835, the age believed at the time when senility started. "The idea of the aged artist still having something to say was something Turner had to challenge," Professor Smiles said.
"There were a lot of knocking copy surrounding Turner's works in contemporary criticism at the time, but we would say some of Turner's most audacious and admirable works were produced in the last 15 years."
It was also then that he undertook his most ambitious European tour with stops including Germany, Denmark, and Bohemia in the modern day Czech Republic.
This year is a big one for Turner fans. A film covering a similar period of his life, Mr Turner, directed by Mike Leigh and starring Timothy Spall, is due to be released later this year.
Join our new commenting forum
Join thought-provoking conversations, follow other Independent readers and see their replies