Ai Weiwei, Royal Academy, review: A coherent and beautifully installed exhibition
Extraordinary artist offers both his 'activist' mode and aesthetic brilliance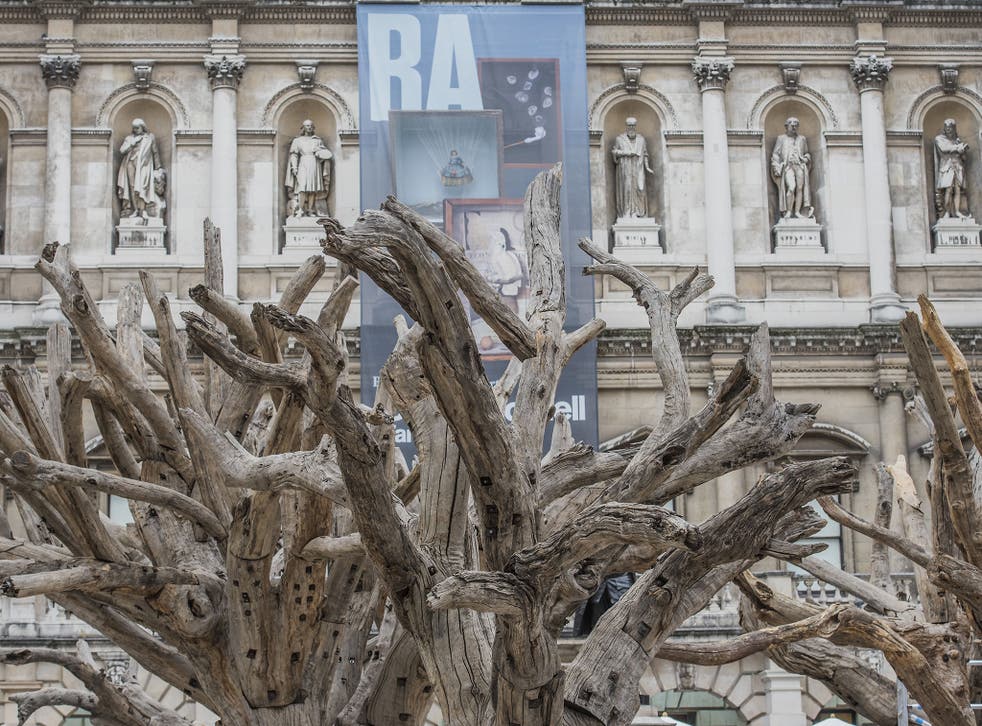 Ai Weiwei's exhibition at the Royal Academy acts as a double celebration. It honours the recent return of his passport (seized by the Chinese government in 2011), and his ability to travel.
And it gives the British public a long overdue opportunity to see a major exhibition of arguably the best known contemporary Chinese artist. This is a coherent and beautifully installed exhibition. It will give the viewer a chance to analyze this extraordinary artist in both his "activist" mode and also experience the pure aesthetic pleasure that is imbued through his use of materials, technical virtuosity, scale and repetition.
Ai was born in China in 1957 where his father was a dissident poet. He grew up largely in work camps where his father was sentenced to manual labour before moving to live in New York. Returning to China in 1993 – as his father was ill – he started to collect antiques as "something to do"; he began to manipulate and transform them, and in some cases, as in Dropping a Han Dynasty Urn (1995), dropping them.
Entering this exhibition we are confronted by his beautiful furniture works, including Table with Two Legs on the Wall (1997), made of materials from the Quing dynasty (1644-1911). This was the first work he did upon his return from New York in 1993. The artist has said these improbable works are now "useless", as they were useful objects and are now no longer fit for their original purpose.
Ai Weiwei at the Royal Academy

Show all 7
Straight, a work dated 2008-12, is part of his investigation of the tragic Sichuan earthquake of 2008. It is 90 tonnes, the heaviest exhibit ever in the Royal Academy, and consists of rebars, the material of what was left of the buildings destroyed in the earthquake. It was collected by the artist and then painstakingly sorted and straightened, and forms a fitting and moving monument to the victims.
I ask Ai how many people worked on straightening the metal and he says "there were about 100 people involved in the whole project. It was intensely repetitious and became like a meditative work". Names of the student earthquake victims found by the Citizens Investigation, a text work surrounding this piece, chronicles the loss of over 5,000 children.
In the rotunda Bicycle Chandelier (2015), an improbable mash up of bicycles (a familiar Chinese sight), and a crystal chandelier will shed both light and joy on the viewer.
Further along is a room dedicated to S.A.C.R.E.D, a sobering set of six dioramas dramatically illustrating Ai's life in a Chinese jail. The works, done from memory, illustrate this time, incarcerated in a small space with two full-time watchers observing him sleeping and showering. It is unflinching in its detail. Here is a sobering view of life in captivity presented in an unforgettable fashion.
There are some works here that I find less interesting. Ai has purchased part interest in a marble quarry and has chosen to exhibit here replicas of the security cameras that were placed to monitor his movement. But if the results looks a little slick and mundane, the thinking behind is not.
In the courtyard is a thicket of trees made from pieces of wood that Ai has collected in the mountains of China. He brought them down to his studio to be painstakingly reassembled and made more real than real trees. They should remind us as we leave and enter how fundamental are our rights to travel, see and make art.
Join our new commenting forum
Join thought-provoking conversations, follow other Independent readers and see their replies