Becoming Henry Moore, Sheep's Barn, Henry Moore Studios and Gardens, review: We see him swimming through his own excitable bewilderment of ideas
The Henry Moore show examines how he became a sculptor but it is exhibited in the Sheep's Barn which is not an ideal location for his works because it depends entirely upon artificial light
Michael Glover
Saturday 15 April 2017 17:37 Comments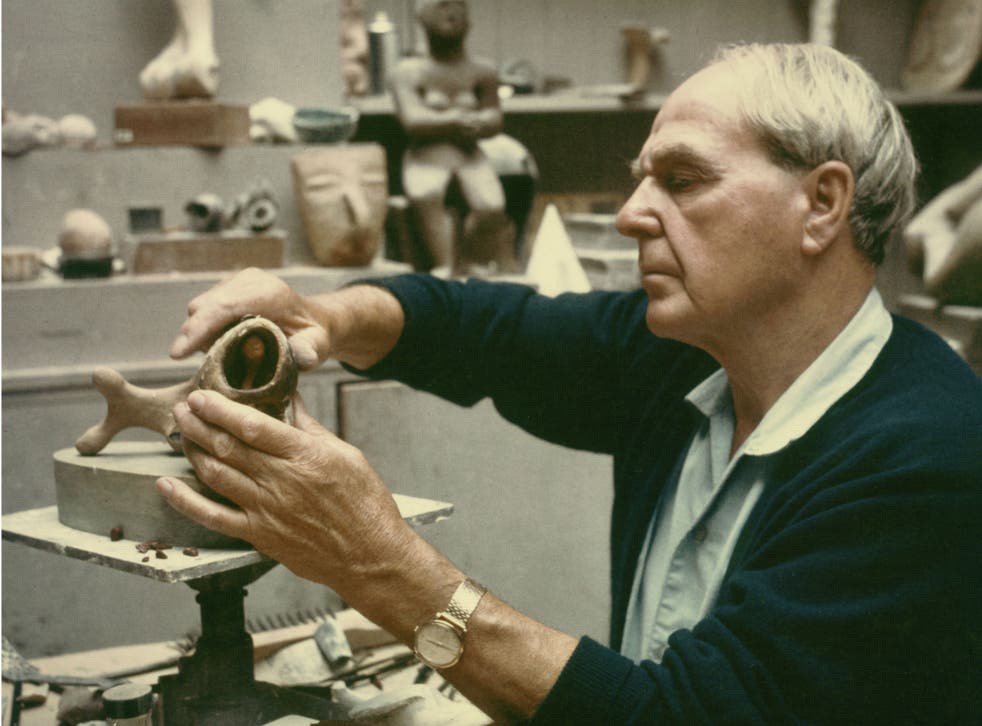 Much is sleek and gleaming over at the Henry Moore Studios and Gardens in rural Hertfordshire, the place Henry called home for the last four decades of his life. Old buildings have been extended and re-fashioned to create a long, low-lying visitor centre in the modernist idiom which discretely hunkers down into the landscape, and Corten steel cladding has added significant drama to the building which accommodates Moore's huge archive. That steel – which already has the rich brown hue of an autumnal leaf – will weather beautifully over time.
Less appealing beside all this old-made-new is Sheep's Barn, the converted barn which is where the the temporary exhibitions are generally staged – if they are not out in the landscape. The building, converted about 20 years ago, is not a wonderful location for a Moore show. The smaller first gallery depends entirely upon artificial light. The paintings on the walls look coy and in retreat when demonstrativeness might be expected of them. The larger of the ground-floor gallery spaces is broken in half by a temporary wall screen, plonked down mid-way, which neither welcomes us nor entirely excludes us. Messy.
This is a show about how Henry became a sculptor, having said so at about the age of 11, so it is all about showing off his early work – drawings, notebooks, prints, paintings, sculptures – and setting it beside works by his contemporaries and those who inspired him, from Leon Underwood, the only teacher who ever taught him anything (or so said Henry) to Michelangelo, from Epstein to Gaudier-Brzeska, from Picasso to Archipenko, from Zadkine to Rodin. There was so much to be learnt, so many lessons to be absorbed from, well, everywhere around the world. In one of his notebooks – the page is dated 4 May, 1921, when he was 28 years old – he writes an aide mémoire in bold caps: keep ever prominent the world traditions.
We see how Henry wrestled with the lessons to be learnt from an Aztec mask – the significance of eye hole as void, the face-defining qualities of a nose. He learns how the human body is posed – lying, upright or reclining – and how its parts are disposed, one upon another – he takes a hint from the folded hands of a Sumerian ruler seen by him at the British Museum, and now spirited over here. How do parts cohere? How do you make a pleasing structure with several bodies? He experiments with local stone, concrete. He is ever attentive to texture. How little is needed to imbue the form of a head with the aura of myth? Look at Brancusi's Prometheus, Henry. That could show you how. We see him swimming through his own excitable bewilderment of ideas. He goes back and back throughout his life, challenging the mystery of the idea of the reclining figure. Fortunately for the size of the building, which is relatively small, many of the pieces are unusually modest in size.
They could be better lit though. Some of the money this global enterprise generates – so swaggeringly evident in the new redevelopment – should be spent at Sheep's Barn.
Register for free to continue reading
Registration is a free and easy way to support our truly independent journalism
By registering, you will also enjoy limited access to Premium articles, exclusive newsletters, commenting, and virtual events with our leading journalists
Already have an account? sign in
Join our new commenting forum
Join thought-provoking conversations, follow other Independent readers and see their replies