Charles Darwent on Alexander Calder: The man who put the 'post' into modern
The art world grew smaller the day Calder first popped his sculptures in the post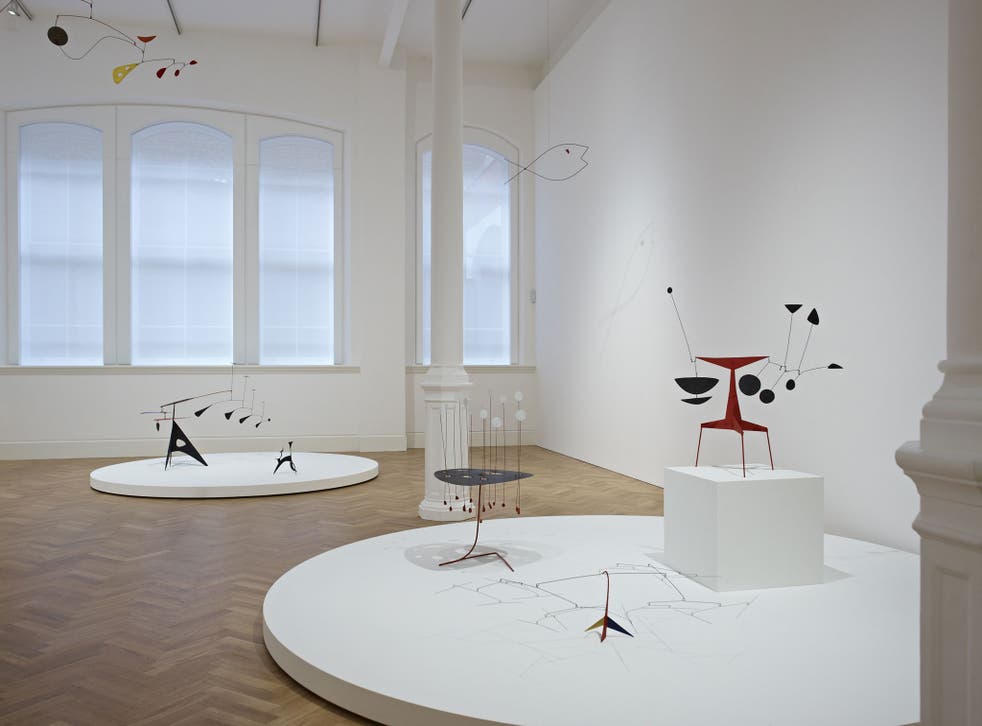 On the face of it, Alexander Calder and Marcel Duchamp make an odd pair. Calder is plump, jolly and American: the famous Pathé film of him operating his 1927 Circus shows a 63-year-old kid in a red flannel shirt. Duchamp, by contrast, was sulphurously French and intellectual – the man whose urinal, Fountain, upended the aesthetic apple cart and bequeathed conceptual art to the world. That he might have influenced Calder – that it was Duchamp who, in 1931, came up with the word "mobile" for his friend's moving sculptures – is hard to credit.
And yet it is a fact, as is the ex-Dadaist's presence in a great new show, Calder After the War, at the Pace gallery in London. Calder moved back to New York from Paris in 1933; Duchamp, a long-time visitor, settled there in 1942. As a patriotic gesture, the American had stopped making sculpture from aluminium sheeting during the war, reasoning that it would be better used for bombers than for art. By 1945, Calder was left with a studio full of scraps.
Duchamp, visiting, saw the potential in these for a new kind of work – one that could be flat-packed in 18-inch-square boxes and posted to Paris on the recently opened transatlantic airmail service. This gave a whole new meaning to the word "mobile": Calder, a lover of double-entendres, was beguiled. The two men planned a show at the Galerie Louis Carré for the following year, the work in it to be sent by post.
And so Calder After the War starts from the happy point of swords being turned into ploughshares, the twin triumphs of America and modernity. The sculpture Calder made for the Carré show was necessarily more complex and less monolithic than his pre-war work had been, for the good reason that no single element could be longer than 18 inches.
Look at Baby Flat Top (1946) and you will see that its large, central oval has been bolted together out of four bits. The smaller elements are cut out from this, the wires from which they hang having kinks halfway along – actually, reversible clips that allow them to be folded in two for posting. Form is shaped by function, new technology, a new world. And yet these lovable, Miró-ish sculptures are more than that, and more than just technically complex.
Walk into the big, white, downstairs gallery at Pace and you will experience the emotion that Calders commonly make us feel: "happiness" is probably as good a word as any. Slowly, though, you realise that there is something more going on, and something less.
The mobiles aren't mobile. Or not very. Stand in front of Blue Feather or Scarlet Digitals waiting for them to move and you'll find yourself sighing. Come back 10 minutes later, though, and nothing is where you left it. As with Walter de Maria's Lightning Field, which is almost never struck by lightning, the power is in the potential.
What we are left imagining is the whole space a Calder would need to occupy if it did move, or if we could see it moving; a volume made all the more solid by being ethereal. Blue Feather and the like define mass by its absence. They look like cheery little critters – red crabs, blue cockerels, scorpions – but looking like things isn't really their point. As the man who wrote the catalogue essay for the Paris show pointed out, Calder's mobiles "signify nothing, refer to nothing other than themselves". The man's name was Jean-Paul Sartre.
So why do Calder's intellectual connections come as a surprise? In 1946, they certainly wouldn't have done. People remembered his long French phase, his membership of the Paris avant-garde group, Abstraction-Création, the fact that his red-yellow-blue palette had come from a visit to the studio of his friend Piet Mondrian. Two things happened to obscure this memory.
The first is that Calder joined his work in becoming mobile, flying around the world in aeroplanes. He was the first truly global artist, making work everywhere from Argentina to Ahmedabad. As often, ubiquity bred contempt. The second is that American abstraction came to mean Jackson Pollock – tortured, chain-smoking men making art that was part object, part performance. There was no room for cheeriness in this new imperium, even if that cheeriness was merely the vector for asking questions, as Calder does, about the way the universe works.
Einstein at least understood this. When Calder's motorised mobile, A Universe, was first shown at the Museum of Modern Art in New York, the man who rewrote the universe stood transfixed in front of it for its entire 43-minute cycle. This show is extremely enjoyable but it is also extremely important, allowing us to recall another Alexander Calder, one too long and too often forgotten.
To 7 June (020-3206 7600)
Critic's Choice
Pop goes the Tate: Book in advance to enjoy this Roy Lichtenstein crowd-pleaser, which includes the pop artist's familiar comic-strip pieces (above) as well as lesser-known gems, at London's Tate Modern (to 27 May). RB Kitaj: Obsessions shows over 70 paintings by the American artist. At Pallant House, Chichester (to 16 Jun).
Join our new commenting forum
Join thought-provoking conversations, follow other Independent readers and see their replies