The Radical Eye: Modernist Photography from the Sir Elton John Collection, Tate Modern – review
A refreshingly accessible exhibition from the Rocket Man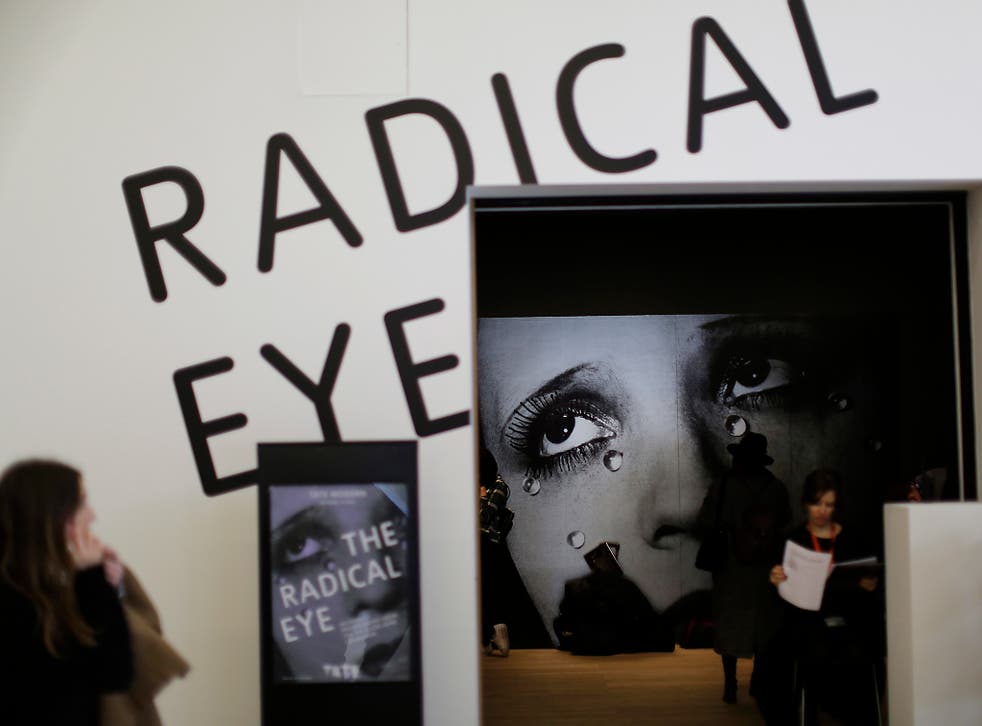 Sir Elton John might be one of our most famously flamboyant celebrities, but beneath his flashy showmanship is a man humbly fascinated by photography's unparalleled ability to reflect the human condition.
Stepping into the Tate Modern's first exhibition of his Modernist photography collection, it is clear that the Rocket Man is aware of something bigger than himself. Better still, ostentatious framing aside, he has classy aesthetic taste. Irving Penn's distorted portrait of Sir Elton hangs in the entrance like a playful, welcoming wink, before some 200 images of social documentary, seminal portraiture and innovative experimentalism – all rare vintage prints created by the artists themselves – deservedly take over the spotlight.
You need not be a photography aficionado to enjoy this refreshingly accessible exhibition, which explores and explains the medium's evolution through bite-sized areas grouped by core themes. Neither should experts snub it for its attendance-boosting links to Sir Elton. Tate began seriously collecting photography long after the singer in 2009 and, as such, has missed out on artworks now owned privately and selling for unattainable prices. Here is a chance to view hugely influential photographs in staggeringly high quality, though expect to squint to enjoy some of them fully, such as the tiny Underwater Swimmer, Hungary by Andre Kertesz.
The opening room dazzles brightest with its set of portraits depicting key 20th-century artistic figures shot by leading Modernist Man Ray. Put together by the singer over 25 years, these photographs feature the likes of Henri Matisse, Erik Satie and Yves Tanguy On the opposite wall, Penn's "Corner Portraits" of Salvador Dali and Gypsy Rose Lee ooze personality and showcase fabulous use of light and shade, each posed to perfection to often humorous effect. Ray's Self Portrait in Bathroom, Paris brilliantly encapsulates up the self-conscious approach artists took to having their picture taken and the intriguing interplay between model and photographer.
Elsewhere, the timeless genre of the nude is reimagined for a fresh approach, with Edward Weston's Nude 1927 disembodying the knees for presentation as a new form of still life, while photographers were free to create their own alternative realities in a way not seen before through photomontage, best exemplified by Herbert Bayer's striking Humanely Impossible. Modernists adored the ability that faster shutter speeds allowed them to freeze bodies in motion, and solarisation, distortion and double exposure were welcomed at a time when groundbreaking techniques became more important than the subject of the image.
The depth of photography's archival importance is brought to the forefront by Dorothea Lange's arresting portraits of Great Depression migrants. One of the Homeless Wandering Boys represents the thousands who shared his plight, while the harrowing Migrant Mother is presented thoughtfully in a distressed silver frame that reflects its penetrating weariness.
The line between representation and abstraction becomes gloriously blurred upon arrival in the Observations section. From Matches and Matchboxes by Edward Steichen to Eggs by Imogen Cunningham, every image asks what photography is capable of and how it can be pushed further to reveal a new beauty in the unremarkable. Margaret Bourke White's Chrysler Building is a highlight worth seeking out as an example of the power of the 'worm's eye' perspective in casting fresh light on the modern metropolis.
Of course, The Radical Eye is more an insight into Sir Elton's passion for photography than it is a wholly representative art history lesson. Nevertheless, the exhibition's title is indisputably apt for his collection, which helps visitors appreciate how pioneering the greats of the Twenties, Thirties and Forties really were with their daring commitment to shaping, challenging and ultimately rewriting the rulebook to establish photography as a uniquely important medium in its own right.
"Photos are like reading a book," says Sir Elton, who was himself "completely ignorant" about the art form until beating alcohol addiction in 1990 and became "avaricious" about collecting. "Your imagination comes alive."
The Radical Eye: Modernist Photography from The Sir Elton John Collection runs at Tate Modern until 7 May 2017
Join our new commenting forum
Join thought-provoking conversations, follow other Independent readers and see their replies