Sarah Lucas: Ordinary Things, Henry Moore Institute, Leeds Another London: International Photographers Capture City Life 1930-1980, Tate Britain, London
Don't laugh: Sarah Lucas's erotic work may bring naughty postcards to mind, but in reality she's as classical an artist as Cézanne or Michelangelo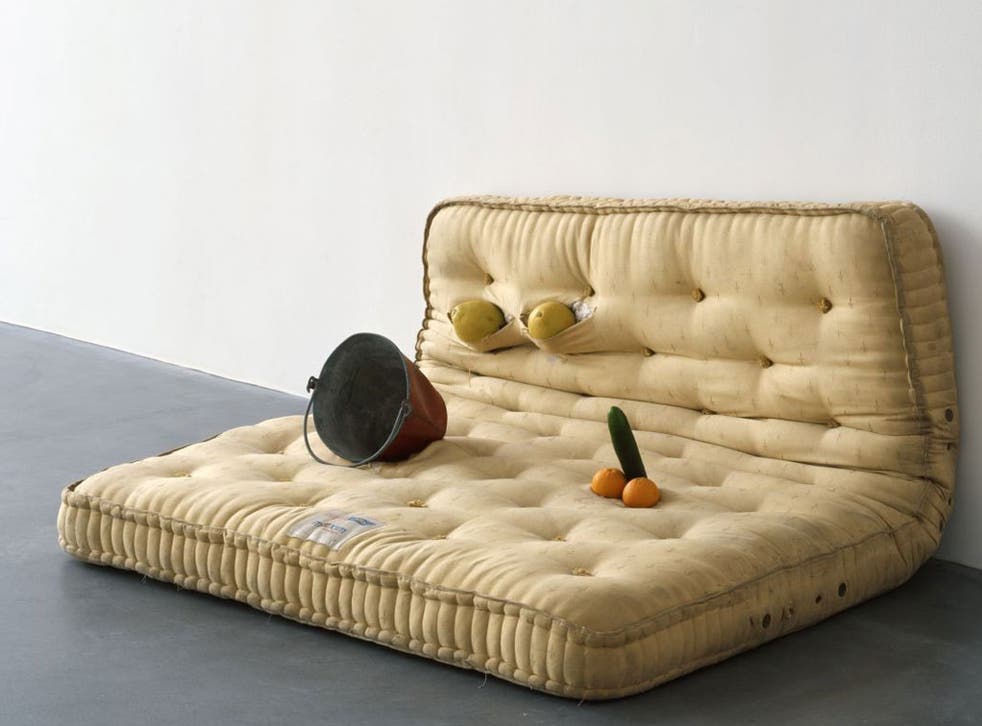 Mimesis: a Greek word, meaning something like "imitation"; the starting point of all art. Mix pigment with oil and paint a bowl of pears? Mimesis. Chisel marble into human flesh? Mimesis. Sculpt willies out of courgettes? You guessed it.
Which is to say that Sarah Lucas, past mistress of the vegetal penis, is as classical an artist as Cézanne or Michelangelo. Lucas's current show at the Henry Moore Institute in Leeds runs the gamut of mimetic willies, from Au Naturel (1994, an actual cucumber poking out of a mattress) to Courgette (2002, a concrete courgette lying on a shelf).
The 50-year-old artist has varied her theme along the way. There is Gourd (2002) and, worryingly for the literal-minded, Man Marrow, labelled as measuring 11cm x 35cm x 10cm. Occasionally, parts of Lucas's sculptures seem to be actual willies, cast, perhaps, from understanding male friends. Thus the rightward point of the lowest arm of the swastika-like The King (2008), although the penis in question is a formal element in the work, having no organic reason to be where it is.
And so, mimesis. Lucas's todgers are mostly not todgers at all, but vegetables (or nylon tights, or bits of wood) made to look like todgers. When they are actual penises, they behave in an un-penis-like way. Like the fruit in the fruitheads of Giuseppe Arcimboldo, Lucas's squashes are insistently themselves and insistently not, recognisable as what they were and what they have become. As befits a once-Young British Artist, there is something resolutely British about these objects, a quality that links them with Viz magazine via the naughty postcards of Donald McGill, Carry On Matron and Benny Hill.
But there is something more serious about Lucas's work, too, and, as is revealed by this show, something much more classical. It is easy to see her rude-girl persona as gratuitous, when it is carefully thought through. Lucas behaves like a man. She has made male-ness her medium. If you are offended by this, you are meant to be: male artists have spent the past two and a half millennia objectifying the female body, after all. Lucas's relentless noting of the likeness between men's lower anatomy and cucumbers is not meant to flatter. I am reminded of the Spitting Image sketch in which Mrs Thatcher, ordering dinner for her Cabinet, is asked by the waitress: "And the vegetables?" She replies: "They'll have what I'm having."
Underlying all of this is something less political than sculptural, a feeling for form that at times seems abstract. Lucas's least successful works are her most literal, the stuffed-stocking spiders and octopuses, Claes Oldenburg meets Louise Bourgeois. Her best are the rudest – what man could look at Au Naturel without a nervous laugh? – or the hardest to grasp. The works in the NUD series certainly feel rude. Perched on grey breezeblocks and twined like Laocoö*'s snakes, they are flesh-coloured – American Tan, at a guess – and end in puckered nylon ties that look like nipples or bum holes. But they are equally readable as exercises in form alone, a balancing of colour, shape and texture that seems to date back to early Modernism. They are, dare I say, at times nearly beautiful.
You feel that the 41 foreign photo–graphers in Tate Britain's show, Another London, would have fallen on Lucas's art with a happy whirring of shutters, seeing in it something essentially, eccentrically British. For them, eccentricity and Britishness were synonymous. They came to London looking for it, and found it.
Thus Ivan Shagin's 1930s shot of a Pearly King holding a flag tray labelled "Empire Day", or Cartier-Bresson's of a waterproofed Kensington dame on a bench in Hyde Park in the Grey Drizzle. There are charming images – Bill Brandt's bemused shot of milk bottles on a doorstep – although they are as much about the artist's expectations as about Britain. Milon Novotny's juxtaposed pictures of Buckingham Palace and East End slums were made for the Czech magazine Kultura, while Cartier-Bresson's French Republican shots of the coronation of George VI exclude the king.
What does all of this tell us? When Walter Gropius arrived here in 1934, he admired the patriotism of posters exhorting the British to Take Courage. Mondrian mistook garden gnomes for Disney's Seven Dwarfs. Foreigners don't always have useful things to tell us about ourselves. In any case, the scenes in Another London are now as strange to us as they were to them. Time makes tourists of us all.
'Sarah Lucas: Ordinary things' to 21 Oct (0113-246 7467); 'Another London ...' to 16 Sept (020-7887 8888)
Critic's Choice
It's all getting interactive at Tate Modern … Tino Sehgal's Turbine Hall commission, These Associations, bring the visitor up close and personal with the stories of strangers. Be ready to get involved, until 28 Oct. Or you could head underground for more performances and installations in their new Tanks space; this week Tania Bruguera takes up residence with her Immigrant Movement International "behaviour art" project (till 15 Aug).
Join our new commenting forum
Join thought-provoking conversations, follow other Independent readers and see their replies