Interview
'More and more Sami authors are telling their stories': Ann-Helén Laestadius on writing about her Indigenous community
The author's bestselling novel 'Stolen' is now being made into a Netflix film. She talks to Annabel Grossman about hate crimes against the Sami people – a minority group in Sweden – and the high rate of suicide in her community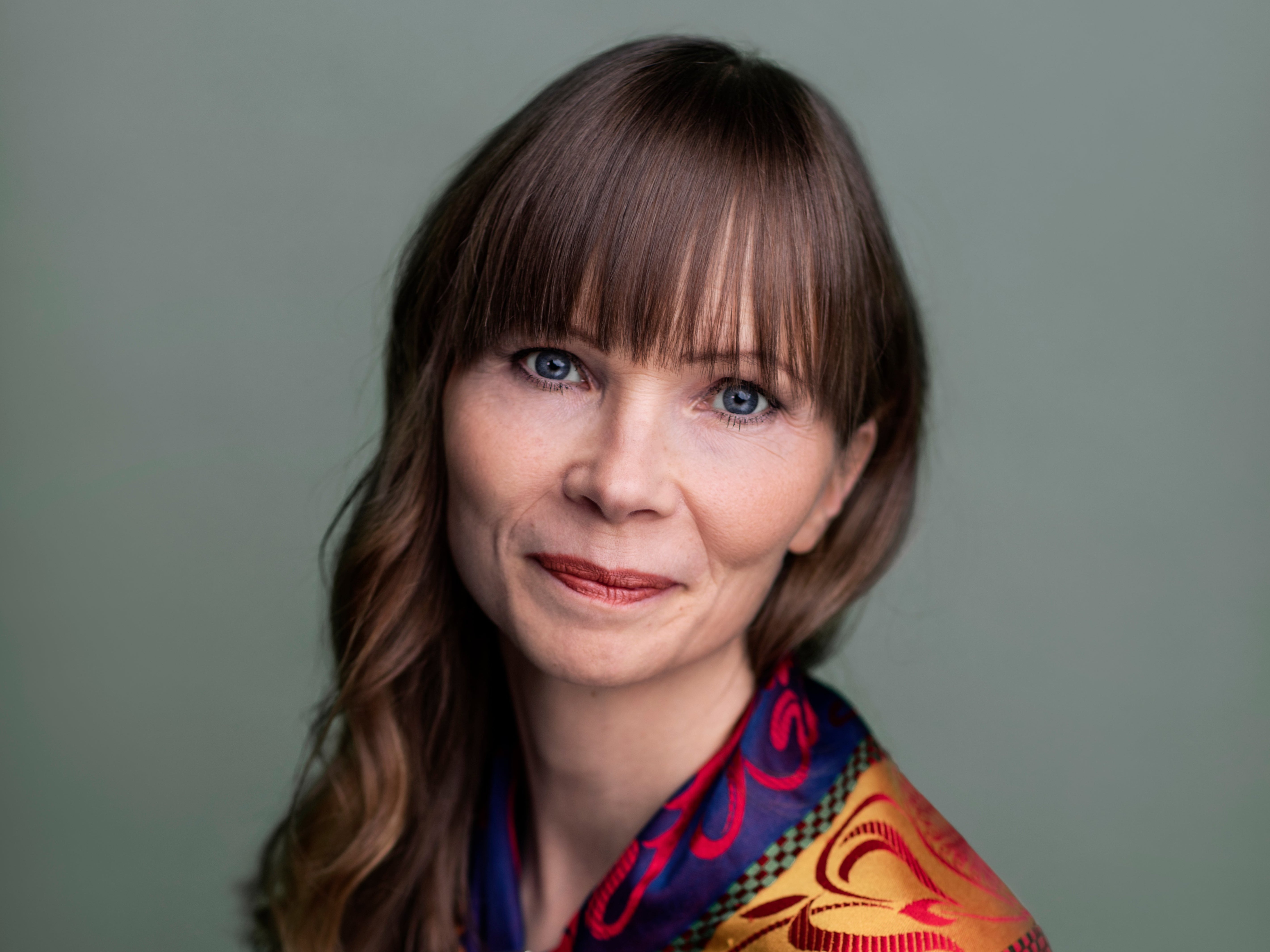 Whenever Ann-Helén Laestadius starts to write, she returns to her hometown of Kiruna. From this Arctic city in the northernmost reaches of Sweden, the author travels out to her parents' villages of Nedre Soppero and Silkimuotka to seek inspiration for her novels. "When I am home in the villages during summer, we always go out and fish in the Lainio River, and I have a special rock there that I stand on," she says. "Things happen when I stand there looking out over the rapids; stories and ideas come to me, as well as characters."
Kiruna, which sits above a vast iron ore mine, is often used as a starting point by travellers looking for adventure, enticed by such Arctic marvels as the northern lights, the midnight sun, and the strikingly beautiful, if hostile, wilderness. It's become known as the "city on the move" thanks to an ambitious – and controversial – project to shift the entire town, building by building, 3km to the east to prevent it from quite literally collapsing into the mine below.
But to around 18,000 people, including Laestadius, the city is home. The writer, who is of Sami and Tornedalian descent – two of Sweden's national minorities – describes it as "a special town". "You can walk around and hear Swedish, Finnish, Meänkieli, and Sami spoken. The mixture of cultures is important and beautiful, but it can also create conflicts, which I often write about."
Conflict is a central theme in Laestadius's novel Stolen, which was released in the UK last month and is now being adapted into a Netflix film with Sami director Elle Márjá Eira. It tells the story of nine-year-old Sami girl Elsa, who witnesses the brutal killing of her reindeer calf by a local hunter; he later threatens her into silence, forcing her to carry her secret into adulthood. A decade on, Elsa struggles to find justice in the face of escalating violence and prejudice that terrorises her family and community. Tensions rage between the villagers and Sami reindeer herders, as well as within Elsa herself.
It's not hard to see how the pages will translate to screen: the simple storytelling, told through the eyes of a child, lurches into the brooding darkness of a thriller, with more than a touch of Nordic noir. Stolen was a bestseller in Sweden and is the first adult novel from Laestadius, who has previously produced nine young-adult and children's books, including the award-winning Ten Past One. Last month, her second adult book Straff was published in Sweden.
A former journalist, Laestadius is part of a growing number of Sami authors who are taking a stand against the way their histories have been told by outsiders; they are now reclaiming their stories. Numbering an estimated 80,000 across the northern parts of Norway, Sweden, Finland, and the Kola peninsula in northwestern Russia, the Indigenous Sami have faced persecution and racism for centuries. As late as the 1970s, the Sami in Sweden (where the population is thought to be around 20,000) were subject to inhumane assimilation policies, and to this day are a target of harassment and discrimination.
"I think a lot of people outside of Sweden – but also in Sweden – don't know about the hatred directed at Samis. Sweden is very good at saying 'We're such a good democratic country and we take care of everyone.' But they don't. They have a really bad history with a lot of dark chapters on how they have mistreated us Sami people. And we are living the consequences still," Laestadius explains. She sighs as she admits that she often finds it exhausting to write about such dark and disturbing issues, but that she feels a responsibility to share the trauma suffered by the Indigenous Sami people. 
Disputes over land rights have caused tensions for decades between Sami and local Swedish people, with resentments spilling into violence. In 2020, after the Swedish Supreme Court gave the Girjas Sami reindeer-herding community the right to manage hunting and fishing in the region, the Sami Council reported that hate speech had exploded online, with threats directed against both the Sami people and, significantly, their reindeer. Until recently, reindeer herding was the staple livelihood for Sami people, and, although today only a minority still make a living this way, the animals hold tremendous cultural significance. 
Before writing Stolen, Laestadius accessed more than 100 police reports on the torture and killing of reindeer, none of which had been properly investigated or led to prosecution, and she spent time among reindeer herders who had suffered devastating violence against their animals. She explains that, to the Sami people, reindeer are more than simply a job.
"The reindeer herders have a close relationship to their animals, as they are so closely tied to the lands and the places where our ancestors have roamed. Reindeer herding is also one of the most important arenas for preserving language, culture, and traditions," she tells me. "Often the herders have a personal connection with their reindeer, recognising them individually and giving them names. The reindeer become something that the whole family gathers around, creating a bond that unites them."
Although her books are fiction, as the daughter of a reindeer-herder family (her mother's side are all Sami), Laestadius often weaves her own life experiences into her work. "It was tough growing up in Kiruna in the 1970s and the 1980s," she says. "There was always this feeling that, as a Sami, you weren't accepted." 
In Stolen, Elsa's young world is rocked by a suicide, and many of the male figures in the novel grapple with mental health issues as they struggle with the pressures of being a reindeer herder in the modern world. Laestadius herself lost two cousins to suicide, both young men, and says that it was important to her to break the culture of shame and silence that surrounds mental health in the Sami community.  
"There is a very dangerous silence. We just don't speak about the hard things. In Stolen, the boys and the men have to be so tough, and so macho, and they have to live up to all these expectations," she explains. "It's hard when you don't feel that you have the strength any more, and you feel that you don't have anyone to talk to. And then it's easy to be so sad and lonely." 
Now living in Solna, just outside Stockholm, Laestadius describes how this culture of silence seeped into her childhood, as her mother refused to teach her the Sami language spoken by her family – the only language her grandparents could speak. 
"I knew that something was wrong, but I didn't know exactly what was wrong," she says. "And then when I started school, it was clear to me that I shouldn't tell anyone that I was Sami, because the Sami children were bullied and called ugly names. They had a really hard time in school." 
At the time, Laestadius wasn't aware that in the 1930s, her mother, aged just seven years old, had been forcibly sent away to one of Sweden's so-called "nomad schools" – an experience that left her with a sense of fear and shame about speaking her native language. Laestadius's book Straff – whose title, roughly translated, means "penalty" or "punished" – focuses on these "nomad schools", where Sami children were subjected to "Swedification" policies, barred from speaking their own language, and often suffered horrific physical and mental abuse. 
"I understand now that my mother was trying to protect me," she says. "It's not coming from something mean, when people don't speak to one another; it's coming from not wanting to hurt anyone. But it is dangerous. At that point I couldn't really put words to what I was feeling, because I knew there was some kind of trauma, but I didn't know exactly what."  
Speaking to her mother about her experiences at a "nomad school" while writing Straff was a healing experience for Laestadius after years of struggling to find her identity between two cultures, both of which had been suppressed. Her teen years were tumultuous as she tried to understand the parts of her Sami heritage that had been kept from her, while also contending with the fact that many considered her not "fully Sami" since her father was Tornedalian. Another of the country's minority groups, Tornedalians were also victims of Sweden's assimilation policies, and have fought to retain their own culture against a backdrop of marginalisation and discrimination.
Stolen may reflect the despair and anger felt by many Sami people today, but it also tenderly depicts some of the details of daily life that Laestadius remembers growing up, such as joiking (traditional Sami singing), the closeness of family, and the Sami handicrafts her grandparents worked with. It was also important to Laestadius to show strong Sami reindeer-herder women, like those she knows from her own family, who are making their way in a traditionally male-dominated world. 
Laestadius sometimes seems weary when discussing her books – sad, even. But she is ultimately hopeful that attitudes are shifting, and is encouraged by the increase in Sami voices in arts and literature. She is particularly moved by Ella-Maria Nutti's 2022 novel Coffee with Milk, which tells the story of a Sami woman carrying a painful secret, as well as Tina Harnesk's tale of relationships and broken Sami family ties in Those Who Sow in Snow, which will be published in the UK next year.
"Something is happening now," Laestadius says. "There are more and more Sami authors telling their stories, and I'm extremely glad for that. It's so important for us to take power over our own story and history. To tell it in our own way." 
'Stolen' is available to buy online at Amazon and Waterstones
Join our commenting forum
Join thought-provoking conversations, follow other Independent readers and see their replies