Boyd Tonkin: The gentle glories of London life
The week in books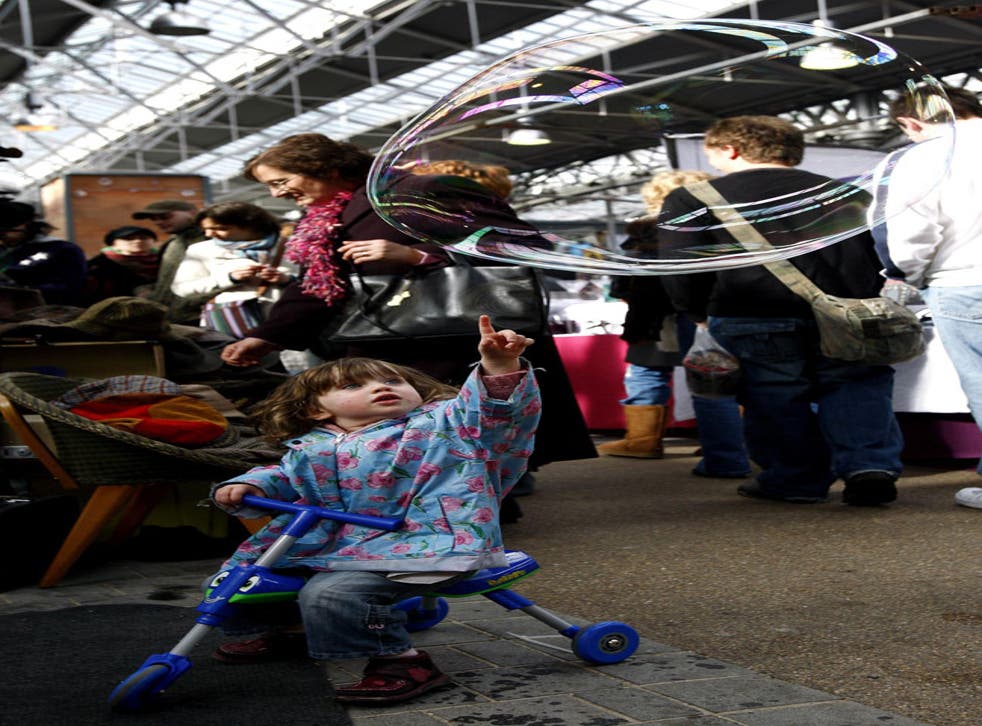 To herald the Olympic Games, books about London now flow from the presses. Journalism, some of it skewed, fanciful or downright hysterical, attempts to touch the core of metropolitan life. Writers of fiction, inevitably partial and subjective, create their own personal capitals. Yet, with spring hardly yet sprung, I'm pretty sure that I have found my London book of the year. It may count as a hopeful sign of the times that this precious gem began online, as a blog.
The anonymous "Gentle Author" started the Spitalfields Life website in the summer of 2009 (spitalfieldslife.com). It consists of quietly respectful, detail-packed interviews with local people in and around the writer's manor, just east of the City, about their lives, their work and their beliefs. Evocative photographs, both contemporary and historical, enrich the entries.
For all the site's studied neutrality, our Gentle Author fashions a distinctive literary voice. Sometimes the deadpan, super-observant sensitivity reminds me of the WG Sebald of Austerlitz ("In the midst of life I woke to find myself living in an old house beside Brick Lane in the East End of London"). Lovers of Patrick Keiller's Robinson films may find familiar echoes here, although the blog lacks Keiller's veiled satirical edge. And the mission to present the lives of overlooked or despised Londoners in their own words goes back to Henry Mayhew in the 1850s, and his great London Labour and the London Poor (an Oxford World's Classics paperback of Robert Douglas-Fairhurst's excellent Mayhew selection has just appeared).
As a printed volume, Spitalfields Life arrives in a quite beautiful design from Saltyard Books (£20). Illustrations by Lucinda Rogers, Mark Hearld and Rob Ryan add to the visual delights of a lovely object. This devotion to first-rate craft perfectly matches these interviews with scores of Londoners who make, serve, sell, help, mend, build, entertain or simply live in ways that give rich meaning to their lives and to those around them. The "vast repository of untold stories" that the Gentle Author uncovered in this new abode has found a writer who appreciates all the treasures that Spitalfields, and its neighbouring areas, hold. Market stall-holders, curry-house chefs, car-washers, jellied-eel sellers, beigel bakers, veteran boxers, night-club dancers, cab drivers, amateur transvestites, professional aesthetes (not to mention Holmes and Watson, the Spitalfields Piglets): East End life tumbles from these pages in truly Chaucerian abundance.
The tides of global migration that have lapped at Spitalfields' shores of course find a place here – Huguenots, Jews, Irish, Bengalis, Africans, Italians. But our Author takes care to find, and celebrate, a common humanity even as he (or she?) paints every subject in densely particular tones. From Bill Crome, window cleaner, to Captain Shiv Bannerjee, justice of the peace; from Maria Pellicci, café cook, to Maurice Franklin, wood turner; from Kevin "the agile milkman" to Shajeda Akhter, playworker; from Sandra Esqulant, landlady of the Golden Heart, to Larry Goldstein, Petticoat Lane toy-seller: each interviewee fits a piece into the magnificent mosaic. As a result of this painstaking work of listening, shaping and explaining, comments the Gentle Author, "the city has become a more human place for me". It will for every reader too.
As some point, I realised that my intense pleasure in Spitalfields Life was being sharpened by a kind of anger. The Gentle Author writes that "In my work, I never came across any of the feckless Cockneys of popular lore but I met plenty of self-respecting people from modest backgrounds with a desire to improve their lot – and that of others too – through embracing education and work". That's manifestly true of London, as of any great city in the world. Yet now we have to contend with a culture-war unleashed on the people of the capital, and indeed Britain, by a smug and sour fragment of the bourgeois literati. These writers and pundits, keenly anatomised by Owen Jones in his polemic Chavs, have decided that their poorer fellow-citizens count as idle, boorish, drunken slobs who deserve no more than lip-curling contempt.
Now, our genial and cheerful Gentle Author never gets cross; but we can on his (or her) behalf. And we might say that this book, with its engrossing cornucopia of careers, memories and dreams, delivers a sovereign antidote to the naked class prejudice that masquerades as social commentary – or even as state-of-the-nation fiction – from wealthy and ignorant bigots.
Beloved author's missing memoir
It's difficult to imagine a more captivating American life than that of Toni Morrison, the first black woman to win the Nobel Prize in literature. Thousands would devour her memoirs, yet Morrison has just cancelled a contract to write them. "There's a point at which your life is not interesting, at least to me," she told Oberlin College students in her native Ohio. "I'd rather write fiction." Happily for fans, a new novel – Home – appears in May. Morrison defended Bill Clinton as "our first black president" during his travails. Now she's fighting for Barack Obama against his detractors: "The discourse is vile and vicious," she says. "I'm just happy that he's a very cool guy."
Hail the winner of a Kids' Nobel
In the ideal republic of letters, authors might live on air and require as recompense for their talent only the happy smiles and grateful compliments of readers. In this world, they need to eat, and to make themselves heard. Hence the value of awards with proper cash-money attached – especially for children's writers, still too often seen as unworldly yarn-spinners who subsist on fairy-dust. Not so for Sweden's Astrid Lindgren Award, named in honour of the beloved creator of Pippi Longstocking and given every year to a children's writer or illustrator. This Kids' Nobel is worth the far from childish sum of five million krona: as I write, a cool £467,000. This year the prize, whose past winners include Maurice Sendak and Philip Pullman, has gone to Guus Kuijer, the prolific Dutch author of more than 30 novels, many with a focus on early-teen protagonists. Published by Picador in 2006, his The Book of Everything won high praise here. Since then, the flow of translations has dried up. We should open the sluices again.
b.tonkin@independent.co.uk
Join our new commenting forum
Join thought-provoking conversations, follow other Independent readers and see their replies